Free Resource for Pastors
Heaven Pastor's Kit


Each Kit Includes:
A Heaven: Biblical Answers To Common Questions booklet. This 60-page booklet is a perfect supplement to provide for those attending funerals or memorial services and includes the gospel message.
A Heaven Tract
An informational brochure listing the many other resources Randy has made available for those teaching on the subject of Heaven.
To request a Pastor's Kit, please contact EPM. Offer valid for continental U.S. addresses only.
Message for Pastors
Resources on Heaven
Promotional Materials for Your Heaven Study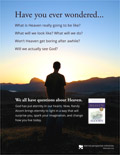 Media, PowerPoints, and PDFs on Heaven
View a sample Heaven Sermon Outline.
Heaven Sermon by Randy Alcorn, Message 1: Looking Forward to a New Earth
Heaven Sermon by Randy Alcorn, Message 2: Resurrected Living on a New Earth
Student Resources
We have two reader-created resources to share for use with students studying Randy's Heaven for Kids book. These are unofficial study guides (created by readers and shared with EPM) available in PDF form only.