Heaven Resources for Pastors and Group Leaders
Free Resource for Pastors
Heaven Pastor's Kit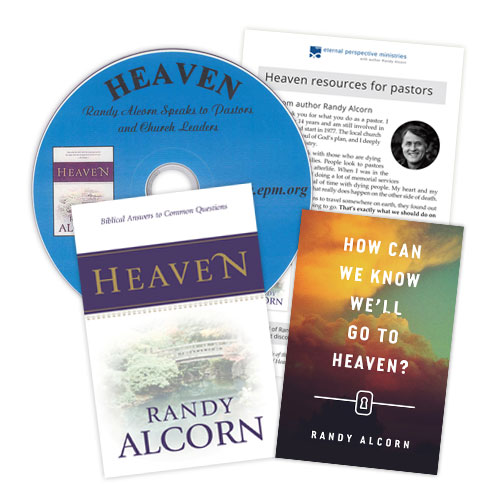 Each Kit Includes:
A Heaven: Biblical Answers To Common Questions booklet. This 60-page booklet is a perfect supplement to provide for those attending funerals or memorial services and includes the gospel message.
A 30-minute DVD with Randy Alcorn speaking to pastors about Heaven and encouraging them to address this wonderful subject with their congregations. (Please note this is not the Heaven small group discussion DVD.)
An informational brochure listing the many other resources Randy has made available for those teaching on the subject of Heaven.
To request a Pastor's Kit, please contact EPM.
Study books available for the Heaven book
(See a comparison chart of these three resources)
Heaven Study
Guide

Heaven Small Group Discussion Guide

Heaven Bible Study Workbook (Lifeway)
Reader suggestion for using 50 Days of Heaven Audiobook with the Heaven Small Group Discussion Guide.
"Our church is offering studies based on Randy's Heaven book in homes where group hosts will invite their friends and neighbors. Since only some in the groups will be believers, we wanted a simplified study without extra materials to purchase. We're going to use the Heaven Small Group Discussion Guide study book for each group member which follows Randy's 50 Days of Heaven devotional book, so we decided to purchase one 50 Days of Heaven Audiobook for each group leader. They can play several of the 5- to 6-minute audio devotionals during each group session rather than each group member having to purchase the print book."
Articles and Media on Heaven
Browse more articles and media on Heaven pastors can use for study or distribute to their churches
Promotional video by Randy, speaking to those who will be studying about Heaven.
Promotional Materials for Heaven Studies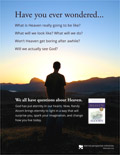 Media, PowerPoints, and PDFs on Heaven
View a sample Heaven Sermon Outline.
Heaven Sermon by Randy Alcorn, Message 1: Looking Forward to a New Earth
Heaven Sermon by Randy Alcorn, Message 2: Resurrected Living on a New Earth
Student Resources
We have two reader-created resources to share for use with students studying Randy's Heaven for Kids book. These are unofficial study guides (created by readers and shared with EPM) available in PDF form only.
Smartphone App

Download the iKnow Heaven phone app, featuring the Heaven IQ quiz, at www.heaveniq.com
An application that provides an entertaining quiz to see how well your Biblical knowledge is about what Christians can expect in Heaven. Many people are not aware that the Bible gives us many hints as to what awaits Christians after death. Test your knowledge with questions selected from content by Dr. Randy Alcorn, author of the bestselling book Heaven. App includes additional content on the topic of Heaven, according to the Bible. This can be a fun evangelism tool.
At this time the app is not available for the Droid platform.