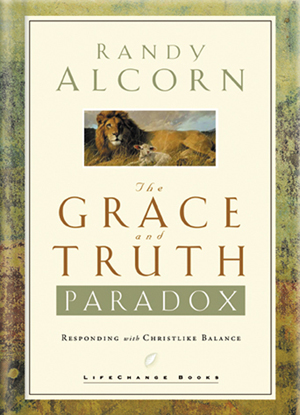 Truth without grace is unbending, like the law of gravity. Gravity doesn't take into consideration the fact that the individual in the car is young, kind, tired or didn't mean to get too close to the edge of the cliff. When the car plunges off the precipice, gravity shows no sympathy.
Truth tells us we're sick. Only grace can cure us.
Jewish tradition says that when the high priest went into the holy of holies, a rope was tied around his ankle. Why? Because if God struck the priest down for some infraction, how else would they retrieve his body? (Would you go in after him?!).
If that was the caution and dread with which the holiest man in Israel approached God on the most holy day, what must the average person have felt? To approach this holy God was inconceivable. Yet consider Hebrews 10:19: "We have confidence to enter the Most Holy Place by the blood of Jesus."
"Let us then approach the throne of grace with confidence, so that we may receive mercy and find grace to help us in our time of need" (Hebrews 4:16). To a devout Jew the notion of unhindered access to God is scandalous. (If it's not startling to us, it's only because we don't understand God's holiness.) The only explanation is the word that appears twice in the verse: grace.
For more information on this subject, see Randy Alcorn's book The Grace and Truth Paradox.