Cramming for Heaven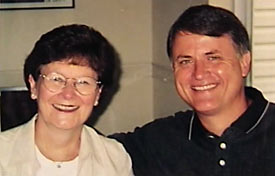 I spent a few hours with Carol King (see picture), who was dying of cancer. She joked that imminent death had changed her shopping habits. She said, "I no longer buy jumbo shampoo. I don't even buy green bananas!' But the most unforgettable thing she said was, "I'm cramming for Heaven.'
In school, did you cram for tests? I did. Death involves the greatest examination in our lives, with by far the greatest consequences. It merits careful and thorough preparation. Our time is limited. We should all be cramming for heaven.
Any life that leaves us unprepared for death is a foolish life. Matthew Henry said, "It ought to be the business of every day to prepare for our last day.'
As unbelievers cannot come back to Earth and live life over again and this time trust Christ, believers cannot come back and relive our lives, this time faithfully serving Christ. Now is our window of opportunity. C. T. Studd said, "Only one life, 'twill soon be past, only what's done for Christ will last.'
There is an important qualification to this, however. We will indeed have another opportunity to live on Earth. The life we will live on that New Earth will be abundant and exhilarating, unhindered by sin and death. Our life here now, on the old Earth, is an opportunity to serve Jesus and draw upon his strength. It's what we do in this life on the old Earth that will carry over into life on the New Earth.
Our life here won't be the end of our physical earthly existence. In fact, we'll spend eternity in new bodies, on a New Earth. This is the doctrine of resurrection. Our narrow and weak theology of resurrection—inseparable from our weak theology of Heaven—leaves us woefully unprepared for death, since we think death means leaving behind the ultimate human earthly experience, rather than moving toward it.
Meanwhile, we should all be preparing for the life to come. Like Carol, who has already passed the test, already graduated, we should spend our lives cramming for Heaven.
Let's go forth as Magellan, sailing on a charted course, eyes on the horizon...in our case, headed toward Heaven.