Article by Ruth Schenk, courtesy of Southeastoutlook.org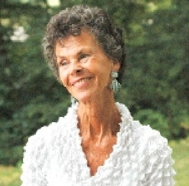 She kept the book Heaven by Randy Alcorn on her coffee table. Though Mary Jon Denniston had the book only a few months, the cover soon was frayed on the edges, the pages worn. Obviously, she studied it page by page before and after doctors gave her just three months to live.
Denniston, 70, was shopping in Kroger when her doctor called about a recent MRI. There wasn't much to say. Her cancer had metastasized "everywhere." Time was short. Denniston's response floored doctors, nurses, family and friends.
"I'm so excited," she told everyone.
Denniston never wavered. She talked often about her own death and about Heaven—a place as real to her as her office in the Wedding Ministry at Southeast. She talked about being reunited with her husband Bob, who'd died 18 months earlier, and with her parents.
After her story appeared in the Outlook on Oct. 18, she asked for stacks of copies to give away from her hospital room.
Some called her attitude toward death amazing. She called it grace. When faced with 100 days to live, what did Denniston do? Every day she dressed up and went to work as head of the Wedding Ministry, she met with her Bible study group—a gathering of women she called "her girls." It was close to the same schedule she kept most of her life. She never appeared depressed, angry, weepy or afraid. Especially not afraid. In fact, she never smiled more.
Denniston's brother, Jim Hughes, and his wife Becky stayed with her daily through those last few months.
"It was hard to pray for Mary Jon," he said. "Usually you pray for somebody to get well. She just wanted to go home to Heaven. So we shared her excitement and prayed that God would take her home quickly."
Hughes said Mary Jon, who died on Nov. 10, gave away hundreds of Outlooks, as well as dozens of books she'd treasured.
"She'd hear about another family in the hospice unit or nursing home struggling with a diagnosis, and she'd ask us to bring one of her books to comfort them. There was always a steady stream of people coming to see her. There was something magnetic, something special about how she faced death."