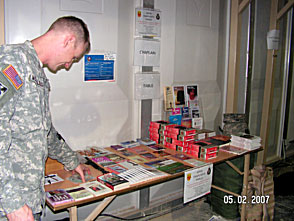 My husband was killed in Iraq on Feb.14, '07. Your Heaven book has brought much comfort and anticipation of our reunion. Thank you and may God bless you and your work for our Lord. 
— S.S.
---
Thank you so much for your many books sent to Baghdad, Iraq. The books were given out to soldiers and I was thanked over and over for the great books—both the novels and theological books. 

— K. S., Military Chaplain

---
I'm writing you from Iraq. I got both of your books, Lord Foulgrin's Letters and The Ishbane Conspiracy. They really opened my eyes to the devil's plan for us. Now I can see more clearly and share what I learn. It's pretty hard over here. People are dying every day. It gets sad at times, but I keep praying, thanking God for my life.
I'm stationed in Baumholder, Germany. I have a church in K-town Germany and God has been moving greatly there. I'm glad to be a part of the kingdom of God. I want to minister to teens and share the good news with them.
Please pray for the soldiers over here. I'm ready to come home to my wife and five-year-old girl. Pray for them too. 

— Sgt. J., Iraq

---
Your book, Lord Foulgrin's Letters, was refreshing. I wanted to thank you for writing a book that revisits some of C. S. Lewis's ideas. I actually picked up the book to read during deployment in Operation Iraqi Freedom. I couldn't put it down and completed it before we even headed north out of Kuwait.
As a soldier, I face many of the demons you mentioned. I see and live in a world that I'm glad my family does not have to see.
Thank you for reminding me of their presence before facing the test of combat. 
— M. T., Iraq
---
I am an Air Force family practice physician who was stationed in Iraq from May through July of this year. The reason I am writing to you, is that I had the pleasure of meeting a Christian army aviator during my time in Kirkuk who gave me a book entitled The Grace and Truth Paradox. It was a wonderfully concise, yet incredibly potent description of the character of Christ. I enjoyed it tremendously and was afforded the opportunity to share it with others. I am confident my wife will also enjoy your book upon my return to the states this month.
I am grateful for the doorway this aviator opened into Eternal Perspectives Ministries. I look forward to tapping into more of your resources, and I thank you again for having written the book I was able to read while in such a remote place. 

— R. G., Omaha, NE