The Treasure Principle: Resources
available from EPM
The revolutionary concept of The Treasure Principle has introduced millions to the joy of living generously. Now you can experience Randy Alcorn's transformative teaching on this concept through this video curriculum.
Through four sessions (approximately 15 minutes each), ideal for small group or church use, he explores the guidelines and rewards of giving as highlighted in the six "Treasure Principle Keys" found in Scripture.
Biblical and practical, this perspective-shifting series helps Christians replace anxiety over money and possessions with something far more priceless: the liberating joy of giving!
The Treasure Principle Bible Study
Being revised; currently unavailable
by Brian Smith and Randy Alcorn (12 lessons)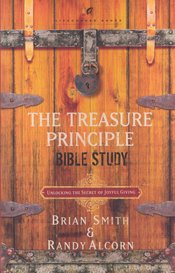 The Treasure Principle Bible Study presents you with more than an intellectual exercise. It regularly guides you back to Christ, who Himself is our central treasure. Only in His presence can you address the necessary changes in thinking and behavior that The Treasure Principle requires. Only in His power and grace can you find the joy of obedience.
This 12-week study is designed for personal reflection followed by discussion with a partner or group. Any of the questions in the study can serve as the basis for profitable discussion, but you'll find in each lesson several questions written specifically for dialogue between you and a partner or group.
This 90-page Bible study features a 12-week study that follows The Treasure Principle book.
Contains brief, six-page lessons for individual or small-group use.
Each lesson includes quotations from The Treasure Principle, discussion questions, and a short Scripture passage for meditation and memorization.
Space is provided to write directly in the book.
available from EPM
This one hour DVD features Randy Alcorn speaking at Solid Rock Church on The Treasure Principle.
available from EPM
Randy writes in The Treasure Principle: "I carry in my wallet a little card. ... Keeping the card near my cash is a powerful reminder of what is true." The card reads, "God owns it all. I'm His money manager." The other side says, "God cares what I do with my money. I'd better ask Him." Both sides include Scripture on stewardship.
You can also download the FREE printable pdfs of the card, in both English and Spanish, under the downloads section at the top of the page.