Books with Submissions from Randy Alcorn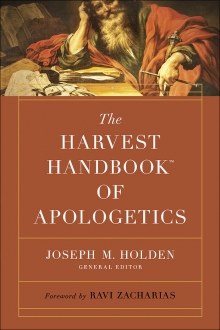 Harvest Handbook of Apologetics
by Joseph M. Holden
From the preacher to the churchgoer, the teacher to the student, The Harvest Handbook™ of Apologetics is the comprehensive guide all believers need in a world full of uncertainty and relentless criticism. This collection of well-reasoned, Scripture-based essays comes from many respected Christian apologists and Bible scholars.
Is there evidence that Jesus really existed? Are there contradictions in the Bible? What is the relationship between science and faith? You'll discover concise and convincing responses to these questions and many more. Understanding your faith is a lifelong quest, and this handbook is the perfect resource to help you dissect the topics you'll ponder through the years. Prepare to "contend for the faith" you call your own (Jude 3)—and become equipped to evangelize with wisdom and passion.
---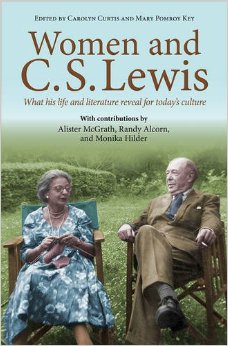 Women and C. S. Lewis: What His Life and Literature Reveal for Today's Culture
Edited by Carolyn Curtis, Mary Pomroy Key
Critics have labelled C.S. Lewis a sexist, even a misogynist. Did the life and writing of the hugely popular British author and professor betray attitudes that today are unacceptable, even deplorable?
Women and C.S. Lewis features academics and writers who come together to investigate the accusations: Alister McGrath, Randy Alcorn, Monika Hilder, Holly Ordway, Don W. King, Kathy Keller, Colin Duriez, Crystal Hurd, Jeanette Sears, David C. Downing, Michael Ward, Devin Brown, Malcolm Guite, Joy Jordan-Lake, Steven Elmore, Andrew Lazo, Mary Poplin, Christin Ditchfield, Lyle W. Dorsett, Paul McCusker, Crystal Downing, Kasey Macsenti, Brett McCracken, John Stonestreet, Kelly Belmonte, Brad Davis. Women and C.S. Lewis provides broad and satisfying answers.
---
The Romantic Rationalist: God, Life, and Imagination in the Work of C. S. Lewis
Edited by John Piper, David Mathis
With contributions from Randy Alcorn, John Piper, Philip Ryken, Kevin Vanhoozer, David Mathis, and Douglas Wilson, this volume explores the man, his work, and his legacy—reveling in the truth at the heart of Lewis's spiritual genius: God alone is the answer to our deepest longings and the source of our unending joy.
---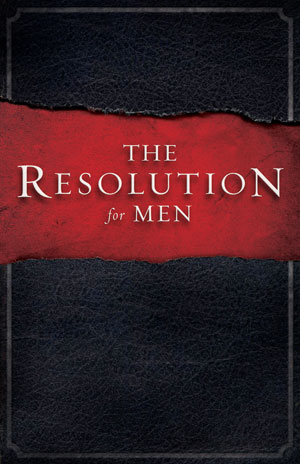 The Resolution for Men
By Stephen Kendrick, Alex Kendrick, Randy Alcorn
Randy joined the creators of Fireproof and The Love Dare in a bracing pep talk for fathers! Building on the message of their action-packed movie Courageous, the Kendricks challenge men to reconcile with their pasts; re-engage in the present by taking full responsibility for their wives and children; and move forward with bold resolution for the future.
---
O Love That Will Not Let Me Go
Edited by Nancy Guthrie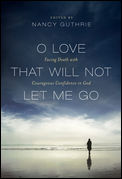 Contributions by: John Piper, Randy Alcorn, Timothy Keller, Joni Eareckson Tada, J. I. Packer, Michael S. Horton, R. C. Sproul, John Calvin, Martin Luther, Jonathan Edwards, John Owen, B. B. Warfield, Martyn Lloyd-Jones, Charles H. Spurgeon, Joseph Bayly, Richard Baxter, Abraham Kuyper, Richard Sibbes, R. L. Dabney, Jeremy Taylor, Thomas Boston, John Eaves
For many modern-day Christians, death has become what J. I. Packer terms "the great unmentionable." This attitude denies not only the reality of the human condition, but also the reality of God's promises for believers beyond this life. The church needs to think more about death in the light of the gospel.
This compilation, edited by Nancy Guthrie, includes the writings of twenty-two classic and contemporary theologians and Bible teachers on how to prepare to die in faith. The short meditations are drawn from sermons, books, and other writings of classic theologians such as Jonathan Edwards and John Calvin, and of leading contemporary communicators such as John Piper, Tim Keller, J. I. Packer, and others. The writers provide a solidly scriptural and countercultural way to view the inevitability of death, explaining how and why believers can face physical death with hope, joy, and confidence in God's promises for the life to come.
---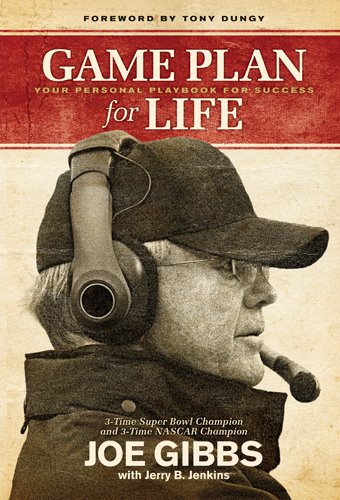 Game Plan for Life: A Champion's Guide to a Successful Life
By Joe Gibbs
In the spring of '08 Coach Gibbs commissioned a national public opinion research firm to survey men. He wanted to know what areas men were most concerned about in their lives—if they could master these areas they'd live a truly successful and relevant life. He discovered there were eleven key issues that men age 20 and older struggle with: the Bible, God, creation, sin and addiction, salvation, relationships, finances, career, health, life of purpose, and heaven.
Joe drafted a team of men to specifically address each area, focusing primarily on what the Bible says about these issues. He called Randy Alcorn, asking if he would write about Heaven. The rest of the team ended up being Ravi Zacharias, Chuck Colson, Josh McDowell, Ken Boa, John Lennox, Don Meredith, Ron Blue, Os Guinness, Walt Larimore, and Tony Evans. Joe got Tony Dungy to write the foreword and Jerry Jenkins to be the editor.
---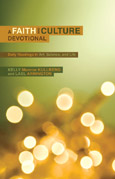 A Faith and Culture Devotional: Daily Readings on Art, Science, and Life
By Kelly Monroe Kullberg, Lael Arrington
Kelly Monroe Kullberg and Lael Arrington weave together inspiration and illumination, engaging both heart and mind with each daily devotion. In this collection of short, accessible readings, Kullberg and Arrington explore significant ideas, people, and events from a Christian worldview, causing readers to wonder at the genius, power, and beauty of Jesus. (Randy Alcorn contributed a chapter entitled "Heaven: Headed Home.")
---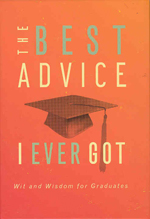 The Best Advice I Ever Got: Wit and Wisdom for Graduates

When people come to a crossroads in their life, they quite often will ask their friends and family for advice. Now The Best Advice I Ever Got brings you the unique opportunity to hear advice from well-known Christians as well. With entries from Jerry Jenkins, Lake Speed, Terri Blackstock, Patsy Clairmont, and many more, you will be sure to gain the tools you need to put you on the road to a successful journey.
---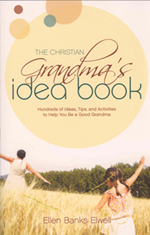 The Christian Grandma's Idea Book: Hundreds of Ideas, Tips, and Activities to Help You Be a Good Grandma
By Ellen Banks Elwell
No matter your age or stage of life, if someone calls you "Grandma," you'll find plenty of hints and helps just for you in this long-awaited sequel to The Christian Mom's Idea Book. Arranged into alphabetical categories and loaded with all kinds of life-tested, creative advice, this amazingly personal resource features 800 tips, thoughts, and stories from not only 200 grandmas in 30 countries around the world but from a host of moms and grandkids too—for good grandmothering from A to Z!
In addition to its fresh ideas and touching stories, this one-of-a-kind book offers spiritually encouraging narrative to introduce each chapter, interviews with grandmas who are facing special challenges, plus reflections from well-known Christian authors such as Nanci Alcorn, Gracia Burnham, Cynthia Heald, Francine Rivers, Gary Chapman, and Sigmund Brower about their own grandmothers. With its gentle offerings and uplifting insights, The Christian Grandma's Idea Book will prepare you to not only make the most of your time with the grandkids but create a legacy of rich memories, shared traditions, and special times together.
---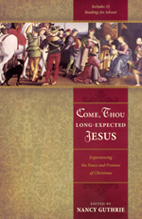 Come, Thou Long-Expected Jesus: Experiencing the Peace and Promise of Christmas
Edited by Nancy Guthrie
Between purchasing presents and planning travel, enjoying holiday pageants and attending parties, it is all too easy for the bustle of Christmas to silence the sacredness and crowd out a quiet anticipation of the season's truths. So when editor Nancy Guthrie decided she wanted a reflective book of Advent readings that would help her pause and consider the riches of Christ come to earth, she embarked on what she calls "a sacred adventure," putting together such a collection herself.
The result—this special volume—draws from the works and sermons of classic theologians such as Whitefield, Luther, Spurgeon, and Augustine, and from leading contemporary communicators such as John Piper, J. Ligon Duncan, Randy Alcorn, John MacArthur, Francis Schaeffer, R. C. Sproul, Skip Ryan, and Joni Eareckson Tada to beckon you and your family into the wonder of Jesus' incarnation and birth.
With its high view of Scripture and its focus on the gift of Jesus, this lovely book is sure to ready your heart and mind for a fresh experience of "Immanuel, God with us" this and every Advent season. Open the cover and rediscover what Christmas was meant to be…
---
Is God Just a Human Invention? And Seventeen Other Questions Raised by the New Atheists
By Sean McDowell, Jonathan Morrow
Offering guidance for the emerging generation, apologists McDowell and Morrow's accessible and thorough examination of the New Atheism addresses scientific, philosophical, moral, and biblical challenges to belief in God. Their balanced answers to honest questions will help you build a firm foundation for your faith. Includes expert commentary and recommended resources for further investigation.
---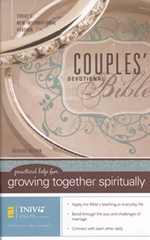 NIV Couples' Devotional Bible, Hardcover
Reflecting the realities of life today, The Couples' Devotional Bible helps couples build a biblical foundation for their marriage.
Now thoroughly revised, with all-new devotions that reflect the concerns couples face today, the bestselling Couples' Devotional Bible is designed to help you build your relationship on the one foundation you can count on: God's Word. Developed in partnership with Christianity Today International's Marriage Partnership magazine staff and contributors, this Bible was created to aid couples, particularly in the first years of marriage, in understanding the biblical foundation for marriage.
TOPICS INCLUDE: Communication. Work and Career. Sex. Setting Goals. Stepparenting. Money. Fears. Worship. Forgiveness. Each devotion is tailored and relevant, written to apply God's words to issues that are important to couples.
---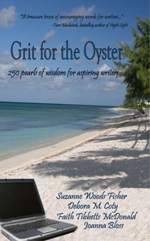 Grit for the Oyster: 250 Pearls of Wisdom for Aspiring Writers
By Suzanne Woods Fisher, Debora M. Coty, Faith Tibbetts, & McDonald Joanna Bloss
A powerful motivator for aspiring writers, Grit for the Oyster offers wit, wisdom, and inspiration to take that first step and persevere through the writing journey. More than a how-to, this confidence-building book is designed to draw readers to a closer relationship with God, to affirm their calling to write, and to offer pithy practical guidance from successful writers like Terri Blackstock, Martha Bolton, James Scott Bell, Liz Curtis Higgs, Dr. Gary Chapman, and David Kopp.
---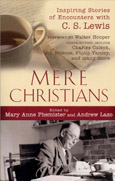 Mere Christians: Inspiring Stories of Encounters with C.S. Lewis
Mary Anne Phemister and Andrew Lazo, Editors
To many who have discovered his books, C. S. Lewis is more than simply a writer; he has been a spiritual mentor. Here over fifty Christians share how meeting the mind and imagination of Lewis in his books sparked the beginning or changed the course of their spiritual journey. These inspiring reflections have been shared by ordinary laypeople as well as many well-known leaders and writers. (Randy Alcorn contributed a chapter entitled "Learning to Love God While Fearing Him.")
---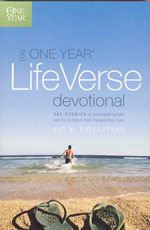 The One Year Life Verse Devotional
By Jay K. Payleitner
Remarkable people.
Remarkable stories.
Remarkable verses.
Remarkable people and their inspiring life verses from the Bible. Discover for yourself the power of God's Word in the lives of 365 people.
---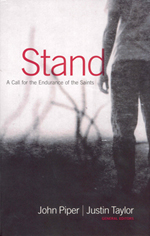 Stand: A Call for the Endurance of the Saints
John Piper, Justin Taylor, General Editors
The modern answer for bettering your life is usually "Move on." If your marriage struggles, if your church flounders, if your boss annoys you, if people oppose you, then leave. Make a change. Head for greener pastures.
But God's Word holds up a different standard—a beautiful value that, while difficult, leads to deep satisfaction and great reward: endurance.
Such long, steady, hold-the-course perseverance is especially needed within our vacillating generation. This thoughtful book thus not only elevates the virtue of faithful, godly endurance but bears witness to its daily power in the Christian life through the experiences of John Piper—who provides the context and perspective for the entire book—and four other devoted Christ-followers who each represent a different kind of endurance:
from John MacArthur's longtime, faithful shepherding of a church … to Randy Alcorn's radical obedience in the cause of life;
from Jerry Bridges's unswerving pursuit of holiness … to Helen Roseveare's courageous constancy on the war-torn mission field.
If you are weary in your faith journey, Stand will awaken and solidify rugged, Christ-exalting endurance within you. And if you dream of a Christian culture-shift from brief trial runs to lifelong commitments, John Piper and Justin Taylor's latest offering can serve to seal that vision in your mind and heart.