Readers' Responses to 50 Days of Heaven
I just want you to know that your 50 Days of Heaven keeps me where I need to be since my son went to heaven at age 33. It keeps me feeling close and keeps me focused on what is most important in this life: eternity with Jesus and our heavenly father. — C. C.
My husband and I are now almost done with your 50 Days of Heaven devotional book—reading/discussing together. It has also encouraged greater intimacy in our relationship by knowing what we will experience together someday. I long for others to know more about heaven and it pains me when I can see that they don't have a biblically sound view of it. — D. E.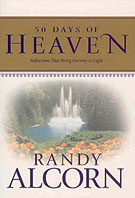 For the past year I have given your book 50 days of Heaven to about 20 people, both Christian and non Christian. Usually it has involved a terminal illness or tragic event in their lives. I use the book as a way to encourage the saved and give hope to the lost. —D.H.
This is a great little devotional, especially if someone has had a recent loss and they are wondering about what Heaven is like for their loved one. Also, it gives a good perspective to start or end your day. — D.G.
A fantastic book that gives much hope (for believers in Jesus) and helps us to lift our eyes and look forward to our eternal home. It is especially comforting if you have lost a loved one or know someone who has. — D.D.
Everyone should read this book, especially Christians wondering about life after death. Alcorn takes scripture and make very clear what happens after we die. This book is very easy to read and very comforting. — S.P.
In my grief Heaven and 50 Days of Heaven have been a comfort and blessing to me like nothing else (outside of the Scriptures). — P.E.
50 Days of Heaven is such a great book for answering questions you may have about what Heaven will be like. — G.T.
Shortly after the passing of my wife I was given a copy of 50 Days of Heaven by a friend who is an internationally-known and highly-respected evangelical theologian who has himself authored several theological books.
As a life-long Christian I had no doubt that my wife and I would be reunited in Heaven, although with a somewhat altered relationship, but the thought was not as comforting as I would wish. My concepts about Heaven were somewhat intangible and "spiritual."
Randy Alcorn's book has changed all that. I now have some very specific ideas about what Heaven will be like with regard to physical characteristics of what he calls the "New Earth" as well as personal relationships, duties and responsibilities and living conditions throughout eternity.
His point that we will retain our memories of each other (or we would not actually retain our unique personhood) is very comforting. I now view my wife's death as the beginning of a temporary separation which will be concluded with our reunion in Heaven where our relationship will continue throughout eternity. Although we will no longer be man and wife, our memories of an enduring, loving relationship on earth will form the basis of a similar eternal relationship. Our happiness was always founded on being together and doing things together, not on where we were or what we were doing. In Heaven it can only be better!
This book contains 50 four-page essays on a variety of subjects. It is a condensation of Alcorn's longer book entitled Heaven. Those who enjoy the smaller book may want to continue their study in greater detail by reading Heaven. – C.T.
The Bible actually has quite a lot to say about Heaven. 50 Days of Heaven presents us with an easy but profound read that takes away much of the mystery about life after death. Randy uses the Bible as the foundation of his work. I'd recommend this book for anyone who fears death, anyone who realizes someone they love is dying, and those who want to better understand life after we leave this earth. I found it to be very uplifting and encouraging. — P. M.
Learn more about and purchase 50 Days of Heaven.