Readers' Responses to The Grace and Truth Paradox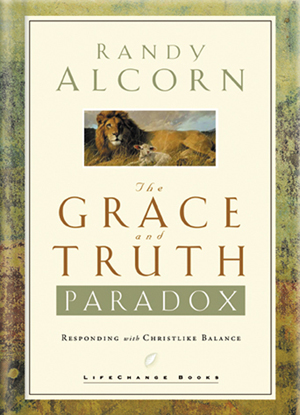 This book will change your life by bringing a balance to your thinking on sharing and living the gospel. You will be encouraged and strengthened in your faith and understanding of the life and work of Jesus and how He/it relates to you and your life's work. — K. M.
This is one of Alcorn's best works. Again, he manages to take a difficult subject and make it make sense to the everyday Jane. Gifted teacher of God's Word, Alcorn puts to rest the seeming paradox between two opposing ideals without compromising God's Word.
He issues the challenge to each of us to live 100 percent in grace and 100 percent in truth as Jesus did. I breathed a spiritual sigh of relief when reading his clear-cut examples of what grace and truth look like in the everyday life of a Christian. He then leaves the application of these timeless truths to us—throwing down the gauntlet.
Pick it up, people. Read it, digest it, sleep with it under your pillow. Go with God in 100% grace and 100% truth. I dare you. — E. G.
Randy Alcorn's book, The Grace and Truth Paradox is an excellent book. It is based on John's statement in John 1:14 that Jesus was "full of grace and truth." Some churches (and Christians) today emphasize grace over truth while others do just the opposite. Christ did neither. He was full of grace and truth.
The book is small (92 pages). Yet it has a big message. Maybe that's why it's part of Multnomah's "Small Books, Big Change" series! While it is very easy to read, some of its principles are potentially life-changing, and merit thoughtful contemplation. – R. H.
This is an amazing little book that is packed with insight. Grace without truth is lawlessness; truth without grace is legalism. Jesus Christ perfectly embodies both aspects and we are commanded to do likewise by the power of his Holy Spirit. — D. E.
Such an awesome book! It will change how you view people. You will see them how Christ sees them. Everyone should read it. — D. C.
This book is a good reminder for anyone and primer for those young in the faith. — R. O.
Learn more about and purchase The Grace and Truth Paradox.