Readers' Responses to In Light of Eternity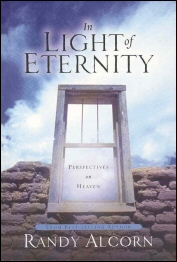 In Light of Eternity allows us to take a closer, biblical, look at Heaven without flights into fantasy and unwarranted myths and wishful thinking. Much is unknown to us of Heaven, admittedly, but Alcorn takes what the scriptures say and makes it come alive. What hope, what anticipation, what comfort, and what a blessing! — S. B.
Randy Alcorn writes in everyday language about the thoughts, worries, and questions almost every Christian has.Through anecdotes from his own life as well as from the characters in his novels, he makes heaven and the rewards waiting for the saints come alive. He creates anticipation for the day that we will be with our Lord. This is an inspiring book, encouraging us to have a "heavenly" perspective on life. —A.F.
Recently the Lord took my precious son-in-law home to be with him. My daughter is only 25 and they had only been married for 13 months. It was one of the most difficult times we have ever experienced in our lives. I knew he was in a much better place, but to watch my sweet daughter hurting was something no parent wants to experience. She knew in her mind that God already had a time chosen to take her husband home, but her emotions and wrong thoughts about Christ and Heaven plunged her into a deep depression and some of her old worldly habits. Many of us were on our knees praying for her...that she would turn her life to Christ and depend on him for comfort.
I spent many nights at her apartment talking to her and praying with and for her. I could see her coming back to life and seeing joy in her countenance. Then one day her friend gave her the book In Light of Eternity. This book has been life changing. She can now with confidence say that God had a purpose in taking her husband home. His testimony at his school had been wonderful...many young people heard the gospel. It is something that may have never happened had God not taken him.
She has totally turned her life around and is so excited about her walk with the Lord. She had been saved for years, but is just now seeing and understanding things in Scripture like never before. She asked me to read the book too. I did, and I can testify to the fact that it has been life changing for me also. What a blessing your book has been. — C. S.

Whoa! I never knew the Bible had so much to say about what Heaven will be like! If you want to emulate the Puritan's example and make meditation on Heaven a daily discipline, I highly recommend this book to aid the imagination. — J. H.
Very enlightening. The idea that Heaven does exist gives assurance to all believers. The skeptics are encouraged to read this book and I am positive that it would change their concept about God and the place He is preparing for us known as Heaven. This book must be read with an open mind and let the heart absorb the wonderful news that there is life after we leave this Earth. Heaven is a wonderful place as the author portrays and the Bible confirms his thinking. — P. J.
What a nice little book! All the scripture passages about our heavenly home combined into an easy reader. It makes you realize that Heaven is a place to long for and not just an escape from this world's trials and temptations. It is a source of encouragement to those who are terminally ill and a wonderful testimony of those things that await the believer in Christ. — B. S.
I have finished reading In Light of Eternity.....again. I can't remember how many times I've read it and received much comfort. When my husband was on his way Home with ALS, he, too, found much comfort in it. I send it to anyone who has even a passing interest in God's Word and especially to those who are terminally ill and heading toward God's Promise.
I can never thank you enough for the blessing of this book. It is small enough and easy enough to read that no one feels daunted picking up this volume and reading. The truths and Scripture are such a blessing of peace and hope. — M. E.
I have recently read your book, In Light of Eternity. I must say it is the best book I have ever read on the subject of heaven. It especially ministered to me at this time in my life. On June 20, 2004 my father died of a brain aneurysm. My dad wasn't a Christian, but I had a providential opportunity to share the gospel with him. Chapter sixteen, "A Greater Miracle", was a real joy to my heart. Though my circumstance wasn't exactly the same as yours, it had many similarities.
On June 29, 2004, my youngest of four children was killed in a horrific motorcycle accident. Troy-boy, as we affectionately called him, was 17 years old, and was our last child at home.
I had the privilege of preaching a sermon entitled "Dealing with the Loss of a Loved One" shortly after my son's death. All of these things were happening, and then I received your book which both confirmed and informed me about the reality of "the place" we were made for. Your comment on page 48, "I expect heaven will be a place of "no ages" but of "all ages", was a marvelous confirmation of what I had told my wife a day earlier about how we would view our son in heaven. Your comments in chapter fifteen about those in heaven seeing what happens here were invigorating, to say the least. The closing comment on page 101 was a beautiful ending to a glorious chapter, "The joys of heaven are not rooted in ignorance. They're rooted in perspective." Knowing that my son is now seeing a beautiful tapestry is a great comfort to my wife and I. Thanks again for your wonderful book. — Frank Zitzman Jr. (name used with permission)
I read In Light of Eternity last year, and recently provided my unsaved dad a copy of the book. He took great interest in reading it (along with his new Bible), and told me two days ago that he wanted to be introduced to Christ. Wow! I have prayed for him for 23 years, and to hear him put his trust in Christ provided me a joy beyond words!! As you had shared in the book, it was reminiscent of your dad coming to saving faith in his later years. — M. D.
I just finished your book, In Light of Eternity, five minutes ago and I am overwhelmed with the way God used this book in my life. I have been a Christian for 10 years—I was saved in college—and have been involved in ministry since my salvation. I have spent these years sharing my faith and discipling women. I have read a lot of books that led me to the Scriptures. Never have I read something that has impacted me in this way. The reality of heaven to me before reading this book was vague at best. Honestly, I did not know enough about what God had to say about heaven to even believe that it was actually a real place. As I read your book, I looked up all the Scriptures you provided and God did an amazing work in my heart. I feel like He changed my perspective about my purpose here on earth and also showed me what I have to look forward to! People talk about being excited about heaven but I did not understand enough about it to even get excited!
Thank you for listening to God's voice and writing this book. — J. E.
I've read your book In Light Of Eternity (in Russian) and I was deeply impressed by the profundity of theses you've advanced. The book was a real blessing for me because you've vividly depicted the meaning of our today's life deeds in the light of eternity. And I have finally understood how significant God's rewards are. I'm a member of a Baptist church and only you, with the Lord's help, managed to clear for me up, what things the rewards are and why we are to try to gain them. The thing about Christ's rewards has been obscure for me for years, so thank you a lot! — A.K., Russian Reader
Learn more about and purchase In Light of Eternity.