Readers' Responses to Lord Foulgrin's Letters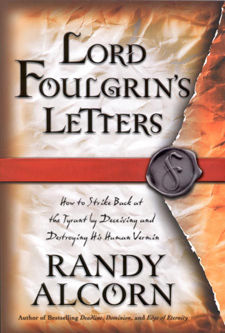 Reading this book has seriously turned me around on my beliefs and standings. I believe I've been living my life as a quasi-Christian for a long time, not really putting the importance of it all in to perspective. Your book brought the military man out in me. Being a retired disabled veteran, it really spoke to me how a person would actively plan and attack one's enemy. It opened my eyes, and my heart, to what I was really doing with my life, and now I am actively seeking to improve my relationship with Jesus. You may have simply written a book, but it may have very well saved my life, eternally and here on Earth. — C. F.
I've just finished reading Lord Foulgrin's Letters and I can't begin to tell you how impressed I am with your insights of demons and how many insidious ways they can influence our minds without our even knowing it, until we find ourselves ever so gradually sliding down that slippery slope! I'm embarrassed to say how much of Foulgrin's rationalization and relativism I myself have been buying into. No more! This book really opened my eyes. I will pass it on to a good friend – a priest – while I read The Ishbane Conspiracy. —J.L.M
If you like C.S. Lewis's Screwtape Letters, you'll like Lord Foulgrin's Letters. It calls out some modern day sin patterns and brings to light the real battles we face. Very convicting. — J.
I just wanted to let you know how much we appreciated your book Lord Foulgrin's Letters. My wife and I just came through one of the most challenging and yet most amazing times of our lives! Your book really put it all in perspective. — D. P.
Just finished reading Lord Foulgrin's Letters. Loved it! God has blessed you with an amazing gift. Imagine HIS mind! I'll definitely be buying this one as a gift for family and friends. — S. B.
I am blind from a degenerative, hereditary eye disease. My daughter read to me Lord Foulgrin's Letters and Ishbane Conspiracy. God used them to help me notice the Enemy's tactics in vivid ways. I credit these books with giving me the courage to share the gospel with my mother-in-law. She had said she was a Christian, but deep down I was sure she wasn't. I had been praying for an opportunity to share. She lives hundreds of miles away. One day, when I was on the phone with her, I decided to ask the question.
"Mom, I have a question I should have asked you long ago. Now, with your near death experience, I know I need to ask you." She gave me permission to ask. "If you were to die today, Mom, do you know for sure that you would go to heaven?" Her response was, "Honey, I have no idea. I've studied the Bible a lot, but I didn't feel smart enough to understand it."
I began to share the gospel. The phone connection got crackly and then went dead. Immediately I thought of your books. I called her back and she said, "That was weird." Soon she got a coughing spell. But I persevered, thinking all the time about your books' example. She listened to the end and said she had a lot to think about. Some time later when we talked on the phone again, she joyously said she had asked Jesus into her heart. She is a changed person and we will spend eternity in heaven with her. We are rejoicing and I just wanted to let you know how much your books helped me. — B. G.
Lord Foulgrin's Letters is a powerful book on the behind-the-scenes spiritual warfare activity in each person's life. The struggle between light and darkness is clearly pictured as a series of letters from Satan's helpers and their plans to destroy the live of the characters in the story. — E. M.

I have to thank you for writing your book Lord Foulgrin's Letters. I was a Christian but had not followed the path of the Lord for many years. Reading your book turned that around. Thank you. — D. W.

I have never liked to read or ever really understood what I read when I was done. My best friend recommended Lord Foulgrin's Letters and The Ishbane Conspiracy and I absolutely loved them. They are easy to read for those of us with short attention spans, I would sit and read 10-15 chapters at a time. You have no idea how amazing that was for me. I will be starting Dominion soon. I just had a baby, so finding time to read has been difficult. I am so excited though and love those 2 books. We will be getting them for our 13-year-old for Christmas. She loves to read. I honestly think everyone should read those books. My friends are now passing them around. God bless you and thank you for your work and especially your outspoken stance against abortion. – J. G.

Do yourself a favor—read this book! I especially liked how it was written from the Demon's perspective. He would laugh at us when pointing out how they play with us on a Ouija board. Or how dumb we are that we do not see how much God loves us and how He made this planet.
When I finished reading this book I wanted to give it to all my friends, Christian or not. You may want to buy them their own book, because you might not get your book back.
This book made me feel great to be a Christian and to try and help spread the good news and to break apart some of the methods that were being talked about in the book. It can be a great spiritual teaching tool to use to get those of us that are on "the fence" so to speak. — B. R.
This book will peel back the deceit of our culture and challenge you to put your household in order. By reading the enemy's mail, you will be much better equipped to avert his devices to divide the homes and lives of America...including your own.
Lord Foulgrin's Letters were not meant to fall into the hands of humans. But thanks to Randy Alcorn's imagination, and spiritual insight we have the opportunity to read the correspondence between Lord Foulgrin and Squaltaint, a lower level demon. After finishing this book, you may be a bit uncomfortable, but you will not be unaware of the reality of spiritual warfare that is going on around you. — R. R.
This is an eye opener. I highly recommend this book. Let's just say that the majority rules in my opinion. C. S. Lewis set the stage and introduced an awesome concept and is clearly a master. But Alcorn brings it home for today and even honors Lewis a bit in this book. Gotta get it! — A. D.
I am an interim youth leader for a small youth group of God-believing teens. But we have witnessed a revival among them with Lord Foulgrin's Letters being read by one of our seniors and now we have bought The Ishbane Conspiracy for the whole group. They are hungry to witness and we have started being active in our church as well. They always remark, "We were just sitting back and letting Satan win. We were lifeless!" I had read The Screwtape Letters and found Lord Foulgrin's Letters delightful as well. We can't wait to dive into the college student's lives in The Ishbane Conspiracy. — M. B.
Your book, Lord Foulgrin's Letters, was refreshing. I wanted to thank you for writing a book that revisits some of C. S. Lewis's ideas. I actually picked up the book to read during deployment in Operation Iraqi Freedom. I couldn't put it down and completed it before we even headed north out of Kuwait. As a soldier, I face many of the demons you mentioned. I see and live in a world that I'm glad my family does not have to see. Thank you for reminding me of their presence before facing the test of combat. — M. T., Iraq
Thank you so much for sending me Lord Foulgrin's Letters. I just had emergency surgery and it was sent directly from the hand of God through you! Lord Foulgrin's Letters has touched my heart and mind in a way that no book has done in quite some time. My husband is starting it now (much prayer required by me as he is not a reader!) because the message has caused us to once again look at our life and the choices we are making both for ourselves and our 4 kids and the way we have slipped in both our personal and family devotions as well as allowing TV to infiltrate our time again. Thank you for another life-changing book. Please continue to direct our sights both heavenward and introspectively to take inventory and account of where our walk with Christ is going. — J. B.
Lord Foulgrin's Letters is the second book [of yours] that I have read. I did enjoy reading it and learned much from this book. I also read passages in my Holy Bible while I was reading your book and compared what you were saying with it. I found it to be sound in keeping with the Word. The book Lord Fougrin's Letters gave me much to think about and pray about and I look forward to reading more. — T.
Learn more about and purchase Lord Foulgrin's Letters.