Endorsements and Book Reviews of Tell Me About Heaven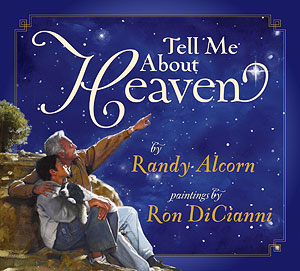 Randy Alcorn, author and pastor, wrote Tell Me About Heaven for children. The juvenile fiction story helps children visualize and understand what heaven might be like. The story begins with conversations between ten-year-old Jake and his Grandpa, known as "Papa" after Jake's beloved Grammy dies.
After Jake turned three years old, he spent summer vacations with Papa and Grammy on their farm. Papa taught Jake about the outdoors, went fishing with him and they spent hours together looking for wild strawberries to munch on. While they did, Grammy stayed in the kitchen making treats for Jake. But what Jake looked forward to the most was Grammy's homemade apple pie and her good-night hugs.
Those summers made indelible memories for Jake. From the evenings he and Papa sat on the porch and scanned the twinkling night skies with Papa's telescope looking for the Big Dipper or other constellations. To other times they ambled through fields of long stemmed grasses alongside sparkling country streams, chewing on stems of grass and talking. Grammy was never surprised at how long they were gone, but always opened the screen door for them when they returned. She greeted them with a treat, sometimes just a hug. But this summer everything was different and Jake wasn't sure he wanted to go to the farm. Grammy was dead and he was so sad. His parents encouraged Jake to talk to Papa, and he began with troubling questions.
Jake asked Papa where Grammy was, what heaven looked like and what happened to Grammy since her funeral. He asked if Grammy had to sit on a cloud and play the harp. Was she alone? When Jake went to heaven, would he recognize her? Would she recognize him?
Papa connects his answers to stories and Scripture. Together they speculate on how humans might fly like birds in heaven, traverse the ocean's depth like fish, or travel light years across space in an instant of time—until Jake asks, "So when you die…you don't really die?"
Papa answers, "You die, but that doesn't mean you stop existing or that you fall asleep. It means you go to another place."
Exquisite paintings of Jesus, children, and angelic beings by renowned artist, Ron DiCianni begin each chapter, with smaller paintings sprinkled throughout the remaining pages. Relevant Scripture verses begin each chapter.
Alcorn's book answers eternal questions that young and old often leave unspoken. His dynamic message of hope will capture the hearts and imaginations of readers.
Tell Me About Heaven won the prestigious Retailers' Choice Awards for children in 2008. This exceptional children's book is excellent for reading to or with children.
–Gail Welborn, Seattle Christian Book Review Examiner
This review originally appeared on Seattle Christian Book Review, August 30, 2010.
---
Looking for a book to help your kids understand more about Heaven? Good luck if browsing your local bookstore. You might be directed to Warren Hanson's The Next Place, which should satisfy the reader looking for what one reviewer described as "ecumenical to the point that it can offend no one—not even atheists." Thus, the title of Next Place instead of the biblical reference to Heaven.
I suggest you turn instead to the beautifully illustrated Tell Me About Heaven, written by Randy Alcorn with paintings by Ron DiCianni. Told through the experience of a youngster visiting his recently widowed grandfather, their conversations address every facet of grief and wonder over the eternal state of a loved one. The best children's books lead to further conversations about the subject and the author skillfully guides readers of every age to anticipate life in Heaven from a doctrinally sound foundation, while teaching about the Garden of Eden, the Fall, the Atonement, Resurrection, and the New Jerusalem in the process.
– Newsjournal of the Southern Baptists of Texas Convention
---
This is a great book about Heaven. It is well written, nicely illustrated and theologically sound. Alcorn really does a good job of demonstrating the 'tangibleness' of Heaven. Too often people think of Heaven as something ethereal, with clouds and disembodied spirits. This is not what the Bible teaches us. We await new bodies on a New Earth. Alcorn does a great job of showing this corporeal, physical element of Heaven. This of course leads to speculative questions (like "Will there be animals?", "What about my pets?, etc.). Some may be dismissive about such questions, but these are the questions that come up. If you are going to write for children, you ought to address questions they ask. So this is well done. Alcorn is clear about areas where the Bible does not give a specific answer and then is willing to venture his best guess.
The way the story is told is well done also. A young boy, Jake, is making his regular two-week summer visit to his grandparents in Oregon. However, this year he is a bit apprehensive since his grandmother had died in the last year and he does not know what it will be like. However, his grandfather is a godly man who knows his Bible well, and they have numerous conversations over the two weeks as they enjoy the wonderful scenes of Oregon, eat together and gaze at the stars. So the discussions about Heaven are not abstract but arise naturally within the believable relationship between a grandfather and grandson. This led to good discussions with my boys. Along the way the point is clearly made that only those who repent and believe go to Heaven. Thus, this is a good evangelistic tool as well.
Lastly, there is another side benefit to this book. It provides a nice picture of a grandfather who is intentional about being involved in his grandson's life, enjoying life with him and teaching him about God along the way. Such examples are always a good challenge to me as I seek to be intentional in parenting.
This is a great book and we warmly recommend it.
–Ray VanNeste, The Children's Hour
---
Novelist and theological analyst Randy Alcorn has written extensively about heaven for both adults and young people. Now, in Tell Me About Heaven, he successfully makes theology about heaven something even children can understand. With the help of magnificent paintings by master artist Ron DiCianni, Alcorn creates a story about a young boy named Jake who comes to spend time with his grandfather just four months after the grandmother has died.
Jake is sad that his grandfather cannot cook as well as his grandmother, and he misses her voice, the attention she gave him, and her friendly smile. He confronts his grandfather, asking why his grandmother had to die. To his shock, the grandfather says that he misses his wife dearly, but he would not bring her back even if he could. This is because she is now in heaven with Jesus, suffering no ailments and having fun with her relatives and friends who passed before she did.
This prompts Jake to ask his grandfather where heaven is, what it is like, who is there, and what the "new heaven" will be like after saints' spirits are reunited with their bodies back on earth. In separate chapters, the grandfather (called Papa) discusses the Garden of Eden, Christ's birth on earth, Christ's conquering of the tomb, and even what it is like to make the transition from earth to heaven at the time of death. Everything is done in story form with lots of interactive dialogue between Papa and Jake as they go fishing, out walking with the family puppy, or just sit together at meals. Sometimes Jake reads from Papa's Bible, and other times Papa tells biblical stories or events from his life. The information is positive, affirming, non-threatening, yet completely solid scripturally.
This book can be read a chapter at a time over a week or more, or it can be read in one long session. The color paintings of angels (some of whom are African), historical figures such as Abe Lincoln, wild animals, and Jesus are detailed, elaborate, and powerfully graphic. They add a lot to the overall impact of the book's narrative. This is a book that will not become dated quickly. – Dr. Dennis E. Hensley, Christian Book Previews.com