Readers' Responses to Courageous
I just read the Courageous novel yesterday. That's right.....all 375 pages in one day. It was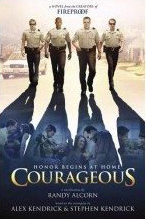 incredible! The best eleven dollars I have spent in a long while. And the best book I can remember reading. Time to apply it all now! Go get the book, or better yet, gift it to someone! –M.H.
I have just finished reading Courageous. You have been given the ability to touch so many people's lives through your written words. Though I have three daughters only, I read your message about the lead and management men have to make in this world. My husband is starting to read your book and Adonai willing, I hope its deep message will touch his life. -B.S., Zambia, Africa
I finished Courageous last night, it is one of my favorite books. I love how Mr. Alcorn wrote it, and it added to the movie. –S.R., age 13
I am a law enforcement officer in a small town. I just got done reading your book Courageous. You moved me to absolute tears and reminded me that God still does miracles. In my job, I get tired of dealing with people sometimes. It is hard. Last night I walked into the room where my two year old daughter was sleeping, opened my cell phone so I could see her, and she was okay. The story moved me into absolute tears and it makes me want to hold my daughter and never let her go. Thank you for bringing this book into my life when you did. God's timing is always right. –E.S.
This book was a surprise to me. Once I realized it was written from a movie, I was expecting a shallow, disjointed story. Instead, I found characters with depth, action that wasn't forced, and an excellent theme that was relevant to today's society. –R.G.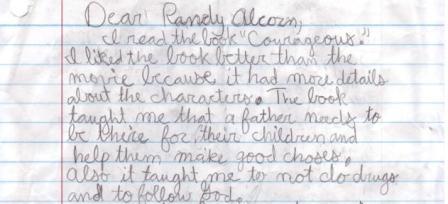 One of my favorite parts was when Nathan and Jade go out to dinner... and he gives her a ring. He said the ring will be there until you put your wedding ring on. You need to marry a guy who treats other people good, is nice to his family, and loves God more than anything. Thank you for writing this book. –T.F., age 11
Loved the movie and LOVED the book! Amazing addition to the background of each character, Randy did an amazing job. I highly recommend this for everyone's reading! –L.L.
Just wanted to drop a line and thank you for writing Courageous. I work as a deputy in the town where I live, and from reading the book you would think a deputy wrote it. The book really hit home and, even though I didn't want it to, it made me realize how far I have gotten away from God and was just a " good enough father." I had sent my wife to the book store to buy a different book but they didn't have it. As she was walking out she told me that she looked down and saw Courageous and really just bought it because it had cops on the cover! Needless to say she has no idea what she has done for me. There was several times that I couldn't read it for the tears. God works in mysterious ways. –S.F.
I just finished reading Courageous and am so touched. I know this book was designed to make fathers take a look at their lives. But as a wife and mother, it has made me take a look at my own. I want my husband to be a man of courage, but I know that I have to be a supportive wife for him to do that. I just wanted to share with you that this book will touch more than just the men, but also wives and children to strive to be more... to be courageous, also. Our family is going through a time right now not knowing how to handle our 18-year-old son in some of his decisions. This book opened my eyes to see that maybe it isn't him, but us as parents. Thank you for reminding me of God's Word not to judge, but to be supportive of those who need us the most. –K.C.
This is a great book! I did not feel like I was reading just another story. This book was real. The characters and the story were believable. There were moments of frustration, moments of anticipation, moments when I laughed out loud, and moments when I cried as I read. Courageous is a book that will challenge your faith. Even though this book focused on the dads, I was challenged as a mom to take seriously the responsibility of rearing children that love God and love people. Every parents should read this book. I couldn't put it down and look forward to watching the movie. –M.
The life of a deputy sheriff is no easy job. It requires split-second judgment, level headed confidence, and a genuine concern for the public they serve. Courageous takes a deep look into the lives of four deputies, their choices in life, their wives, their children and their friends.
The writing is very realistic and believable and gives the reader a front row seat to the drama that is everyday life for them. The amazing stories emphasize life threatening situations on a daily basis and how easily their life's focus can alter their family life.
The characters are well written with distinct personalities, ups and downs, and struggles that many in today's world face. Their development and growth is influenced by their desire to make life better by starting within their own families.
There are valuable lessons for all in this book, but especially for fathers who want to "man-up" and make a difference to those they love and serve. A perfect gift for fathers, young or old. –D.B.
Each of the four men [in Courageous] have issues from their own childhoods that they are bringing into their current family relationships and are driving their children away from them. One knows how to deal with his daughter but not his son because his son has interests other than his. One never met his father but is doing all he can to be the best husband and father in his family. Another drinks to hide his pain. These four men sign a Resolution to be there for their children and despite near death experiences at the hands of criminals and the stress of their jobs, they become closer to their children by helping each other make better choices.
There are amazing themes in Courageous like gang violence, drug and alcohol use, relationships, restoring relationships and accountability for men. It is an exciting story as these men come against the Gangster Nation and their lives are in danger. I do not recommend starting this book late at night because it will cost you sleep as you will not want to put it down. Mr. Alcorn is an excellent writer and knows how to twist your nerve endings as he tightens the suspense. –V.
Courageous was AMAZING! I want every man/father I know to read it. The Resolution, if carried out through God's direction, could change the world one family at a time. Excellent job! I will be sharing about this book everywhere I can. –R.S.
I just finished reading Courageous. Thank you for an awesome book. As a wife of a deputy, this book really hits home for lots of reasons. –S.H.
I read your book Courageous and loved it. It taught me a very vital lesson. –B.C.
Learn more about and purchase Courageous.