Readers' Responses to Randy Alcorn's Books in Other Languages
See the complete list of Randy's books that have been translated into other languages.
---
Bonjour, je viens de finir votre livre "Les pieds sur terre les yeux vers le ciel" (TouchPoints Heaven); livre fantastique qui me rempli d'espérance; à la fin vous dites que c'est une illustration de votre livre "Heaven"; estil prévu une traduction de ce livre? Merci! — P.P, French Reader
My home church lmet to discuss the future of the church and to attempt to reconcile because many people had been hurt in the process of two pastors leaving. The person who was moderating the whole day based their [discussion] on the book Gnade und Wahrheit (Grace and Truth Paradox) by Randy Alcorn. [Everyone] quickly picked up this book from the table as they were rushing out, read it, and felt it was exactly what the church needed to hear. The day brought a lot of reconciliation, praise God for the effectiveness of these books! — M.O., German Reader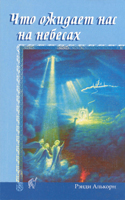 I've read your book In Light Of Eternity (in Russian) and I was deeply impressed by the profundity of theses you've advanced. The book was a real blessing for me because you've vividly depicted the meaning of our today's life deeds in the light of eternity. And I have finally understood how significant God's rewards are. I'm a member of a baptist church and only you, with the Lord's help, managed to clear for me up, what things the rewards are and why we are to try to gain them. The thing about Christ's rewards has been obscure for me for years, so thank you a lot! — A.K., Russian Reader
I was especially excited to see the translation of Purity Principle and Why Prolife? into Eastern European languages. The Soviet system really aimed to demolish the family, with abortion the only "official" birth control, and I deal with women often here in Kazakhstan who have undergone numerous abortions (especially middle-aged and older women), and are now dealing with the pain of them all. Immorality among the young is as rampant as in the West, with very little responsibility. —J. O., Kazak Reader
I have read your book Why ProLife?, it's a great book. I want to fight for unborn childrens, for family. I've read many articles prolife and I want to know much more. In my town doesn't exist a prolife organization and with help of God I want to open one, I am at medical school, in second year. —O.B., Romanian Reader
I purchased four Russian The Treasure Principle books and took them to Kyrgyzstan where I work with local ministries. This response is from N., who is discipling ten young women and teaching them about giving.

The church was collecting a gift for K children... so we were reading and discussing this book and it encouraged us to give from our pockets :) Our church teenagers motivated us adults to do it by ourselves. This Wednesday they went to bazaar (market) and collected 53 [Samaritan's Purse] shoe boxes for gifts. It was just wow. Praise the Lord. Why it was wow? Because in our country only homeless people or those children who do not study at school because they need to help to support their families, only they collect the boxes in bazaar. So, before it was a shame for our teens [not to receive them]. It is amazing to see what God is doing in our hearts. and we learn to give without expecting to get something.
I am recording one chapter every week and send it to the parents of these teens by WhatsApp. so, not only teens but parents also listen to and learn together. Praise the Lord. Thank you for bringing this book. —N., Kyrgyzstan reader
Thank you for your book Cartas Secretas (Lord Foulgrin's Letters). I bought your book in Argentina, Buenos Aires, South America four years ago, and I started reading twice but never finished it completely, until now. I have been Christian all of my life, but maybe not the type of Christian that knows many of the truths that you reveal in your book, and for sure not the type of Christian which lives knowing these truths. God has used your book to open my eyes, to bring repentance in my heart and He has set a fire in my heart to preach the Word of God and to fight for His Kingdom, living every day in the Light of His Glory and in His presence, feeding my life with His Word. —H.J., Bogota, Columbia
The Christian Ethics teachers at a local University were given your Why Prolife? book by a prolife group here in Ukraine. Their main thesis was: "The book is very compelling from a scientific point of view book. It is useful for high school students because of the fact that it is based on logical arguments, on researches. This is what makes them interested! They do not perceive well books that are only written from a fundamentally Christian view. Our young people believe in science more. They trust scientific studies, psychological researches, and your book is written from that standpoint. After reading and discussing it at Christian Ethics classes, students started reading the Bible with greater confidence and trust, they saw the Scripture in a different, scientifically proved light. Some students told me, "I discovered that Christians can be scientists! I used to think they are all fanatics." Rejoicing for the fruit of God's work. — S.F., Ukranian University Professor
I read your book Edge of Eternity in Dutch. It made a big impression on me. It was a very difficult book to read, because you get so much to think about. I could not read it at once and that is very special, because I read most books non-stop. I hope your books are at the library, so I can read all of your books. — C.V., Dutch Reader
Edge of Eternity is the only book for me to read every two or three years again because of all the great, genius metaphors. I use them a lot here in the Netherlands! —A.V., The Netherlands
I've read your books Deadline, Dominion, Edge of Eternity and Lord Foulgrin's Letters. The last one has not appeared yet in Dutch, but I just couldn't wait. The book has done great things for me. Suddenly I saw what the devil can do to me because I just don't expect. So thanks a lot. God bless you in your work and your family, I'm looking forward to your next book! — J.G., The Netherlands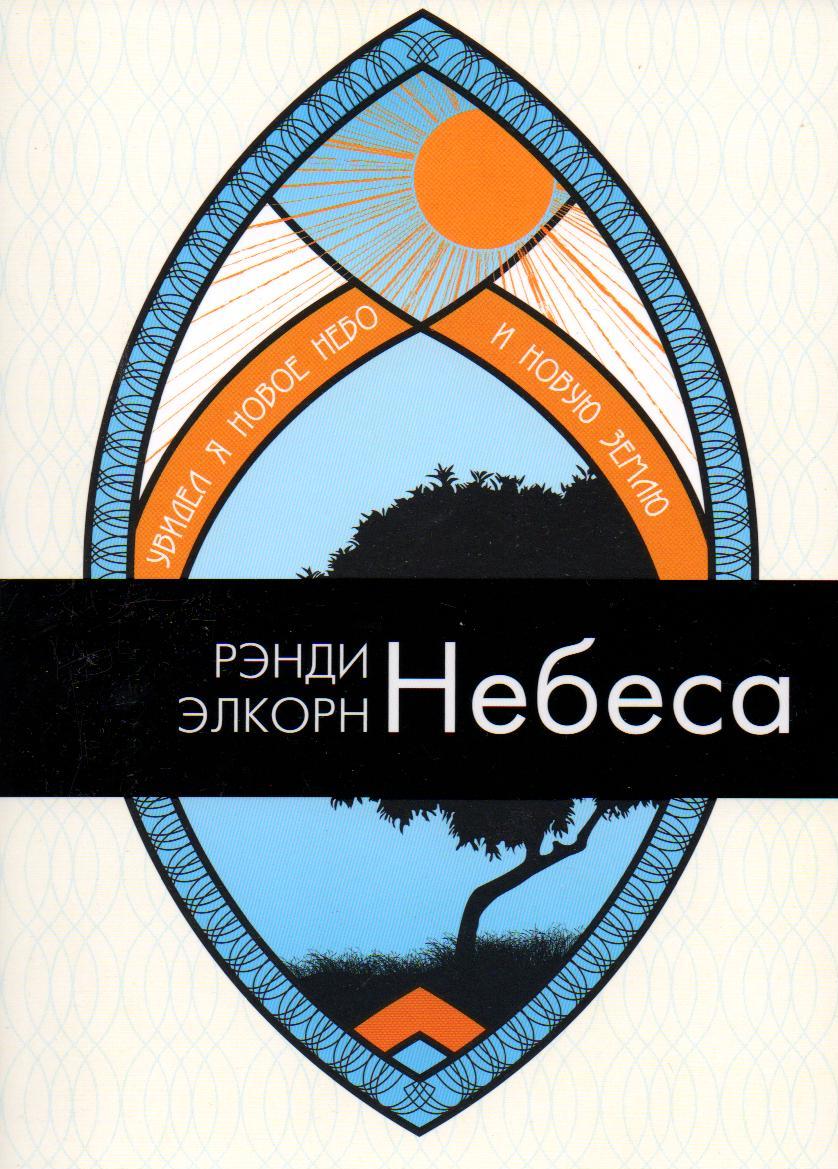 I want to express our sincere gratitude for helping us to publish Heaven book in the Russian Language. It just came out [April 2011] and we already have a few orders to fill. People have been waiting for it for a long time. We pray and hope that this book will be a blessing for the Russian speaking peoples. — O.V., In Lumine Media, Russian Publisher
I would like to let you know that I liked your books Deadline and Dominion very much. Reading it really changed my mind about Heaven and it made me thinking about life after death. It also made me aware of the necessity to tell other people about Jesus Christ because I realized that hell is a place you want nobody to go. I wish you all the best for the future and I hope you will write more interesting books. — M.D., The Netherlands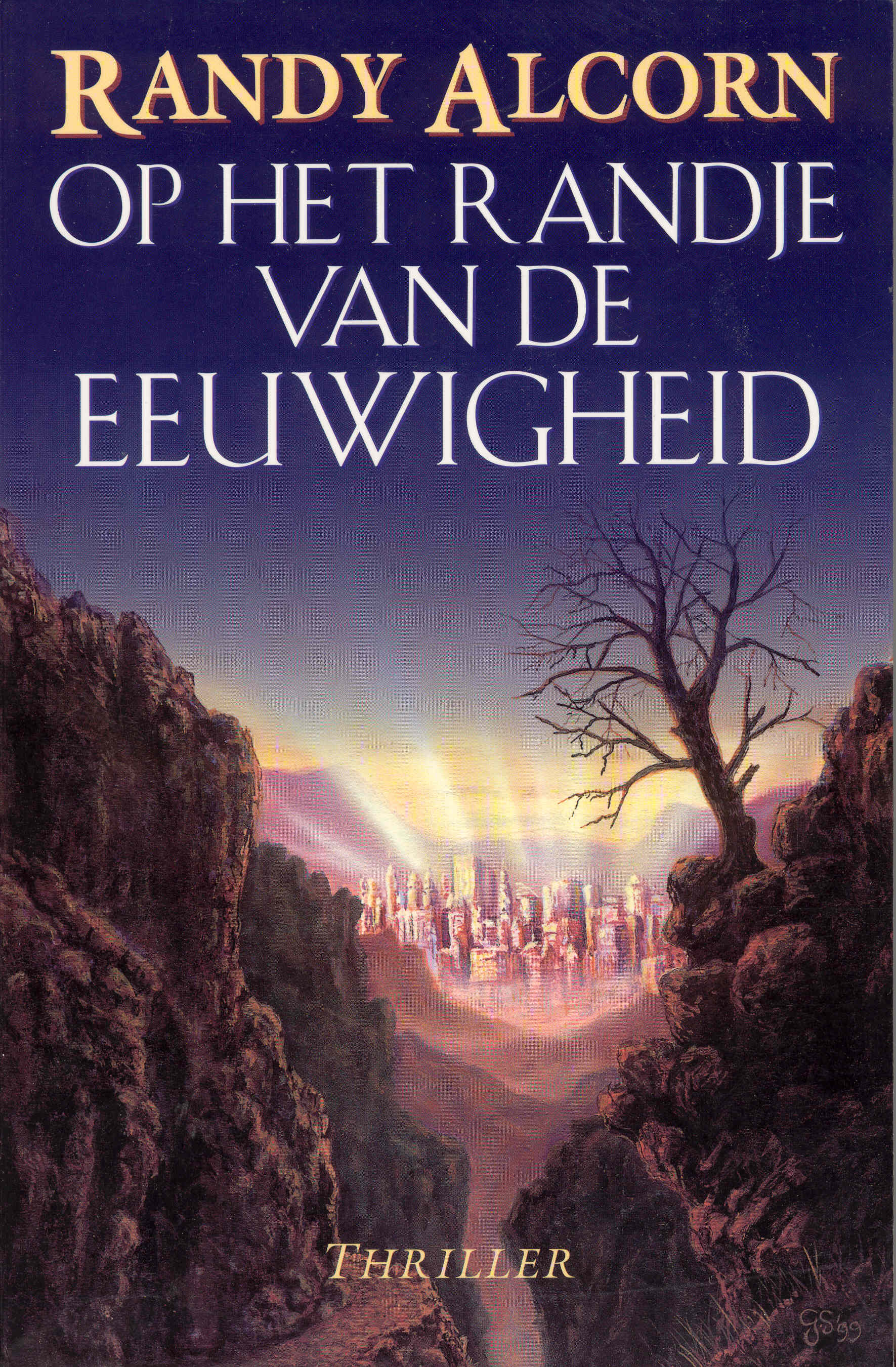 I am a 21 year old Dutch girl from Zwolle, a city in the Netherlands.
I have been raised in a Christian family and I have gone to church all my life and since 4 years I am very active in my church with Sunday school classes. I have read all your books that are available in the Netherlands: Deadline, Dominion and Edge of Eternity. I just wanted to say that I have really enjoyed reading these books. It helped me to get a much more clear picture of what heaven is and it helped me to get a clearer point in the discussion about abortion. I mean I always have been against abortion, but since I have read your books I have better points in defending my opinion on this matter. But most of all reading your books has helped me grow in my faith in the Lord. So thank you verry much for writing your books. I can't wait until the next one is in the Dutch book stores. — A.V., The Netherlands (PS- I am sorry for my not-correct English!)
Na en tijden het lezen van het boek Thuiskomst (Safely Home), Besef ik eens en te meer hoe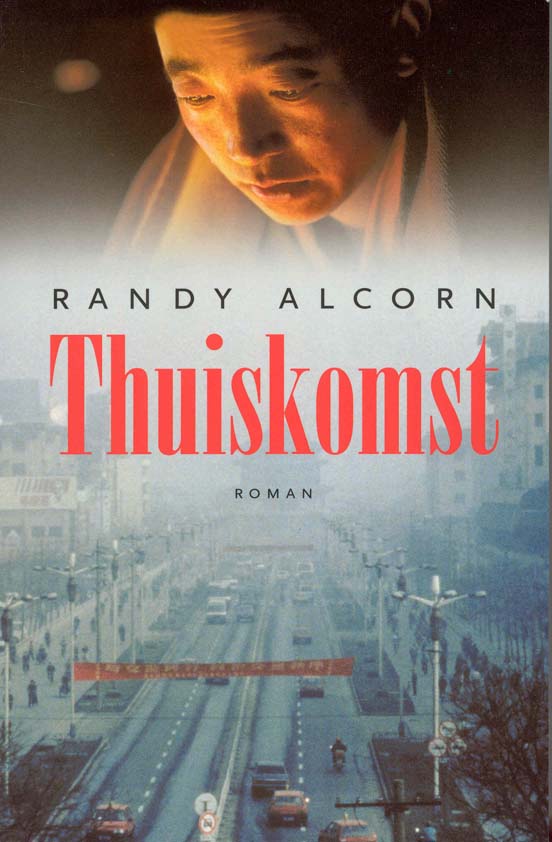 afhankelijk we zijn van Jezus en in wat voor grote gebreken wij zijn, het bracht emotie's. Het lijden van de medemens is zoals beschreven vaak zo'n ver van mijn bedshow en raakt enkel een momentopname in ons leven. Fijn dat deze trant van schrijven is staat blijkt te zijn ons ook weer te bepalen dat onze plaats "thuis" een ander thuis is dan hier op deze aarde, en het laat zien dat wij in onze geindividualiseerde wereld meer broeders en zusters hebben dan wij aanvankelijk denken. Wij kunnen alleen trachtten ons geloof méér handen en voeten te geven, en het besef te hebben dat gebed vele malen meer kracht heeft dan wij in ons gecultiveerde leventje van zelf doen willen beseffen. — T.J., Franeker Nederland
Here is a message from Holland, I read your books Deadline, Territorium (Dominion), Lord Foulgrin's Letters, and the last one Thuiskomt (that's the Dutch title). I'm sorry I shall first introduce myself. I'm twentyone years old, a teacher in the 'bad' side of the city Dordrecht, and I'm just married. So why I wanted to mail you was, first, I wanna thank you for your good books. A lot of people in Holland think more after reading your books and so am I. I have some questions after reading your last book.
Is everything you wrote about the bad sites of China true? I mean the big line, are there still Christians in prison? And in the middle of the book. Ben and the cousin of Li Quan are in a cave having a seminary and then the others are singing a 'suffering song' about the followers of Jesus who killed, is that song true? I mean how do you know that Marcus died when the horses ran everyone another way, and Thomas also, etc. I mean I didn't know, and I don't know where I can find that in the bible.
Well for now, I think there are enough questions. So as you can see, people think more after reading your books. Sorry for my bad English, but I hope you can translate it in a good version. I hope someday to hear from you. — A.V., Franeker Nederland
I'm a young student, 19- years old, living in Holland. I'll write you because you have written a very impressive book: (in Dutch: Thuiskomst), Safely Home. I'm a great fan of your work. I've read your books which are translated in the Dutch language. I'm impressed, you touch the right sensitive chord. I'm a Christian, but I lived in a rich country. The persecution people are the right Christians, they have body and the truth believe in Jesus our God!!
Thank you much for your books. They teach me and they give me hope! I've collect your books and the books of Frank Peretti. Safely Home, has been translated in 2002 and at Christmas time I've got Safely Home from my parents. My collection is complete!
In my church we have some discussion groups for the youth in the Christian community. I will in the next season speak and discuss about your books and especialy about the persecution people, which are talk about in your book Safely Home. Thanks for writing your books, you have a great fan of your work in Holland! The Lord bless you and the Lord bless the working of your books! I wish you a good new year, and I hope you get inspiration to write a new book! — B.W., Holland (sorry but I can't write good English...)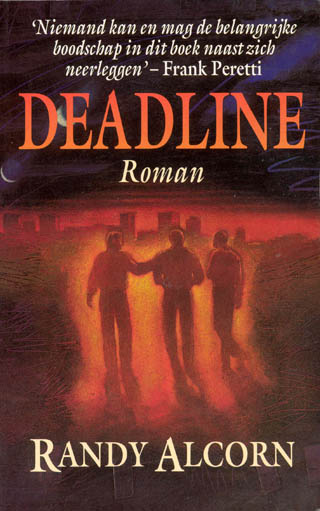 I'm thankful to God, but also to you, for writing Lord Foulgrin's Letters. I learned very much from it. Many things I knew, but I did not know I knew them, if you know what I mean. I did nothing with the knowledge about demons etc. I read Deadline and The Territorium (Dominion) too, and they are still my favourite books, but Lord Foulgrin's Letters opened my eyes and heart!
The few days after reading that book, I was aware of everything I did and really wanted to live for the Lord. Now it is harder to live in that way, but still worth to persevere. I hope and pray God will stay close, and also close to you. — M.C., The Netherlands
I've read the books Deadline and Dominion in the Dutch translation. It took me a few days to finish them both and I can hardly wait until your next book is translated. My husband reads the books in English but my English isn't that good to understand the full meaning of everything you write. Your view of the future has changed mine. It has been an eye opener. Thank you. — B.V. & M.V., Dutch Readers
I've read your books Deadline and Dominion (in the Dutch translation) and I find them to be a great blessing to me. It's instructive, warning, encouraging, challenging, fascinating, entertaining and so much more! Thank you very much for using the gifts God gave you in this way. To speak in the style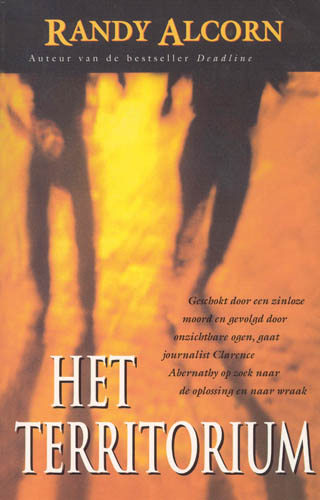 of Dominion: I hope that in heaven you will teach me the art of writing, like brother Lewis did with Dani. Please continue writing great books! — H.L., The Netherlands
I'm a Dutch woman who read your books who are translated in Dutch. I must say: I never, ever have read books like the way you wrote them. After Deadline and Territorium I read at this moment the Edge of Eternity. I'm very much impressed about the way you write. You may say I'm one of the biggest fans of your books.
May God bless you and your family, and may many people be touched by the Holy Spirit after reading your books… and then start reading the Bible to find the answers in her or his life. Please stay writing such fantastic books. — M.W., Holland
During my holidays, I've read your book Deadline (Roman) and it had a clear message for me. Please accept my compliments for the way it is designed and written. It is a solid, constructive and challenging book. We thank the Lord for the talent he has given to Randy Alcorn and the way He uses your talent. Kind regards from a small country. — J.H., Dutch Reader
Just a quick and short e-mail message to compliment and encourage you on the excellent work you are doing. I'm currently reading Safely Home (although in Dutch it's a different title of course), after having read Deadline and Dominion with much pleasure. Again, I'm touched by the quality of your storytelling, and am enjoying what it does in my heart. Additionally, I really appreciate what I'm factually learning from reading your books on topics as persecution in China, prolife vs. prochoice discussions, the role of the press and government, and racial discrimination. They certainly deepened and broadened my views, thanks a lot!
I am grateful and have a deep respect for all that God is doing through your life and works. I pray that you will continue to open your talents for His Kingdom, that your writings will help to make a significant change in the life and hearts of your readers, and that God will protect you and your family, and blesses you all with His Holy Spirit and His peace. — J.S., The Netherlands
Greetings from the Netherlands. I am pastor of a Baptist Church. I am reading the book Safely Home, it has been translated into Dutch and many people of our church have read it and are so thankful for this book! Today a year ago, on Sept. 11!, I came back from a visit to Beijing, China and North Korea. The book really helps to understand the church there. Thank you for your ministry. Even in Holland is has impact. — O.L., The Netherlands
I just finished reading your book [Deadline]. I hope many books will follow. I think an angel guided your mind while writing this unforgettable book. I hardly can wait to see the new earth and heaven. I cannot imagine a life without our Guide God. Your book gave me food for my mind. Too long I lived like the person Jake in your book. God opened my eyes. — P., The Netherlands
I want to tell how much impact your book Safely Home had on me. It bring me nearer to the Lord as any book has do to me. My English is not so good, but that's why I'm a real Dutchman. I wish you all the best, but mostly the blessings of the Lord. — R.W., Holland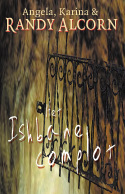 I'm 14 years old and live in the Netherlands (that's why my English isn't really good). I read a few of your books. They're GREAT! I can't describe the feeling, when I read the last pages of The Ishbane Complot, the story of Rob is just amazing! Very special how you can describe this. I also read a few other books, but I don't know what their names are in English: Deadline, Brieven Van Heer Foulgrin, The Territorium and some other books. It is amazing how you can describe the love of God almighty. When I read this my heart gets warm. Thank you for writing this books, so that the whole world can see there is a God and there is a satan. — J.A., Holland
I live in Hooghalen in Holland. I read several of your books translated in Dutch. Yesterday I finished on the Edge of Eternity. I am very much impressed. I think you do a very important job by writing over these things. I am a pastor, just like you have been. And in my community there are many members who read for example Deadline. And most of them are enthousiast. I think that what you are writing is a missing link in all the information on TV and school etc. Christianity was too much theoretic and concerned with dogma etc. In your books we proof some of the real life we have to live with Jesus Christ our Lord. And I am happy that His grace and mercy are central in your books, while in the mean time His anger for every one who deny his existence is shown seriously. I wish you God's blessing and I am looking forward for the Dutch translation of your latest book In Light of Eternity. — R.V., Holland
I will thank you for the book Edge of Eternity. It has learned me to look further, to look with the eyes of eternity, and gather treasures for eternity. It has also learned me to pick up the stones during my life. Many thanks, and God bless you. — S.B., The Netherlands
I'm 35 years old, married with two [young] sons. Ten days ago I bought your book Deadline from our booktable. I started reading and finished it in little over a week, which is about the swiftest as I did in many years, also because I have the time since my "burn out" early September. This also made me start thinking about my life and where it was heading, or not.
What I want to tell you is that I am happy that I found your book, because it helped me recognizing changes in morality. I also found out that The Bible is more than worth to read every day, and is far from boring. God touched me through your book and is now pushing me to read His Book. — G.O., The Netherlands