Randy Alcorn's Books for Prisoners
Throughout the 21 years of EPM's existence, we've received countless encouraging letters from readers, sharing how God has used Randy's books to inspire them to live in light of eternity. But some of the most touching letters we've received are from a specific group of people: prisoners.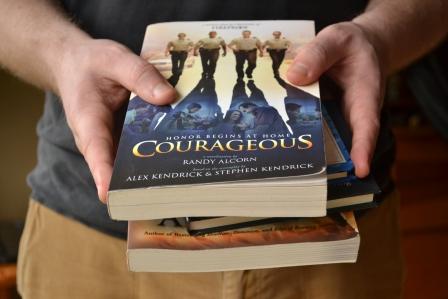 It's our privilege to have given away literally thousands of Randy's books to prisoners and chapel libraries over the years. These materials minister to a wide range of inmates, from those who are serving sentences for drug-related crimes to those who are on death row. In 2011 alone, we sent out 4,090 books to 168 different correctional institutions. (That's double the number sent out in 2010!) The books are often shared with other inmates, so one book may be read by several people. Books are also requested for the chapel libraries and are often so popular that they're always checked out.
"God is working powerfully in the lives of prisoners through Randy's books," says Sharon Misenhimer, EPM support staff, who oversees this ministry. "I do nothing to promote the distribution of the books, other than pray for spiritual growth and salvation for the inmates. It's God's amazing work and I'm just so very grateful to be a part of it!"
Here's a few of the many letters we've received from prisoners in the past year:
"Thanks to your books and the people that God put in my path, I can say that I made the right choice in following my rock and my salvation, the Lord Almighty." —H. from Washington
"Please know how much the book (The Resolution for Men) has encouraged me to make a resolution for my wife and children when I am released. I have dedicated every moment of my incarceration to becoming the follower, daddy, and husband God created me to be. I used to be a staff pastor at a mega church for several years and sadly my entire focus was on ministry and not at all on my own walk and my family. Sadly it has taken prison to get my priorities straight. Thankfully God has given me another chance." —S. from Florida
"Each one of your books have forever affected and changed my life. I have learned some things I would have never even thought about if not for you. Thank you, sir, for being such a good and faithful servant of our Lord and Savior Jesus Christ. Throughout these books, I have had to stop reading in order to cry and pray for and about things that touched me so deeply. Things you have brought to light for me. I cannot say thank you enough." —C. from Pennsylvania
"I just wanted to thank EPM for all the books you mailed to me while I was in prison. I have been out a year now. I'm doing good, and trying to continue to grow in Christ. The books you mailed to me helped change and redirect not only my character, but my life. What you are doing does make a difference!" —J. from Oregon
Help Fund Books For Prisoners
If you would like to help us underwrite the cost of providing and sending Randy's books to prisoners, you may donate online (choose the option "Books for Prisoners Fund" under Special Funds) or send a check to EPM designated "books for prisoners" on the memo line. 100% of the donations to this fund will be used to finance the cost of the books and materials, as well as the shipping charges.
Prayer Points
Pray that many men and women in our prison system come to faith in Christ.
Pray that every book EPM sends out would be used by the Lord to touch and change lives.