Readers' Responses to Eternal Perspectives
I love this book! I keep putting it down after two to three chapters and then find myself picking it right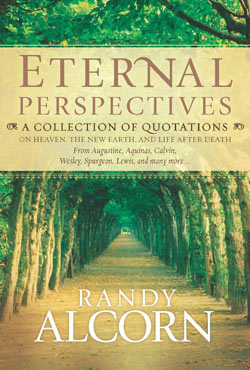 back up again. There are so many quotes... and to think of all the people from way back who thought so much about Heaven. It's a great book and I'm just getting started! — F. B., age 90
I am so thankful for your book Eternal Perspectives. I try to read it in the morning before going to work. What a difference it has made in my life and has given me a true eternal perspective. — B. K.
Just picked up your new work, Eternal Perspectives. What a phenomenal compilation of verses, quotes and selected passages! This is a tremendous resource for devotional or pastoral (study). — T. L.
I'm absolutely loving Eternal Perspectives. It is so encouraging and uplifting. What a treasure house of quotations from so many folks who truly had the right idea about our eternal home. Thank for you compiling this and including your own quotes as well. I do not think we can ever be TOO heavenly minded! — C. S.
I am enjoying reading portions from Eternal Perspectives as reminders and encouragement. In the last three weeks we have had three friends diagnosed with cancer. What a wonderful source for encouraging them this book will be! — S. H.
Learn more about and purchase Eternal Perspectives.