Seeing a Man the Way God Created Him to Be: A Grace and Truth Encounter on the Streets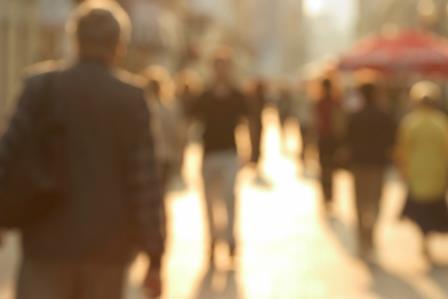 Downtown Portland is a busy place and full of needy people. On this particular day I had forgotten my bag of goodies which I normally give out to those asking for money, so I was street hopping to avoid contact with anyone.
I managed to weave my way through the early morning foot traffic but not so quickly that I wasn't seeing a very lost generation. My heart was burdened and I was reminded there is a place called Hell for those without God's gift of Jesus' sacrifice. I began to pray for certain souls on the streets. I was almost to my car, but just as I was waiting for the last traffic light to change, I heard a voice from behind say, "Excuse me ma'am, but do you happen to have a dollar I could borrow?"
I turned to see a young man of about 20 with disheveled hair, piercings lining his upper lip and several in his nose, and tattoos up and down his arms. "No, I'm sorry, I don't give money," I said. "But…what is it that you need?"
"I just need a bus ticket," he replied. Sure, a bus ticket, I thought.
"Ok, how about we go together and I'll buy you a ticket." As we walked, he shared about himself. I found out his name was Gary and he was from Seattle.
"So, what do you do all day?" I casually asked.
Gary answered all my questions. He had tried to find a job but no one would hire him. He admitted to having an alcohol problem.
We continued to walk and talk, and feeling great compassion for him I said, "Gary, I know you probably have already heard this before but…you really need the Lord."
He backed up. "Now wait a second!" With chest out, arms upward, palms showing, he declared, "I don't need religion."
"I'm not talking about religion," I said. "I'm talking about a relationship with the One who created you, and that is very different than religion."
Gary began with a series of objections. Finally he said, "Why do Christians hate gays so much? I'm gay. What's wrong with that?"
I was saddened that Christians were known to him for their hate. "You know, I'm a Jesus follower," I said, "and I sin, too…"
"That's not sin, that's just who I am!" he responded.
"Just a second. I want to define for you what I believe sin is," I told him. "God has created us all with a design. And when we go against the design, that's what I mean by sin. I sometimes go against His design too, but when I do I first acknowledge it and then turn from it back towards the design He created me for."
Gary didn't appear to be threatened by me. With his age and the way he related, he seemed as though he could be one of my own children. I left it at that until he asked me if I knew of a preacher who stands on the street corner with a sign saying "God hates gays!"
I replied as kindly as I could, "I don't know that man personally. But that's self-righteousness. The Bible says that none of us are righteous in and of ourselves. That's why we need Jesus."
We continued talking until we arrived at the MAX ticket machine. As I reached out my hand to choose the ticket amount, I sensed the Holy Spirit telling me that I needed to buy him a 7-day ticket. I turned to him and said, "You know, I really would like to help you out. Could you use a 7-day ticket? "
Gary's eyes became wide with unbelief. "You don't need to buy me a 7-day ticket. One day is fine. That is way too expensive!"
"Well, my money is not my money," I told him. "It's God's money and if this is the way He wants to use His money today, then that's how He will use it."
After I purchased the ticket and gave it to him, he backed up, visibly touched. Suddenly Gary asked, "I just want your real opinion. What do you think about the LGBTQ [Lesbian, Gay, Bisexual, Transgender, Queer]?"
I looked at him and said, "Gary, I just really believe God has created everything with a design and a purpose in mind. A nut was made for a bolt. There is a distinct design. Some of the things I've heard…I just can't imagine that's the design God created."
He defended himself. "But it's an over-populated world and we keep the population down. Besides, I know two men who are fathers to their son and they make great parents."
"I don't deny that it's possible for two men to love a child," I told him. "But God did create man and woman differently and that's a scientifically proven fact. They both come together and give life and something unique by design to that child."
He sighed. "But I could never be attracted to a woman like that!"
"You don't have to be," I replied. "My brother-in-law lives in Asia, is 52 and celibate, and is telling people about Jesus. We are abundantly more than just sexual beings."
"But look at me!" he exclaimed. "I'm dressed so feminine." I looked at him—he was wearing casual shorts and a top—and I honestly didn't think he was. So I said, "I don't think you look feminine."
"But look at my purse!" Gary turned, and for the first time I noticed the large green handbag hanging from behind his shoulder.
I shrugged. "Guys in Europe carry purses!"
I looked him straight in the eye and at that moment, I saw the man who God created him to be. "Gary," I said, "You look like a real man to me." I will never forget the look on his face. "Thank you," he said genuinely, and hugged me.
I told him one more time, "Please just go and look at who Jesus is. Jesus said 'I am the way, the truth and the life. No one comes to the Father but through me' and 'Seek first the kingdom of God and these things shall be added to you.'" He nodded meekly. "You've convinced me. I think I will now."
I directed him to the local street mission and a downtown church to find out more about Jesus. "Please go to one of those places. They could help you." With one last objection he said, "But they might judge me."
"Yes, you're right, some will," I replied. "But Jesus followers will want to help you." Softly I added, "And you have to admit that you judged me when we first met."
He nodded yes and left.
Please join me in praying for Gary, that he might come to know the true Jesus and follow Him, too. Jesus is the only One who can change a person's heart and we must direct people to Him.
This article originally appeared in the Fall/Winter issue of Eternal Perspectives, EPM's quarterly magazine.
---
Watch Janie share about meeting Gary:
Janie's Story of Truth and Grace from Good Shepherd Community Church on Vimeo.
Janie met a young man in downtown Portland with some needs and a lot of questions. It all started when Janie asked "What do you need..."