Seis Razões para Viver de Forma Mais Simples e Doar Mais Generosamente (Six Reasons to Live More Simply-and Give More Generously)
Alguém disse: "Viva simplesmente de modo que outros possam simplesmente viver." Claro, não existe uma relação automática entre a minha vida simples e alguém ser resgatado da fome ou ser alcançado pelo evangelho. Só haverá uma relação se eu, de fato, usar os recursos que tiver liberado para alimentar os famintos e alcançar os perdidos. Isto por si só pressupõe que continuarei a trabalhar para ter um salário decente. Porque, se eu buscar viver a vida simples pelo prazer de viver uma vida simples, e gastar o pouco que ganho comigo mesmo, isto nāo ajudará a ninguém. A questāo não é somente dizer "não" ao dinheiro e às posses, mas utilizar o dinheiro e as posses para dizer "sim" a Deus.
Como podemos viver de forma mais simples? Existem milhares de maneiras. Podemos comprar carros usados ao invés de novos, casas modestas ao invés de casas caras. Não precisamos substituir móveis mais velhos, apenas pelas aparências. Podemos alterar e usar roupas que já temos, fazer compras em brechós, abrir mão de compras de lazer, de roupas caras e jóias, reduzir as comidas pré-prontas caras e escolher maneiras menos onerosas de nos exercitar e ter lazer. Alguns de nós podem pegar carona, usar transporte público ou bicicleta, ao invés de um carro ou de um segundo carro. Mas estas são coisas que poucos de nós faremos, a menos que tenhamos motivos claros e convincentes.
Abaixo estão seis:
I. Devemos viver de forma mais simples, e doar mais generosamente, porque o Céu é o nosso lar.
O maior impedimento para doarmos generosamente e vivermos de forma mais simples é a ilusão de que este mundo é o nosso lar.
Imagine que você morasse na França e estivesse visitando os Estados Unidos por oitenta dias, vivendo num hotel. Além disso, imagine que há uma regra que diz que não se pode levar nada para a França em seu vôo de volta, nem se pode enviar qualquer coisa ou levar dinheiro de volta. Mas enquanto você estiver nos Estados Unidos, você pode ganhar dinheiro e fazer depósitos em seu banco na França. Pergunta: Será que você encheria seu quarto de hotel com móveis caros e tapeçarias extravagantes? Claro que não. Por quê? Porque o seu tempo nos Estados Unidos é muito curto, e você sabe que não pode levar nada com você. É apenas um quarto de hotel! Se você for sábio, enviará seus tesouros para casa, sabendo que o estarāo aguardando quando você chegar.
Estamos aqui na terra com um visto de permanência curta. Ele está prestes a expirar! Não gaste muito tempo, dinheiro e energia em seu quarto de hotel quando, ao invés disso, pode enviá-lo ao seu destino.
II. Devemos viver de forma mais simples, e doar mais generosamente, porque isto nos liberta e altera nosso centro de gravidade.
Copérnico provocou uma revolução quando provou que o sol não gira em torno da terra. Doar generosamente desencadeará uma revolução da mesma magnitude na vida dos cristãos que compreendem que a vida não gira em torno das coisas da terra. Ao doarmos, rendemos nossas posses ao seu centro de gravidade correto: Deus. A vida não gira em torno de casas e terrenos, carros e posses. Doar generosamente, e a vida mais simples que disto resulta, nos remove da órbita do dinheiro e gera para nós um novo centro de gravidade no Céu.
III. Devemos viver de forma mais simples, e doar mais generosamente, porque somos aqueles que conduzem a Deus.
Os cristãos são a equipe de entrega de Deus, por meio de quem Ele faz doações a um mundo necessitado. Somos condutores da graça de Deus para os outros. Esquecermos que somos mordomos, que somos motoristas de entrega de Deus, é como se os motoristas da Fedex se esquecessem de que o que eles carregam em seus caminhões não pertence a eles. Quando isto acontece, as entregas se interrompem e as pessoas não recebem aquilo que precisam.
Deus nos diz claramente porque Ele nos dá mais dinheiro do que precisamos. Não é para que possamos encontrar mais maneiras de nos mimarmos e de estragarmos nossos filhos. Também não é para que nos isolemos da necessidade da provisão de Deus. É para que possamos doar, e fazê-lo generosamente (2 Coríntios 8:14; 9:11).
IV. Devemos viver de forma mais simples, e doar mais generosamente, por causa da recompensa que receberemos no Céu e da alegria que isto nos trará.
Se eu escolher uma casa menor aqui na terra e investir o dinheiro poupado no Reino de Deus, Ele vai me dar tesouros eternos no Céu, que farāo com que uma casa grande aqui na terra pareça absolutamente medíocre. Por que nos contentarmos com um colar caro agora, quando, ao vendê-lo e doar o dinheiro para atender necessidades, podemos contribuir para um tesouro imperecível na eternidade?
V. Devemos viver de forma mais simples, e doar mais generosamente, por causa das terríveis necessidades espirituais do mundo.
Imagine que Deus quisesse alcançar o mundo para Cristo e ajudar a um número inaudito de pessoas que sofrem. O que se poderia esperar que Ele colocaria nas mãos de Sua equipe de entrega? Riqueza sem precedentes para atender a todas estas necessidades e alcançar a todas estas pessoas? Bem, Ele tem feito isto, não é? A pergunta é: O que nós estamos fazendo com isto?
John Piper fez a seguinte observação:
"Três bilhões de pessoas hoje estão distantes de Jesus Cristo. Dois terços destes não têm testemunho cristão viável em sua cultura. Se eles devem ouvir (e Cristo ordena que ouçam), então missionários transculturais terão de ser enviados e financiados. Toda a riqueza necessária para enviar este novo exército de embaixadores das boas novas já está na igreja. Se nós, tal como Paulo, nos contentarmos com as necessidades básicas da vida, centenas de milhões de dólares na igreja seriam liberados para levar o evangelho às fronteiras. A revolução de alegria e liberdade que isto causaria em nosso país seria o melhor testemunho local que se pode imaginar."
6. Devemos viver de forma mais simples, e doar mais generosamente, por causa das necessidades físicas urgentes do mundo.
"Um deles, Ágabo, levantou-se e pelo Espírito predisse que uma grande fome sobreviria a todo o mundo romano, o que aconteceu durante o reinado de Cláudio. Os discípulos, cada um segundo as suas possibilidades, decidiram providenciar ajuda para os irmãos que viviam na Judéia. E o fizeram, enviando suas ofertas aos presbíteros pelas mãos de Barnabé e Saulo." (Atos 11:28–30)
Aqui está o padrão bíblico para doações: Ao ver uma necessidade, doe para mitigá-la. Doar de acordo com nossa capacidade significa viver com menos do que Deus confiou a nós. Se Ele nos confiou muito, como fez para a maioria das pessoas lendo isto, podemos viver com bem menos para que possamos doar o excesso aos necessitados. Desta forma, eles não terão escassez e nós não teremos demasia, exatamente aquilo que Deus pretende, de acordo com 2 Coríntios 8:14.
---
Six Reasons to Live More Simply-and Give More Generously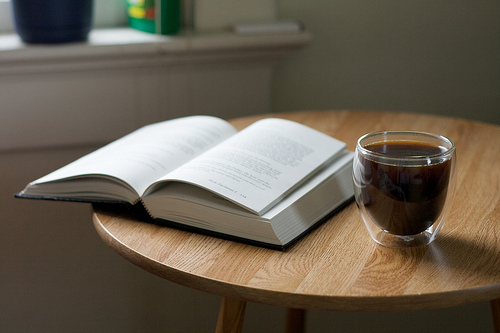 Someone has said, "Live simply that others may simply live." Of course, there is no automatic relationship between my simple living and someone else being rescued from starvation or reached with the gospel. There is only a relationship if I, in fact, use the resources I have freed up to feed the hungry and reach the lost. This itself assumes I will continue to make a decent wage. For if I go off and pursue simple living for simple living's sake, spending what little I earn on myself, it does no good for anyone else. The point is not merely saying "no" to money and things, but using money and things to say "yes" to God.
How can we live more simply? There are thousands of ways. We can buy used cars rather than new, modest houses rather than expensive ones. We don't have to replace older furniture just for appearances. We can mend and wear clothes we already have, shop at thrift stores, give up recreational shopping and costly clothes and jewelry, cut down on expensive convenience foods, and choose less costly exercise and recreation. Some of us can carpool, use public transportation, or a bike instead of a car or second car. But these are things few of us will do unless we have clear and compelling reasons. Here are six:
1. We should live more simply—and give more generously—because Heaven is our home.
The single greatest deterrent to giving—and to living more simply—is the illusion that this world is our home.
Suppose your home were in France and you were visiting the United States for eighty days, living in a hotel. Furthermore, suppose there's a rule that says you can't take anything back to France on your flight home, nor can you ship anything or carry back money with you. But while you're in America, you can earn money and send deposits to your bank in France. Question: Would you fill your hotel room with expensive furnishings and extravagant wall hangings? Of course not. Why? Because your time in America is so short, and you know you can't take it with you. It's just a hotel room! If you're wise, you'll send your treasures home, knowing they'll be waiting for you when you arrive.
We're here on earth on a short-term visa. It's about to expire! Don't spend too much time and money and energy on your hotel room when instead you can send it on ahead.
2. We should live more simply—and give more generously—because it frees us up and shifts our center of gravity.
Copernicus sparked a revolution when he proved that the sun doesn't revolve around the earth. Giving will spark a Copernican revolution in the lives of Christians who understand that life doesn't revolve around the things of earth. In giving, we surrender our possessions to their proper center of gravity: God. Life no longer revolves around houses and land and cars and things. Giving—and the simpler living that results when we give—breaks us out of Money's orbit and sets up for us a new center of gravity, in Heaven.
3. We should live more simply—and give more generously—because we're God's pipeline.
Christians are God's delivery people through which he does his giving to a needy world. We are conduits of God's grace to others. If we forget that we're God's stewards—his delivery drivers—it's like FedEx or UPS forgetting that what they carry in their trucks doesn't belong to them. When that happens, deliveries grind to a halt and people don't get what they need.
God comes right out and tells us why He gives us more money than we need. It's not so we can find more ways to indulge ourselves and spoil our children. It's not so we can insulate ourselves from needing God's provision. It's so we can give and give generously (2 Corinthians 8:14;9:11).
4. We should live more simply—and give more generously—because of the reward we'll receive in Heaven and the joy it will bring us.
If I choose a smaller house here on earth and invest the savings in God's kingdom, God will give me eternal treasures in Heaven that will make a big house on earth seem utterly trivial. Why settle for an expensive necklace now when by selling it and giving the money to meet needs it could contribute to an imperishable treasure in eternity?
5. We should live more simply—and give more generously—because of the dire spiritual needs of the world.
Suppose God wanted to reach the world for Christ and help an unprecedented number of suffering people. What might you expect Him to put in the hands of His delivery people? Unprecedented wealth to meet all those needs and reach all those people? Well, He's done it, hasn't He? The question is, what are we doing with it?
John Piper makes this observation:
Three billion people today are outside Jesus Christ. Two-thirds of them have no viable Christian witness in their culture. If they are to hear—and Christ commands that they hear—then cross-cultural missionaries will have to be sent and paid for. All the wealth needed to send this new army of good news ambassadors is already in the church. If we, like Paul, are content with the simple necessities of life, hundreds of millions of dollars in the church would be released to take the gospel to the frontiers. The revolution of joy and freedom it would cause at home would be the best local witness imaginable.
6. We should live more simply—and give more generously—because of the world's urgent physical needs.
"[Agabus] stood up and through the Spirit predicted that a severe famine would spread over the entire Roman world. (This happened during the reign of Claudius.) The disciples, each according to his ability, decided to provide help for the brothers living in Judea. This they did, sending their gift to the elders by Barnabas and Saul" (Acts11:28-30).
Here is the biblical pattern for giving: See a need, give to meet it. Giving according to our ability means living on less than God has entrusted to us. If He has entrusted us with a great deal, as He has most people reading this, it means living on far less so we can deliver the excess to the needy. That way they will not have too little and we will not have too much—exactly what God intends, according to 2 Corinthians 8:14.
photo credit: David Robert Wright via photopin cc, Top Photo via Unsplash