Future Products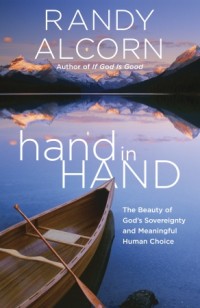 hand in Hand (The Beauty of God's Sovereignty and Meaningful Human Choice)
By Randy Alcorn / Multnomah Books / 2014
Expected Release Date: October 21, 2014
In his latest title, Randy brings life-changing insight to the great debate between God's sovereignty and human choice, and tries to fairly present both the Calvinist and Arminian perspectives. Rather than attempt to "solve" this theological debate, hand in Hand helps you examine the question in light of all Scripture.
The Apostle Graphic Novel (The Kingstone Bible Volume 10)
By Randy Alcorn / Kingstone Comics / 2014
Expected Release Date: Late 2014
The Kingstone Bible is a complete graphic adaptation of the Bible and is published in 12 volumes to illustrate in exquisite detail the grand story of the Holy Bible. Volume 10 is based on the epic life of the Apostle Paul and is penned by New York Times best-selling author Randy Alcorn.
The Romantic Rationalist: God, Life, and Imagination in the Work of C.S. Lewis
Edited by John Piper & David Mathis, with Randy Alcorn as Contributor / Crossway / 2014
Expected Release Date: September 30, 2014
C. S. Lewis stands as one of the most influential Christians of the twentieth century. His commitment to the life of the mind and the life of the heart is evident in classics like the Chronicles of Narnia and Mere Christianity—books that illustrate the unbreakable connection between rigorous thought and deep affection. With contributions from Randy Alcorn, John Piper, Philip Ryken, Kevin Vanhoozer, David Mathis, and Douglas Wilson, this volume explores the man, his work, and his legacy—reveling in the truth at the heart of Lewis's spiritual genius: God alone is the answer to our deepest longings and the source of our unending joy.

Happiness
By Randy Alcorn / Tyndale Publishers / Hardcover
Expected Release Date: 2015