Third (and Final) on Spurgeon, Ministry and Depression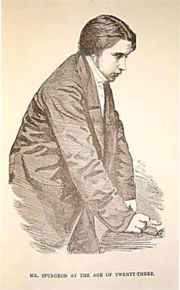 This is a picture of Charles Haddon Spurgeon at age 23. Only a year previously, an event happened that brought on a severe depression that he nearly didn't recover from. (Since this is my third and final blog on this subject, if you missed either of the previous ones you may want to go back and read part 1 and part 2 first.)

Spurgeon's congregation had grown so large that they had to rent the Music hall in Surrey Gardens (see drawing later in this blog). On June 7, 1891, an overflow crowd filled this huge building. As he prayed aloud, someone (there is debate about whether it was a prankster, an enemy of Spurgeon or a mentally deranged man) yelled, "Fire." Someone shouted that the balcony was about to collapse. Panicking people surged toward the exits. Seven people were trampled to death. Dozens more were taken to the hospital, badly injured.

Spurgeon collapsed, inconsolable. He had to be carried from the pulpit and fell into such deep depression that he later said he doubted anyone had ever passed as close to madness as he and yet escaped with sanity. Some say Spurgeon never got over the horror of that event.

Spurgeon was no stranger to depression, and therefore his words have all the more credibility. And as Spurgeon was a great champion of God's sovereignty in all things, he serves as a reminder that people of great faith and trust in God can nonetheless be brought low in depression. While that thought may be depressing to those who haven't known much depression, it will be liberating to those who have.
Spurgeon wasn't just a theologian. He had a practical side. He said this about exercise:
A day's breathing of fresh air upon the hills or a few hours' ramble in the beech woods' umbrageous calm, would sweep the cobwebs out of the brain of scores of our toiling ministers who are now but half alive. A mouthful of sea air, or a stiff walk in the wind's face, would not give grace to the soul, but it would yield oxygen to the body, which is next best.
He says this about the need to take rest and vacation:
The bow cannot be always bent without fear of breaking. Repose is as needed to the mind as sleep to the body. Our days of worship (which were, in the Old Testament, sabbaths) are our days of toil, and if we do not rest upon some other day, we shall break down. Even the earth must lie fallow and have her sabbaths; and so must we; hence the wisdom and compassion of our Lord, when He said to His disciples that they should go "apart into a desert place, and rest a while."
He warns potential pastors about the ministry by saying, "Let no man who looks for ease of mind and seeks the quietude of life enter the ministry. If he does so, he will flee from it in disgust."

Just as Paul spoke of the weight upon him of his concern for the churches (2 Corinthians 11:28), Spurgeon spoke of the heavy weight of a pastor's concern for his people:
How often, on Lord's Day evenings, do we feel as if life were completely washed out of us! After pouring out our souls over our congregations, we feel like empty earthen pitchers which a child might break. Probably, if we were more like Paul and watched for souls at a nobler rate, we should know more of what it is to be eaten up by the zeal of the Lord's house.

It is our duty and our privilege to exhaust our lives for Jesus. We are not to be living specimens of men in fine preservation, but living sacrifices, whose lot is to be consumed. We are to spend and to be spent, not to lay ourselves up in lavender and nurse our flesh.

Such soul-travail as that of a faithful minister will bring on occasional seasons of exhaustion, when heart and flesh will fail. Moses' hands grew heavy in intercession, and Paul cried out, "Who is sufficient for these things?"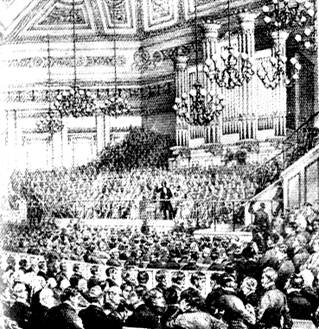 I have sometimes met carefree Christians whose happiness seems to thrive on their choice to protect themselves from the world's sufferings, to turn away from the realities of the poor and diseased and disabled, of hungry children and aborted babies, and to plug their ears to the cry of the damned as they enter eternity without Christ and without hope.

In contrast, Spurgeon's heart was heavied by the plight of orphans and widows in London, and his church did much to relieve their suffering. Here is Spurgeon in the Music Hall where seven people died on that Sunday morning, breaking his heart and shattering his nerves.

Spurgeon offers special warning to ministers who have gained success and notoriety. That he knew what he was talking about is evidenced by his extreme popularity, as the illustration demonstrates. In a day without microphones, thousands of people, often at least five or six thousand, came to hear his commanding voice wherever he went.
My witness is that those who are honored by their Lord in public have usually to endure a secret chastening or to carry a peculiar cross lest by any means they exalt themselves and fall into the snare of the Devil. ….This depression comes over me whenever the Lord is preparing a larger blessing for my ministry. The cloud is black before it breaks and overshadows before it yields its deluge of mercy.

Depression has now become to me as a prophet in rough clothing, a John the Baptist heralding the nearer coming of my Lord's richer benison. So have far better men found it. The scouring of the vessel has fitted it for the Master's use.

Immersion in suffering has preceded the filling of the Holy Ghost. Fasting gives an appetite for the banquet. The Lord is revealed in the backside of the desert, while His servant keeps the sheep and waits in solitary awe.

The wilderness is the way to Canaan. The low valley leads to the towering mountain. Defeat prepares for victory. The raven is sent forth before the dove. The darkest hour of the night precedes the day-dawn.


Nearing the end of his lecture Spurgeon says, "Glory be to God for the furnace, the hammer and the file. Heaven shall be all the fuller of bliss because we have been filled with anguish here below; and earth shall be better tilled because of our training in the school of adversity."


Here's another sketch of Spurgeon preaching, this time at Exeter Hall. He finished his lecture to his students at the pastors' college by saying,
Serve God with all your might while the candle is burning, then when it goes out for a season, you will have the less to regret.

Be content to be nothing, for that is what you are. When your own emptiness is painfully forced upon your consciousness, chide yourself that you ever dreamed of being full, except in the Lord.

Set small store by present rewards, be grateful for earnests by the way, but look for the recompensing joy hereafter. Continue, with double earnestness, to serve your Lord when no visible result is before you.

Any simpleton can follow the narrow path in the light: faith's rare wisdom enables us to march on in the dark with infallible accuracy, since she places her hand in that of her Great Guide. Between this and Heaven there may be rougher weather yet, but it is all provided for by our Covenant Head. In nothing let us be turned aside from the path which the divine call has urged us to pursue.
Thank you, Charles Spurgeon, for your honest thoughts, and your passion for God in far darker times than I've ever known. Thank you, Lord, for encouraging us through your servant.
Praise be to the God and Father of our Lord Jesus Christ, the Father of compassion and the God of all comfort, who comforts us in all our troubles, so that we can comfort those in any trouble with the comfort we ourselves have received from God (2 Corinthians 1:3-4).