Longing for Joy, in C. S. Lewis, Part 1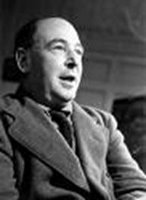 No writer has had greater impact on me than C. S. Lewis. I find both his fiction and nonfiction to be penetrating and life-shaping.

And when it comes to the subject of the longings of our heart, no one said it better than Lewis. He writes in Mere Christianity,
Creatures are not born with desires unless satisfaction for those desires exists. A baby feels hunger: well, there is such a thing as food. A duckling wants to swim: well, there is such a thing as water. Men feel sexual desire: well, there is such a thing as sex. If I find in myself a desire which no experience in this world can satisfy, the most probable explanation is that I was made for another world. If none of my earthly pleasures satisfy it, that does not prove that the universe is a fraud. Probably earthly pleasures were never meant to satisfy it, but only to arouse it, to suggest the real thing.
The following citations are all from a marvelous message preached by Lewis in the Church of Saint Mary the Virgin, Oxford, on June 8, 1942. Nanci and I visited this spot a few years ago. I took this picture of the elevated pulpit Lewis spoke from at Saint Mary's, where a student orchestra was rehearsing. The message in written form is in The Weight of Glory: And Other Addresses, which includes a number of interesting essays. Here's what Lewis said in The Weight of Glory: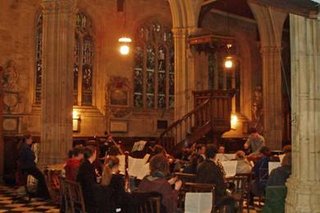 Now, if we are made for heaven, the desire for our proper place will be already in us, but not yet attached to the true object, and will even appear as the rival of that object. And this, I think, is just what we find… If a transtemporal, transfinite good is our real destiny, then any other good on which our desire fixes must be in some degree fallacious, must bear at best only a symbolical relation to what will truly satisfy. ...

In speaking of this desire for our own far-off country, which we find in ourselves even now, I feel a certain shyness. I am almost committing an indecency. I am trying to rip open the inconsolable secret in each one of you—the secret which hurts so much that you take your revenge on it by calling it names like Nostalgia and Romanticism and Adolescence; the secret also which pierces with such sweetness that when, in very intimate conversation, the mention of it becomes imminent, we grow awkward and affect to laugh at ourselves; the secret we cannot hide and cannot tell, though we desire to do both. We cannot tell it because it is a desire for something that has never actually appeared in our experience. We cannot hide it because our experience is constantly suggesting it, and we betray ourselves like lovers at the mention of a name.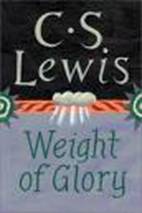 Our commonest expedient is to call it beauty and behave as if that had settled the matter. Wordsworth's expedient was to identify it with certain moments in his own past. But all this is a cheat. If Wordsworth had gone back to those moments in the past, he would not have found the thing itself, but only the reminder of it; what he remembered would turn out to be itself a remembering. The books or the music in which we thought the beauty was located will betray us if we trust to them; it was not in them, it only came through them, and what came through them was longing. These things—the beauty, the memory of our own past—are good images of what we really desire; but if they are mistaken for the thing itself, they turn into dumb idols, breaking the hearts of their worshippers. For they are not the thing itself; they are only the scent of a flower we have not found, the echo of a tune we have not heard, news from a country we have never yet visited.

Do you think I am trying to weave a spell? Perhaps I am; but remember your fairy tales. Spells are used for breaking enchantments as well as for inducing them. And you and I have need of the strongest spell that can be found to wake us from the evil enchantment of worldliness which has been laid upon us for nearly a hundred years. Almost our whole education has been directed to silencing this shy, persistent, inner voice; almost all our modern philosophies have been devised to convince us that the good of man is to be found on this earth. ...

Apparently, then, our lifelong nostalgia, our longing to be reunited with something in the universe from which we now feel cut off, to be on the inside of some door which we have always seen from the outside, is no mere neurotic fancy, but the truest index of our real situation. And to be at last summoned inside would be both glory and honour beyond all our merits and also the healing of that old ache…At present we are on the outside of the world, the wrong side of the door.

The faint, far-off results of those energies which God's creative rapture implanted in matter when He made the worlds are what we now call physical pleasures; and even thus filtered, they are too much for our present management. What would it be to taste at the fountainhead that stream of which even these lower reaches prove so intoxicating? Yet that, I believe, is what lies before us. The whole man is to drink joy from the fountain of joy.
Do you see why I love Lewis so much? (Some don't—Lewis either sings to you or he doesn't, but boy does he sing to me.) My thanks to C. S. Lewis, who preferred to be called Jack, and above all to his Lord and ours, for such insights on the rich subject of our deepest longings.

Jack Lewis had more to say about the longings of the heart, which I'll include in an upcoming blog, C. S. Lewis and Longing for Joy, Part 2.