Why ProLife? and Sanctity of Human Life Sunday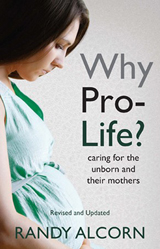 To equip churches celebrating Sanctity of Human Life Sunday, Eternal Perspective Ministries offers case quantities (50 books/case) of Why ProLife? to churches for $1.00 per copy.
Why ProLife? encourages readers to reevaluate their positions and base their beliefs on factual evidence. It is written mainly for fence-straddlers and professing pro-lifers, but also with pro-choicers in mind. The book addresses the questions central to the abortion debate in a concise, straightforward, and non-abrasive manner.
For more information, or to request a free copy for review, please contact our office at (503) 668-5200 or e-mail info@epm.org with your mailing information. We recommend ordering by December 31 to be ready for Sanctity of Human Life Sunday.
Be sure to check out EPM's Prolife Resources for Pastors page, which has articles and links to help pastors who are addressing the prolife subject at their churches.

Just what is Sanctity of Human Life Sunday? Care Net explains:
Twenty-three years ago, the Christian Action Council Education and Ministries Fund, known today as Care Net, asked President Ronald Reagan to create a special day to focus on the intrinsic value of human life and the fundamental right to life, as recognized by the American Founding Fathers. In 1983, President Reagan issued a proclamation establishing a National Sanctity of Human Life Sunday (SOHLS).

Each year, individuals and churches sponsor a variety of activities and events to commemorate the day, including special prayer services, ringing church bells, and special sermons and Sunday school lessons. In addition to worship services, thousands of Christians petition the Lord privately through prayer and fasting to codify the right to life in the United States.
This January, I hope you'll consider how your church might be able to utilize Why ProLife? to help share the truth about the unborn.
Stephanie Anderson is the communications and graphics specialist at Eternal Perspective Ministries.