Christmas Giveaway: Heaven Gift Books and "Knowing Aslan" Booklets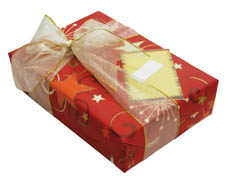 Here at EPM we've been featuring a "Countdown to Christmas"—three weeks of sales on several of Randy's books. This week we're offering Randy's hardcover Heaven gift books, 50 Days of Heaven and The Promise of Heaven, at 60% off the retail prices.
In honor of our sale, we're doing a two-day giveaway this week, and the three randomly chosen winners may choose either 50 Days of Heaven or The Promise of Heaven. We'll also give each winner three "Knowing Aslan" booklets. With the new Narnia movie out this month, it's a great tool to help you share the gospel using the story of Aslan.
How to enter the giveaway:
Leave a comment on this blog post through Wednesday, December 15th. (If you're reading this post on Amazon or elsewhere, visit Randy's blog to leave your comment.) Need help posting a comment? Contact me at stephanie@epm.org.
The three randomly drawn winners will be announced in a blog post Thursday, December 16th.
As wonderful as Christmas is, for many of us it can also be a season filled with painful memories and experiences. For the past week I've been asking God to give me a genuine joy and excitement for Christmas this year. Because of different situations in my life that are painful and broken, with all the "merry" of this time of year, it's easy for me to feel a bit jaded. Perhaps some of you can relate.
The truth is, horrible things—like the cancer I've fought during the past year—happen. Life is hard. Pain is real. Fancy decorations and festive songs don't make the pain disappear.
The joy of this season doesn't stem from finding life easy and merry and cheerful; it comes from knowing that there is One who is close to the broken hearted. He is the same One who became a human baby many Christmases ago so that one day we will experience the joy of Christmas every day for all eternity (to borrow a line from Randy!)
I would encourage you to make sure you take the time to share the real meaning of this season, and the hope of Christ, with someone you care about!
Wishing you a wonderful Christmas,
Stephanie Anderson
Promotions Director
Eternal Perspective Ministries
Stephanie Anderson is the communications and graphics specialist at Eternal Perspective Ministries.