Jim Harrell Goes to Jesus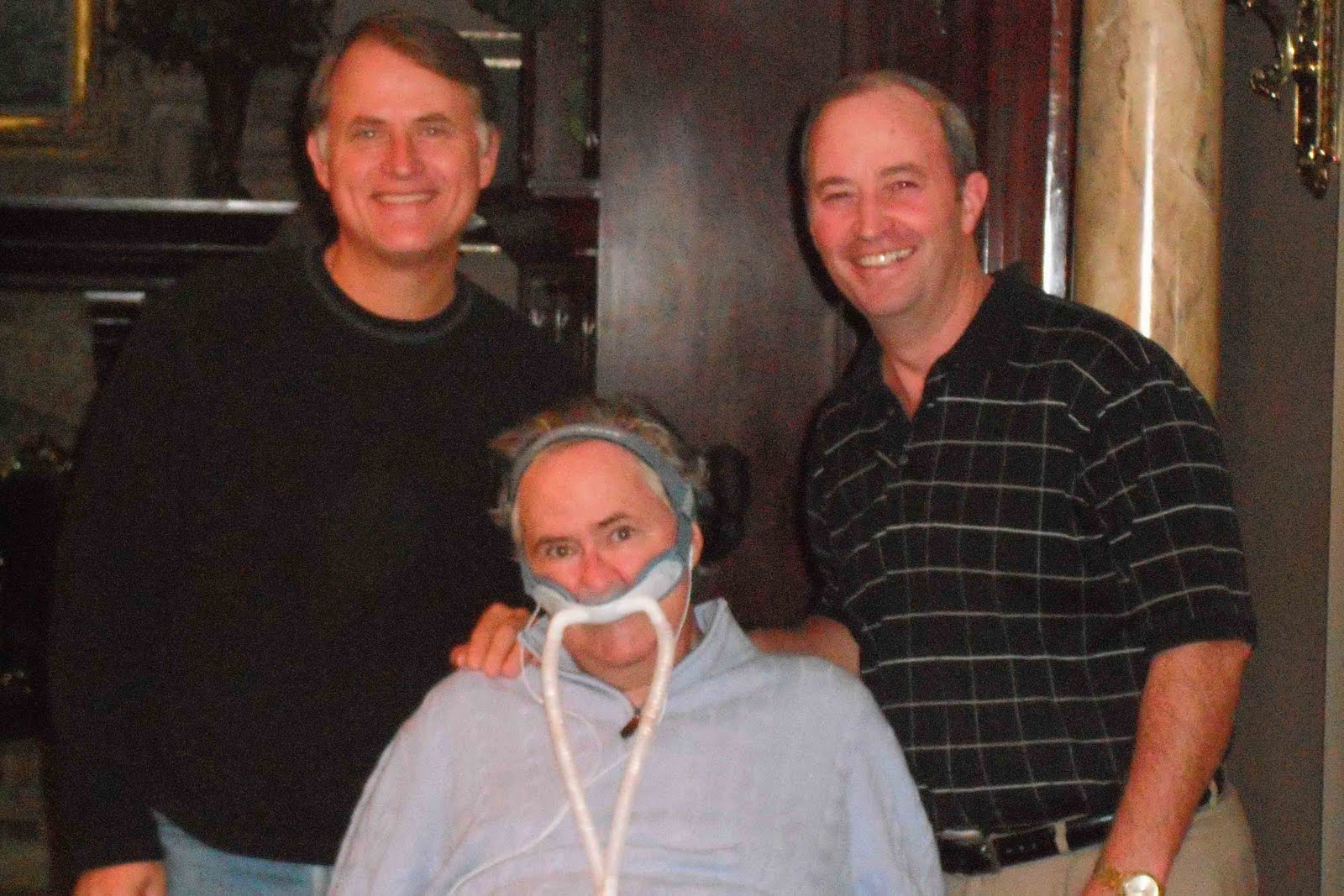 My heart is broken by what's happened in Haiti. There are many good Christian relief ministries worthy of supporting. (Check out the Eternal Perspective Ministries website for some links.) We live in a world devastated by the fall and the curse, a world in which precious loved ones die. This blog is about the life and death of such a man.

I came to know my friend Jim Harrell after Jim read my book Heaven. (That's me on the left, then Jim, then his good friend Vince, when I visited the Harrell home in Wheaton, Illinois, less than three months ago.)

After Jim first contacted me two years ago, he and I talked on the phone, exchanged emails, and quickly connected at a heart level. He contracted ALS, Lou Gehrig's disease, in 2003. While his body deteriorated and he lost normal functions, one after another, Jim touched more people (and was touched more by God) during his nearly seven year struggle with ALS than at any other time of his life.

Readers of If God Is God have met Jim in the pages of my book (he's the very first person in the dedication, the first one I talk about in the book, and I refer to him three other times). Those who follow my blog may recall a three part series I posted about him over a year ago, with links to the videos telling his story. As life got tougher and tougher, Jim shared his faith openly with many people, inviting them to his home to hear about Christ. God used this brother in countless lives.

Last Friday, January 8, I received an email from Vince:
Randy, I write to let you know that just about twenty minutes ago our good friend and brother Jim Harrell, finally went Home and I trust right about now, King Jesus is wiping the last tear from his eye. I truly believe that Jim is unbelievably happy right now as he is where he has longed to be, and has so wonderfully and courageously suffered gathering "his stones or treasures" to present to his Lord and Savior.

As of this past Monday, I finished reading chapter 42 from If God is Good to Jim and expect Linda, one of his children or one of his band of "Harrell's Helpers," were able to read the final three chapters to him over the balance of this week. It is very, very fitting that Jim's last days on this earth coincided with reading the last chapters of your book. He drew great comfort and strength from your book and always anticipated reading and discussing it when we got together.

I believe the Holy Spirit guided your heart and mind in this work right down to steering you to position the specific references to Jim so deep into the book. Jim refused to read ahead and seek them out. I sincerely believe your book and the poignancy of your words was one of many drivers and contributors to Jim's strong will to keep fighting. So many of the passages reinforced Jim's resolve and helped him focus on what he believed to be so important....to accept God's will and to use this disease and its attendant suffering as a means to draw himself and others closer to God.

I know you rejoice with all of us, knowing Jim's pain and suffering is over and he is in the special place God has prepared just for him.

Sincerely,
Vince
Jim's memorial service is today, Thursday evening January 14, at Wheaton Bible Church, where many people are expected. Please join me in praying for Jim's wife Linda, and his two grown sons and daughters.
I'll finish with the letter I sent to my old friend and Jim's, Chris Mitchell, to share with Jim's family, after learning of his home-going:
To Linda and each member of the Harrell family,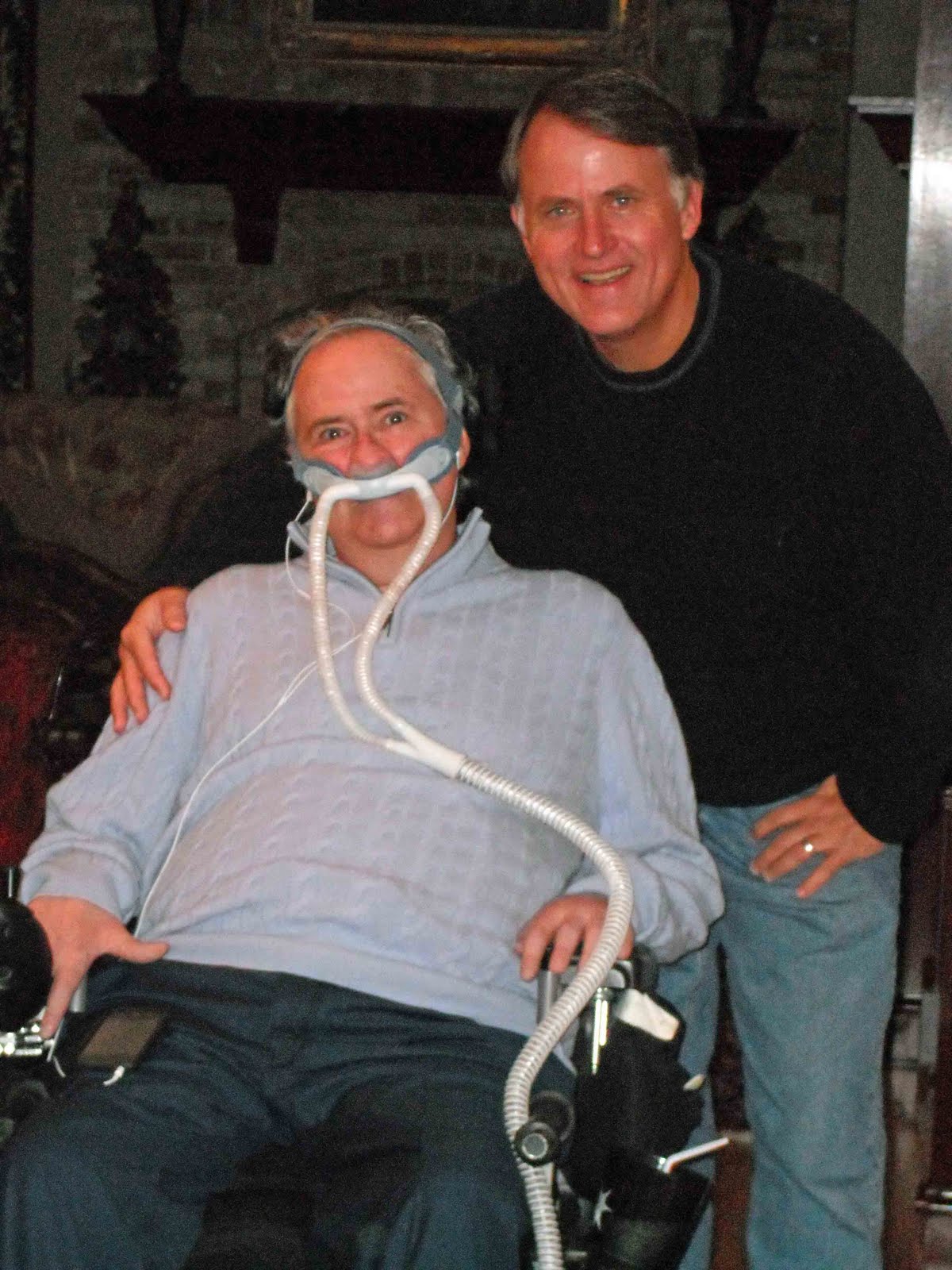 I consider it a privilege to have known your husband and father through phone conversations, email and my visit in your home in October, where I met several of you. I remember vividly Jim's wit, his passion, his laugh and his love for Jesus, and desire in his final years to make a difference that will count for eternity. Surely he did. In the process, I came to consider him a true friend.

I do not pretend to understand all of God's reasons for what Jim went through, but he understood at least some of them, as you well know. There is always much we can't understand, but the better you know Jesus, the more you realize that he is trustworthy even when things don't seem to make sense.

You are grieving, and it is important not to minimize that. Jesus wept, so should we. But as Scripture says, we do not grieve as those who have no hope. Because as surely as God is just and true and keeps his promises, Jim is safely home with Jesus this very moment. In the coming resurrection he will be stronger in body and mind than any of you have ever seen him. He did not pass his peak in this world—he is already better by far, just to be with Jesus, but his peak in body and mind will come in the resurrection, and he will never pass it. All of us who know Jesus will sit together at feasts on the New Earth, and great stories will be told. Your relationship with him hasn't ended, it has only been interrupted (a very painful interruption, to be sure). A great reunion awaits, bought and paid for by divine blood.

I know what you also know, that Jim's desire for you now is to accompanying the tears with great laughter, and to experience rest and healing and reflection, and to draw close to God and each other. You know he would want you to tell stories and laugh and look to Jesus, and look forward to the reunion. Please do.

I am honored to have had Jim as a friend for this past two years. He promised me he would greet for me my old friend Jerry who died of cancer 17 years ago, and my mom and dad as well. It won't be long before we leave this world, whether one at a time or all together. Heaven sounds even better to me now that among those I look forward to seeing in the presence of Jesus is Jim Harrell, my special friend and my brother.

My heart is with you all this week, and will be in this year ahead of you. May you all grow deeper in your love for Jesus, honoring Him in your choices, being quick to call upon his grace, and remembering always the permanent marks of his love for each of you, displayed on his hands and feet.

Looking forward to the great reunion,

Randy Alcorn