Albert Mohler on the Air Conditioning of Hell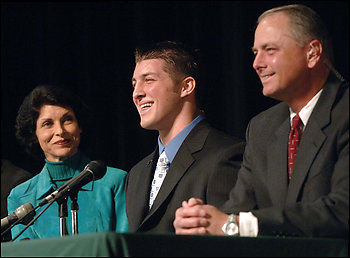 Before I get to today's blog: If you've followed the news lately, you've probably heard about CBS's controversial decision to air a prolife commercial produced by Focus on the Family during the Super Bowl, telling the story of football star Tim Tebow and his mom Pam. (Read more about Pam's courageous decision not to abort Tim.) Good for CBS. And I hope they don't cave in to the National Organization for Women who have recently launched an effort to call on CBS to drop the ad. To encourage CBS, you can send them a comment on their website. I blogged about Tim last year, and asked readers to pray for this young man. Please continue to pray for Tim and his family—you can bet that they will be targeted for their prolife stand.

Now on to today's blog: After posting my blog on hell, someone pointed out Al Mohler's blog post, "Air Conditioning Hell: How Liberalism Happens," on the same subject. It's excellent. Following is portion of it. Click here to read the rest.


Theological liberals do not intend to destroy Christianity, but to save it. As a matter of fact, theological liberalism is motivated by what might be described as an apologetic motivation. The pattern of theological liberalism is all too clear. Theological liberals are absolutely certain that Christianity must be saved…from itself.

The classic liberals of the early twentieth century, often known as modernists, pointed to a vast intellectual change in the society and asserted that Christianity would have to change or die. As historian William R. Hutchison explains, "The hallmark of modernism is the insistence that theology must adopt a sympathetic attitude toward secular culture and must consciously strive to come to terms with it."

This coming to terms with secular culture is deeply rooted in the sense of intellectual liberation that began in the Enlightenment. Protestant liberalism can be traced to European sources, but it arrived very early in America—far earlier than most of today's evangelicals are probably aware. Liberal theology held sway where Unitarianism dominated and in many parts beyond.

Soon after the American Revolution, more organized forms of liberal theology emerged, fueled by a sense of revolution and intellectual liberty. Theologians and preachers began to question the doctrines of orthodox Christianity, claiming that doctrines such as original sin, total depravity, divine sovereignty, and substitutionary atonement violated the moral senses. William Ellery Channing, an influential Unitarian, spoke for many in his generation when he described "the shock given to my moral nature" by the teachings of orthodox Christianity.

Though any number of central beliefs and core doctrines were subjected to liberal revision or outright rejection, the doctrine of hell was often the object of greatest protest and denial.

Considering hell and its related doctrines, Congregationalist pastor Washington Gladden declared: "To teach such a doctrine as this about God is to inflict upon religion a terrible injury and to subvert the very foundations of morality."

Though hell had been a fixture of Christian theology since the New Testament, it became an odium theologium—a doctrine considered repugnant by the larger culture and now retained and defended only by those who saw themselves as self-consciously orthodox in theological commitment.

Novelist David Lodge dated the final demise of hell to the decade of the 1960s. "At some point in the nineteen-sixties, Hell disappeared. No one could say for certain when this happened. First it was there, then it wasn't." University of Chicago historian Martin Marty saw the transition as simple and, by the time it actually occurred, hardly observed. "Hell disappeared. No one noticed," he asserted.

The liberal theologians and preachers who so conveniently discarded hell did so without denying that the Bible clearly teaches the doctrine. They simply asserted the higher authority of the culture's sense of morality. In order to save Christianity from the moral and intellectual damage done by the doctrine, hell simply had to go. Many rejected the doctrine with gusto, claiming the mandate to update the faith in a new intellectual age. Others simply let the doctrine go dormant, never to be mentioned in polite company.

What of today's evangelicals? Though some lampoon the stereotypical "hell-fire and brimstone" preaching of an older evangelical generation, the fact is that most church members may never have heard a sermon on hell—even in an evangelical congregation. Has hell gone dormant among evangelicals as well?