The Inspiration Behind Managing God's Money
A couple months ago, I read a review written by David Wills about my book Managing God's Money. David is a great brother, and the president of the National Christian Foundation, the largest Christian grant-making foundation in the world. I really appreciate their emphasis on kingdom-centered giving and their desire to help believers excel in the grace of giving.
I feature David in the dedication of Managing God's Money, telling a small part of the story he shares about him asking me to write the book, so it was fun to see what he wrote:
In 1992, my friend and colleague Greg Sperry handed me the book Money, Possessions and Eternity, by Randy Alcorn. I read it, and it changed my life. In fact, the truths in that book were so profound that I have dedicated myself to its message for the last 20 years.

There was just one problem. It was an exhaustive treatment of the subject, and I wanted everyone to read my favorite 250 of the 500 pages in the book! I wanted the greatest hits version. I actually would buy them by the case, take them to a mill, have the binder cut off, pick out my favorite sections, clip them together, and give them out to anyone who would take them!

So, almost 20 years ago, I showed Randy my sliced and clipped together version of Money, Possessions and Eternity and asked him to please write a more condensed version. He said he'd think about it. Well, after thinking about it for 20 years, here it is: Managing God's Money.

Who is the audience for this guide? I'm not exaggerating when I say that every Christian needs to read this book. The truths are timeless, the message is life-changing, and the Church needs to hear this today more than ever. Pastors will find it an invaluable resource. Anyone who has the gift of giving will find it a tremendous encouragement as they seek to use their gift to build the body. I have a child that has just started college, and he must read this book before he graduates!

The title itself, Managing God's Money, should tip off any reader as to the fundamental premise upon which the book is written. It is not our money, it is God's. We are called to faithfully steward the resources He entrusts into our care.

Randy begins with painting a picture of a biblical view of money and possessions and the role God has given us as stewards. He next tackles some of the tough issues surrounding money and our culture. From there he takes us to a crystal clear understanding of the eternal implications of being a wise and faithful steward. He then answers key questions regarding giving and managing money. It closes with some tremendous wisdom regarding money and future generations and the important role of our churches in creating cultures of generosity.

Let me just say, after having read this new work by Randy, it was worth the wait!

P.S. Don't just read Managing God's Money. Go get The Treasure Principle, Deadline, and Safely Home ... three of my all-time favorite books!

— David Wills, President of National Christian Foundation
Ever since I wrote the first edition of Money, Possessions, and Eternity in 1989, I've wanted to write a smaller book that dealt with the whole realm of Christian stewardship. (My book The Treasure Principle is a smaller book, but is specifically on giving.) Managing God's Money puts the cookies on the lower shelf, so to speak, yet it challenges readers and deals with a great many issues, from insurance and inheritance, to gambling, saving, and debt. It also lays a biblical foundation for us being the managers of God's assets, hence the title Managing God's Money. That theme of stewardship is woven throughout the book.
(When my assistant was overseeing our book table at a conference where I was speaking, a man ran by in a hurry but happened to notice the Managing God's Money book. "Manage God's money?" he said. "I have a hard enough time managing my own!")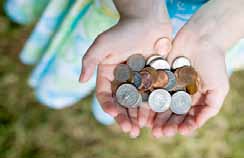 But the title of the book is not just some cute, figurative expression. It's a precise depiction of what the Bible says I am—God's money manager. One day, I will stand before God and give an account of how I've managed what belongs to him. Have I taken good care of it, using it wisely for purposes he approves of? Or have I misused or wasted it? It's a revolutionary concept that changed my life and my family's. If you embrace it, I guarantee it will change your life as well.
For those of you who are pastors, our ministry will send you a free copy of Managing God's Money. (Or, please let your pastor know that EPM offers the book to them for free.) Click here for more information about the pastors' kit and for related resources to share with your church.