"Look-at-ers" and "See-through-ers": Having Perspective in a Fallen World
My pastor Dan Franklin, who happens to be married to my oldest daughter Karina, has a great podcast called Group Think Rescue. I linked to it a while back when he addressed Rob Bell's book Love Wins.
I'm the guest on Dan's podcast this week. A couple of nights ago Dan and I and Rich Stafford (one of the tech guys at our church) recorded a forty minute interview about Heaven and the New Earth. We focused on the need to replace the common Christian misconceptions about Heaven with the biblical teaching about the resurrection and the large scale plan of God's redemption of the universe. It was fun to talk about our future on the New Earth.

So if you want in on the conversation, check it out at Dan's Group Think Rescue Podcast. You can listen to it on the site as well as download this and previous episodes at the Group Think website.
This leads right in to Norman Grubb's assertion that in this world there are look-at-ers and see-through-ers. (Those with an accurate view of the world to come would be see-through-ers.)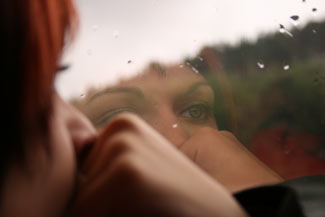 When it comes to having perspective in this world, there are "look-at-ers" and there are "see-through-ers." It was Norman Grubb who coined those terms, and he's expressing the idea that you can look at something and just evaluate it on the surface, or you can look deeper. Take, for example, this fallen world. If you're a "look-at-er", then you'll say to yourself, "Well, if I were to judge the universe and develop my worldview based on all the suffering I see in this world, then I would come to certain conclusions."
But if you are a "see-through-er," then you can look at something but see deeper, beyond it. You can see the Christian worldview that involves an invisible realm of demons and angels who are struggling, a realm where God exists and is accomplishing His eternal purposes. You'll realize that He is at work in the visible realm, as well.
Because God is spirit, we often don't see the clear, indisputable proof of who God is and what He is doing. But that is where faith comes in. That is the "see-through-er" as opposed to the "look-at-er." Faith is the substance of things hoped for, the evidence of things not seen (Hebrews 11:1). We believe in God, and we have good reason to believe in Him. But as it says in Romans 8, hope that has been realized is not hope. We anticipate His promises being fulfilled. Faith is what we hold onto in the gap between where we are now, and where the world will one day be according to His promises.
I have found Jesus Christ to be consistently faithful in my life. To me, Jesus is the Answer who is greater than all the questions. If it weren't for Jesus—if God had not become a man and given Himself for my sins and the sins of the world, if He had not taken upon Himself greater suffering and greater evil than anyone else in all of human history—I would not have faith in God. God would still be good, but I wouldn't know that. But because of what Jesus has done for me, I can look at Him and I say, "Yes, Lord, I will trust You. You have proven Yourself to me."
In eternity, if we ever doubt the goodness of God (which we won't—because we'll see it for what it is), the moment we look at the scars in His hands and feet, we'll say, "These are not the hands and feet of a God who doesn't care."
You can also listen to the three-minute audio of me talking on this subject.