94-year-old Woman Reunites with 77-Year-Old Daughter Conceived by Rape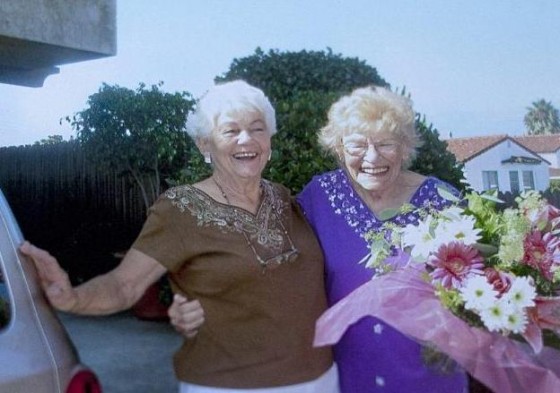 A friend sent me the following Associated Press article about a now 100-year-old woman, who at age 94 was reunited with her 77-year-old daughter. The child was conceived when the woman was raped as a teenager, and then placed for adoption.
I mentioned this story in the prolife message I shared at my home church this past weekend. (Thanks so much to those of you who prayed for me. The EPM staff will be posting the message, both audio and video.)
The story is so powerful because the rape, as evil as it was, in no way diminished the mother and child connection, and the joy they've experienced in the last six years. It's a great example of how a child conceived by rape is as precious as a child conceived by love, because a child is a child. The point is not how she was conceived but that she was conceived. She is not a despicable "product of rape" but a unique and wonderful creation of God.
After I shared similar thoughts in a message at my church in 1989, a dear woman in her mid-twenties came up to me, sobbing. I'll never forget what she said: "Thank you. I've never heard anyone say that a child conceived by rape deserved to live. My mother was raped when she was twelve years old. She gave birth to me and gave me up for adoption to a wonderful family. I'll probably never meet her, but every day I thank God for her and her parents. If they hadn't let me live, I wouldn't be here to have my own husband and children, and my own life. I'm just so thankful to be alive."
Women often think that a child conceived by such a vile act will be a constant reminder of their pain. On the contrary, the innocence of the child often has a healing effect. But in any case, the woman is free to place the child for adoption, which in some cases is the best alternative. Aborting the child is an attempt to deny what happened, and denial is never good therapy. One woman who had been raped and given birth to the baby said to me, "A baby is the only beautiful thing that can come out of a rape."
Woman meets child born out of rape, given up for adoption 77 years ago

SAN CLEMENTE, CALIF.—For most of her 100 years, Minka Disbrow tried to find out what became of the precious baby girl she gave up for adoption after being raped as a teen.

She hoped, but never imagined, she'd see her Betty Jane again.

The cruel act of violence bore in Disbrow an enduring love for the child. She kept a black and white photograph of the baby bundled in blankets and tucked inside a basket.

It was the last she saw of the girl — until the phone rang in her California apartment in 2006 with the voice of an Alabama man and a story she could have only dreamed.

Disbrow, the daughter of Dutch immigrants, weathered a harsh childhood milking cows on South Dakota dairy farms. Her stepfather thought high school was for city kids who had nothing else to do. She finished eighth grade in a country schoolhouse with just one teacher and worked long hours at the dairy.

On a summer day in 1928 while picnicking with girls from a sewing class, Disbrow and her friend Elizabeth were jumped by three men as they went for a walk in their long dresses.

Both were raped.

"We didn't know what to do. We didn't know what to say. So when we went back, nothing was said," Disbrow recalled.

Months passed. Her body began to change.

Disbrow, who had been told babies were brought by storks, didn't know what was happening.

Her mother and stepfather sent her to a Lutheran home for pregnant girls. At 17, she gave birth to a blond-haired baby with a deep dimple in her chin and named her Betty Jane.

In her heart, Disbrow longed to keep her. But her head and her mother told her she couldn't bring an infant back to the farm.

A pastor and his wife were looking to adopt a child. She hoped they could give Betty Jane the home she couldn't.