How the Word of God Sets Prisoners Free
One of the ministries EPM supports is Biblica, a ministry committed to making the transforming message of God's Word accessible for people in any life circumstance. One way they do that is through a prison outreach that provides inmates worldwide with biblical resources directing them to spiritual freedom in Christ.
I encourage you to watch this six-minute testimony of a life transformed through God's Word as a result of Biblica's work on the Free on the Inside Prison Bible:
I especially loved this video because EPM has a heart for seeing prisoners come to Christ and grow in their faith. By God's grace we are now sending out an average of 679 books each month to inmates and chapel libraries. (EPM staff member Sharon Misenhimer sends ministry information and/or books to over 300 prisoners each month. It's a busy job!)
The books we send minister to a wide range of inmates, from those serving sentences for drug-related crimes to those on death row. They're often shared with other inmates, so one book may be read by dozens. It's a privilege to receive letters such as these:
I just wanted to thank EPM for all the books you mailed to me while I was in prison. I have been out a year now. I'm doing good, and trying to continue to grow in Christ. The books you mailed to me helped change and redirect not only my character, but my life. What you are doing does make a difference! —J.

Mr. Alcorn's book Safely Home tore through that veneer I had still clung to. His passionate and alive characters touched my heart and made a way for Jesus Christ to utterly destroy my selfishness. The Lord has truly re-entered my life like never before, in great part because of Safely Home. —A.

Your books help me see life from a whole new perspective. Your books have helped me grow into a strong Christian woman. —R.
We've sent thousands of my new graphic novel Eternity to prisons across the country, and will be sending more. Eternity will be being read, ultimately, by tens of thousands of prisoners, many who find it hard to read conventional books. It includes exceptional artwork and a clear gospel presentation, embodied in a parable of Jesus into which I've woven depictions of Heaven and Hell. (By the way, when people are drawn to the gospel, and come to Christ through unconventional reading material THEN there is reason to hope they will become readers of conventional books, starting with God's Word!)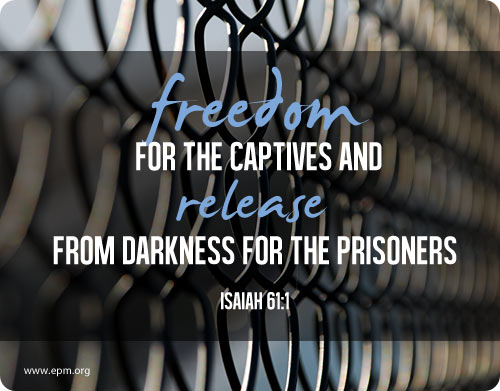 What can you do to get involved in reaching prisoners? You can pray that many men and women in our prison system would come to faith in Christ through the materials being sent out by Biblica, Prison Fellowship, EPM, and other ministries. We would also greatly appreciate prayer that every book EPM sends would be used by the Lord to touch and change lives.
If God lays it on your heart to help partner with our ministry in sending Eternity and my other books to prisoners, you may donate online (choose the option "Books for Prisoners Fund" under Special Funds) or send a check to EPM designated "books for prisoners" on the memo line. 100% of the donations to this fund will be used to finance the cost of the books and materials, as well as the shipping charges. We would love to have you on our prison ministry team!
Then they cried to the Lord in their trouble, and he saved them from their distress. He brought them out of darkness, the utter darkness, and broke away their chains. Let them give thanks to the Lord for his unfailing love and his wonderful deeds for mankind, for he breaks down gates of bronze and cuts through bars of iron. (Psalm 107:13-16)
Background image credit: saavem via rgbstock.com