The Treasure Principle and God's Delightfully Surprising Ways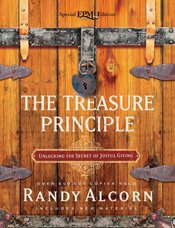 The Treasure Principle is a book that has shocked me (surprise isn't strong enough) in the response it has generated. It has sold over 2 million copies in English, been translated into over 25 languages (including Chinese, Vietnamese, Indonesian and Arabic), and used of God to help launch the ministry of Generous Giving. It is often given away by churches to their entire congregations.
The year it was released, Rick Warren asked me to speak on it at Saddleback Church where they gave away 14,000 copies in one day, which launched the book's sales. Here's my message I shared there in its entirety:
The Treasure Principle at Saddleback Church in 2001 from Randy Alcorn - EPM on Vimeo.
A story—I made a Treasure Principle related comment on a panel at a Generous Giving conference where they gave away the book, and a year later one man told me (after he'd already done it) he had decided to give away 37 million dollars to God's kingdom.
I'd also like to share a couple of reader responses to the book EPM has received over the years:
I read The Treasure Principle and my wife and I committed to giving 20% of our income for kingdom work above and beyond our tithes by the end of 2011. Over the past year we have added giving to Ligonier Ministries, a widow who does not make ends meet in our neighborhood, and another missionary couple. God has been good to us, as I was out of work (except for some odd jobs, and my wife does not work) for 6 months last year. He had provided for all our needs, as my wife and I resolved in our hearts that we would not let His kingdom work suffer because we may. We paid our tithes first, our missionaries second, and our bills last. We never had a bill that went unpaid on time. — C. H., Pastor

God has used The Treasure Principle book and a mission trip to totally transform my life and vision. My husband and I have been giving out the book (we bought 48 of them at Christmas) to whoever the Lord lays on our heart. We are excited to be giving more and more financially to various ministries. What freedom it is to come to the understanding that we are stewards of His money, His time, His life in us. We lead a small group of young marrieds at church and this book will be featured in our next study. — M. R.
These are just a few of the hundreds of stories I've been told, and usually you only hear a fraction of them. God has used this book to impact lives and fund missions in ways that far outweigh anything I've done or will ever do—which brings tears to my eyes whenever I think of it.
God is kind and gracious. Sometimes what we do is way overblown in our thinking—and other times we do what seems a small thing (e.g. writing that book) and God takes it way beyond anything we could have imagined. He is faithful and sometimes delightfully surprising!
From Eternal Perspective Ministries
Here are some ideas for passing on this message of generous, joyful giving:
Give the book to friends and family members.
Consider underwriting the cost of giving the book to your church body.
Lead a small group at your church based on The Treasure Principle. (Study materials are also available.)
Ask your pastor to consider sharing on the topic. (EPM offers free resources for pastors, including a pastors' kit.)
Share your own story of generous giving with EPM. (Send it through our contact form.)
"Supercharged with stunning, divine truth! Lightning struck over and over as I read it." —John Piper
"I enthusiastically endorse The Treasure Principle. I hope millions will read and apply it." —Ronald W. Blue, Founder and CEO, Ronald Blue & Company