We Need a Fresh Appreciation of the Gospel's Magnificence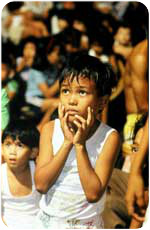 "We have grown so accustomed to the idea of divine love...that we no longer sense the awe that God's coming should awaken in us." —Dietrich Bonhoeffer
I have seen firsthand people watching the JESUS Film for the first time, in their own languages, viewing Jesus with awe and wonder and affection, then crying out in agony when He is tortured and crucified, and weeping uncontrollably at the gospel story.
Seeing eyes glued and ears tuned to the JESUS film gives you a fresh appreciation of the gospel's magnificence. There is nothing like hearing people gasp and watching them cover their mouths and wipe their tears as they stand wide-eyed, gaping at this Christ—this wonderful messenger sent from God—being nailed to the cross. It is a stunning sight.

Why do most of us no longer respond that way? Because the good news is old news to us. It is not fresh. Ask God to give you a renewed sense of the terrible suffering of Jesus and the overflowing love and joy that is at the heart of the gospel.
If we truly grasped God's grace and how amazing the gospel is—even a little—we would fall on our knees and weep. Then we would get up and dance, smile, shout and laugh, looking at each other and saying, "Can you believe it? We're forgiven! We're going to live forever in Heaven!"
How could we do anything less?
"Shout for joy to God, all the earth; sing the glory of his name; give to him glorious praise! Say to God, How awesome are your deeds! ...Come and see what God has done: he is awesome in his deeds toward the children of man" (Psalm 66:1-3, 5).