My Answers to Questions Asked by a 12-Year-Old Reader
I really enjoy hearing from readers of my books. But my absolute favorite letters are the ones that come from children and young adults. I'm not able to answer every letter and email and message I receive (though our great EPM staff help me out with their responses to the questions that come in), but following the example of C. S. Lewis, I try to respond to all the letters from children. I want to do all I can to encourage young people to find joy in reading and ultimately in following Jesus!
Here is a recent letter I received from a young reader, and my answers to some great questions she asked:
Dear Randy Alcorn, my name is Sydney. I am 12 years old and I have two siblings. I really enjoy reading your books because they are very inspirational. I'm writing this letter to you because one of my favorite books is "Wait Until Then."
Dear Sydney,
I was delighted to receive your letter. How encouraging to hear that you've enjoyed many of my books, especially Wait Until Then.
My wife, Nanci, and I visited Joni Eareckson Tada and her husband, Ken, in their home when I had just finished Wait Until Then. When I showed her the last picture of Nathan running around the bases and the wheelchair in the background, she wept. In fact, she asked to see the picture more than once. Though the book is now out of print, we donated all the royalties from this book to Joni and Friends to help provide wheelchairs for the needy around the world. You may know about Joni and her story, but if you don't I would encourage you to read the book Joni. Besides being a dear friend, she's one of my present day heroes of the faith!
Here are some answers to your questions:
How do you get inspiration for your books? I get inspiration for my books by reading other peoples' books and finding ideas.
Like you, I get inspiration for my books by doing a lot of reading myself. I also pray and ask God to direct me on future writing projects and they usually come from a particular burden/interest I have on a certain subject. Often God has allowed me to experience different things in my life that are reflected in my writing.
What was your favorite book as a child? I still read children's books today, and they still inspire me.
As a child I loved reading comic books. Some of my favorites were the Hulk and the Flash. I also loved the Sci-Fi book Stadium beyond the Stars, about Olympic competition between alien races. :)
How long does it take you to finish a book? It must be a lot of writing or typing and you probably get tired.
It usually takes 1 1/2 to 2 years to complete a book. I do a lot of research, and after I've written a draft I have assistance from a few members of my staff who help to reduce the word count and edit what I've put together. I write and rewrite several times before the final draft is submitted to my publisher. Then once they've edited it, I look it over again and make changes. So it's a long process from start to finish.
What was your favorite book to write? They were all so inspiring, but my favorite was "Wait Until Then."
One of my favorite books to write was The Grace and Truth Paradox. I love that book because it talks about the balance between grace and truth and how both of them are essential.
Do you have any books coming out soon that we should look forward to? I can't wait for another book from you!
I'm excited about my coloring book, Picturing Heaven, which will be out in September. There will be 40 hope-filled devotions with Scriptures along with beautiful artwork. I'm also looking forward to Seeing the Unseen coming out in October. It's a 90-day devotional to encourage people to set their mind on eternity with Scripture, commentary, and great quotes from others.
When you aren't around anyone, what are some of your hobbies? Some of mine are painting and coloring.
Some of the hobbies I enjoy are biking, reading, snorkeling, and underwater photography. I enjoy going on bike rides with two of my grandsons, Jake and Ty, ages 13 and 11. They live only a mile from our house, and we ride the Springwater Trail not far from where we live and enjoy all kinds of adventures together. I also read a lot and when I can travel I absolutely love to dive and snorkel and take underwater pictures. Whenever I can get together with my three other grandsons in California, Matt and Jack and David, I have a blast with them.
Do you have any family or pets? I have 2 siblings, my mom and dad. I also have 3 cats that are very fun to play with.
Nanci and I love dogs! I had a Golden Retriever named Champ when I was a young boy. Our first dog after we were married was a Springer Spaniel and we named him Champ, too. After he died, we got a Dalmatian named Moses. And after he left us, we now have a Golden Retriever named Maggie. She is five years old and an important part of our family. (Here's something I wrote about Moses after he died.) I can't prove it but I believe we'll be reunited with our dogs after the resurrection and on the New Earth!
Here's our Maggie, who just got a hot-weather trim: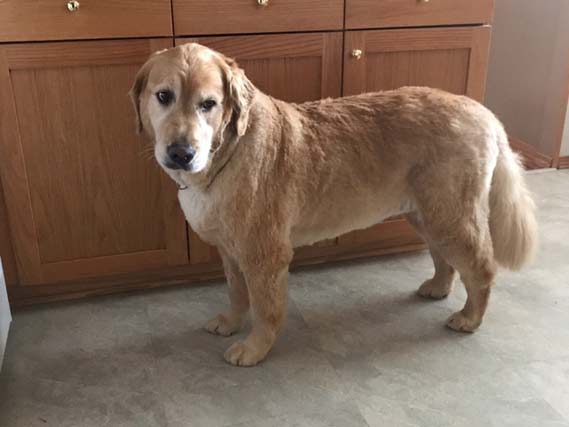 Thanks again for writing, Sydney. Keep reading and following Jesus with your whole heart!
Your friend,
Randy Alcorn
Photo by Daria Nepriakhina on Unsplash