Randy Alcorn, Author of the Novel Deception: Passion in His Pen
These questions were asked of Randy Alcorn by Creston Mapes for Storytellers' Journal, Spring 2007.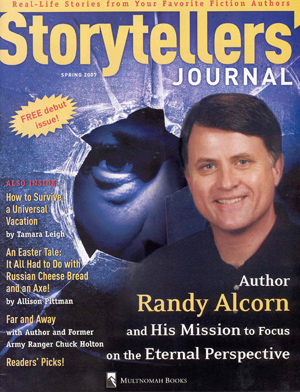 Bestselling author Randy Alcorn has an uncanny way of mystifying publishers and booksellers. "You can't write fiction and nonfiction," they once protested. "And look at your topics—they're all over the map. How can you write with authority on subjects ranging from eternity and sex to money and abortion—and several different kinds of fiction to boot? If you want to build readership, you've got to stick to one thing! Readers have to know what to expect."
In a word: baloney.
Unlike authors who, after landing their first contract, find themselves on a runaway treadmill trying to churn out one manuscript after another, often on topics about which they have no passion, Randy Alcorn has cleared a different path.
"I ask God, 'What do you want me to do?'" says Randy, who has written twenty nonfiction titles and seven novels, including the newly released, much-anticipated Deception. "What makes sense to us is often very different from what God wants. Publishers have ideas of what people desire, yet they're continuously surprised by what sells. My book on giving, The Treasure Principle, has sold nearly a million copies, but trust me, nobody imagined giving to be a hot topic. Heaven is a large hardcover full of theology, and it's sold over 300,000 copies in its first two years. I've been told that breaks all the rules, and doesn't make sense. But I was just trying to write what I thought God wanted me to."
Randy views things as if he were wearing some sort of supersonic infrared spy goggles that empower him to see truth and reality, while the rest of us see only shapes and shadows. "We live in a world full of images and slogans," Randy says. "Reading the papers, watching the news—our culture teaches us that happiness can be found in sex, nice cars, cold beer, and money; but that's a myth. We keep chasing mirages, but things are not what they appear. Evil is real. We tend not to understand that the God of providence is doing a redemptive work. Life here is short. Time is limited. There's no time for all the good things I might do. The question is, what are the very few things God wants me to do?"
Writing fiction is apparently one thing God wants him to do—fiction that sells. In 1994, Randy penned his first novel, Deadline, which he calls "an experiment." He says, "I didn't think I'd write another novel, so I threw a little of everything into that book: homosexuality, abortion, media bias. I was surprised at the strong response." So strong, in fact, that Deadline remained a bestseller twenty-eight straight months and continues to sell well today. It had such an impact on actor Chuck Norris that he wants to make it into a motion picture.
"Fiction has subversive potential," says Randy. "People let it into their minds like a Trojan horse; they don't know what's inside. You hook them with the story and God can work below the level of their consciousness. Fiction can be propaganda for evil or convey a theme that impacts people for good."
Someone gave a copy of Deadline to a prochoice advocate in Randy's community. Randy saw her a week later. "She eyed me from across the room, marched straight up to me, and said, 'I read that book Deadline and loved it. My favorite scene is when you show heaven's point of view of unborn children.' That's the difference between fiction and nonfiction," Randy explains. "If she had read one of my nonfiction prolife books, she would have been defensive. But in a novel, she most loved what you'd expect to offend her. As the story progressed, there was a paradigm shift in her thinking about unborn children. I think it happened without her realizing it."
A number of Randy's novels offer a unique "viewpoint from heaven," in which a character that has died watches and discusses what's happening on earth. Randy says it's a style God laid on his heart to offer perspective. "In my books, there's a lot of darkness, confusion, grief, and anger," he says. "But things are not as they appear on the outside. Heaven is real. So is hell. And what I want to show is that whole reality unseen to us."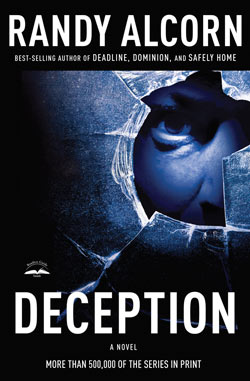 Randy's new novel, Deception, the third book in his mega-popular 3D series, tells the story of homicide detective Ollie Chandler, who's angry with God because of his wife's death. In several scenes, Ollie's wife is in heaven talking about her husband. While books 1 and 2 in the series—Deadline and Dominion—were written in the third-person omniscient style, Deception is penned in first person, from the perspective of the humorous yet hurting detective.
"In the first two novels, I liked Ollie. He was real to me; I felt he deserved further development, supported this time by his friends Jake and Clarence, main characters of the first two books," Randy explains. "Ollie's in pain, he doesn't believe God, and he can't accept his wife's death. He wants justice—that's a huge theme in the book. But God is withholding His justice temporarily. It's His mercy that allows injustice to continue long enough for us to come to repentance before being swept away in judgment."
Randy is a research fiend, often reading dozens of books to provide ample understand of the topic and setting. In researching Dominion, he read eighty books written by and about African Americans, interviewed black pastors, and spent hours in inner cities. "I received many letters from black readers who assumed I was black, saying, 'Thanks so much. We have to help our white brothers and sisters understand.' One black man wrote, 'Our whole family has read Dominion. Eight of us think you're black and one of us thinks you may be white. I bet fifty dollars that you're black. Would you settle the bet?' Before I had a chance to answer, he e-mailed me back, 'Never mind—I just checked your website. You cost me fifty bucks!'"
Randy Alcorn is a Bible scholar, pastor, missionary, and author. At age twenty-two, he began pastoring at Good Shepherd Community Church in Oregon with friend Stu Weber, who remains the lead pastor today. In 1988, Randy and his family visited six countries, staying with missionaries from their church. In Hungary, when there was still an iron curtain, he and a missionary friend "walked for hours to be sure we weren't being followed, before attending a secret meeting with pastors."
In 1989, after years of serving on the board at a Crisis Pregnancy Center, Randy participated in nine passive, nonviolent acts of civil disobedience in front of abortion clinics to champion the rights of the unborn. His actions made Oregon judges livid and resulted in lawsuits that altered his life and ministry. "One of the abortion clinics attempted to garnish my wages from the church," explains Randy.
To prevent his salary from being siphoned to those who would use it to kill children, Randy resigned as pastor of Good Shepherd in 1990 and started Eternal Perspective Ministries (www.epm.org). "We began by doing what was close to our hearts, which was missions and prolife work. Part of my job description was writing. We decided that 100 percent of our royalties would be given away." To date, over $3.75 million dollars* has been given from EPM to more than forty different ministries, including Action International, Voice of the Martyrs, the Bible League, CareNet, the Jesus Film project, Operation Mobilization, Prison Fellowship, Joni and Friends, and various Bible translators. (*EPM note: through 2012 this number is over six million dollars in book royalties given away to worthy ministries, as well as some to help facilitate the giving away of our books to people all over the world.)
"EPM pays me minimum wage and my wife a secretary's wage, along with benefits," Randy says. "We're each provided use of a car, both with 180,000 miles on them, but they run fine. We're just regular middle-class people, trying to live below our means and giving away the excess. There's a real joy and simplicity in giving to God's kingdom. It honors Him. We wouldn't have it any other way." (Update March 2013: Randy's wages have increased to make up for the supplemental salary of his wife's work since she is no longer being paid as an EPM employee and the 20 year judgment [10 years, once renewed] from the lawsuit came to a close in 2011.)
Randy's reading audiences vary, but he sees himself writing mostly to Christians who genuinely want to be challenged in their walk with Christ. "God is challenging people, opening their hearts and minds through fiction and nonfiction, changing them, drawing them to Christ, and allowing our ministry to be a fundraiser for kingdom projects that are close to God's heart. It doesn't get any better than that!"
One reason Randy's writing rings so true to life and is so undeniably convicting is because he knows firsthand what it's like to live in an environment of unbelief. While Randy was growing up, his father—a tavern owner who rented jukeboxes and pinball machines to other taverns—often expressed his anger toward Christians. "Dad was the most resistant person to the gospel I've ever known," Randy recalls. "And though it was many years ago now, I have vivid memories of what it was like not to know Jesus. I can still feel the emptiness as I talk about it."
Randy's mom took him to church as a boy one Sunday when they were giving away Bibles. It became the only Bible in the Alcorn home. Then, when he was a freshman in high school, Randy went to church one evening to see a girl he liked. He started attending youth group, heard the gospel message, and began reading the Scriptures. After eight months, he realized he believed what he was reading and prayed to invite God into his life. Years later he married Nanci, the same girl he went to church that night to see. Two daughters and four grandchildren later, Nanci remains his best friend.
Although Randy was granted the gift of leading his mother to the Lord in 1970, his father remained resistant to the gospel. When his dad was eighty years old, Randy wrote to him, sharing Christ. The next time his father saw Randy, he seethed, "I don't want you to ever bring that up again." After a bout with prostate cancer, Randy's father called to tell him he was going to take his own life. Randy persuaded him to wait until he got there, then drove his father to the hospital. His dad lay in a hospital bed, ready to go in for a major surgery that doctors warned he might not survive.
"I said, 'Dad, I know you don't want to hear this, but I'm going to share it anyway,'" Randy recalls. "He couldn't move, so he couldn't get away. I read from Romans." Randy explained to his father that all men are sinners, that the wages of sin is death, and that the gift of God is eternal life through belief in Jesus Christ.
"I prayed for him to come to Christ, but didn't really believe it would happen. He seemed an impossible case. After reading from Romans I said, 'Dad, have you ever repented of your sins and placed your faith in Jesus?' He said, 'No, I never have.'" There was a long pause, as Randy thanked God, silently, for allowing him to share for perhaps the last time. Then his father's words shattered the silence: "But I think it's about time I did." Right there, Randy's father prayed and confessed his sin and gave his life to Christ just before being wheeled into surgery. His dad lived four more years, with Randy visiting him often for conversation, prayer, and Bible reading.
Perhaps it's Randy's relationships with his father and others that have brought the author to where he is today, coming out with a new novel in the 3D series ten years after Dominion was published. "When you tell a story, you have to tell it well, to earn the right to be heard. You build themes into fiction that nonbelievers can connect with. In Deception, I'm very mindful of the non-Christian. The main character is a non-Christian, a skeptic. The reader sees Christianity through his eyes and much of it doesn't make sense to him. And he sees hypocrisy in Christians."
Randy describes Deception as a murder mystery in which a college professor has been killed and Detective Ollie Chandler is assigned to investigate. "As the case develops, Ollie begins suspecting certain people. The more he sees, the more his suspicions are confirmed that the murder was committed by someone he doesn't want to believe did it." Although there's speculation that Deception will bring a close to the 3D series that has spanned thirteen years, Randy says he's not sure. Ollie Chandler has become so real to him, he may not be able to let him go.
Somehow, we get the impression that Randy will know what to do—when the time is right.
This article first appeared in Storytellers' Journal, Spring 2007. Creston Mapes is a suspense novelist and has been a professional writer for 25 years.