Ministering to Inmates in the U.S. and Around the World
For 32 years, Prison Fellowship has been taking hope, forgiveness,
and healing into the darkest corners of our society
Prison Fellowship events and Bible studies
22,308 in-prison volunteers and over 10,000 partnering churches care for prisoners and their families throughout the year
Over 700,000 prisoners have been reached with the message of Jesus Christ through Operation Starting Line (OSL), an evangelistic collaboration of ministries
And 7.5 million prisoners' children have been given hope through Angel Tree through the years.
Operation Starting Line (OSL) is a network of national, regional and state ministries and organizations working together to support prisoners, their families and the prison community through evangelism, discipleship and collaboration.
OSL provides follow-up activities including special prisoner-sensitive curriculum of Bible studies, personal development courses and leadership instruction which includes evangelism workshops, Bible correspondence programs, materials to Chaplains, child/parent connections events, etc. Prisoners are given an immediate opportunity to sign up for correspondence Bible study courses through Crossroad Bible Institute in Michigan (www.crossroadbible.org).
Volunteers are needed by participating collaborators for every project, both to participate in the in-prison events, and also to provide on-going support. To find out how you can get involved, contact Prison Fellowship Ministries.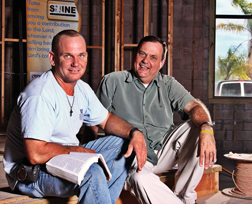 Twain Rodgers was in jail again, sitting across from Pastor Roger Ball of Immanuel Church in Vero Beach, Florida—which Twain had been visiting since his last time behind bars. Twain had stood up at a recent Sunday service, confidently announcing that he had surrendered his life to Christ and was ready to turn his life around. Almost immediately, he went back to drugs—and then back to jail. But while visiting Twain, Pastor Ball grabbed his hands and promised, "Twain Rodgers, I will never give up on you." And neither did his church. After Twain received probation, he returned to his church family, where he found committed mentors and accountability partners to help him finally break his 23-year crack addiction and become a man of integrity. "He's been drug-free nearly two years now," says one of Twain's mentors, "and I'm so proud of him!"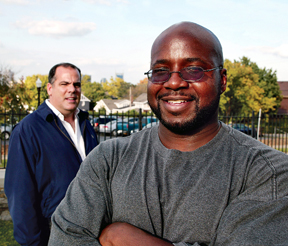 Terrance Williams-Bey committed murder at the age of 19, earning a 25-year sentence. The Tennessee native came to know Christ in prison, but needed help from an able mentor to see him through two crises that could have derailed his journey to restoration. James Ackerman, a Prison Fellowship volunteer, entered his life at a time when Muslim prisoners were clouding his conclusions about the identity of Christ. James provided a steady example of God's truth. He would do it again when James was eventually released. Forced to choose between tolerating open racism in his workplace or lose a hard-to-find job, Terrence chose to risk financial hardship. James provided valuable assistance to bridge the gap. Then, surprisingly, Terrence's employer apologized and asked him to return. Today, Terrence is a model employee, volunteering in his community, and leading his extended family in Bible study.
Prison Fellowship Ministry
Donations Only: P.O. Box 1550, Merrifield, VA 22116
All General Correspondence: 44180 Riverside Parkway, Lansdowne, VA 20176
(877) 478-0100
Angel Tree inquiries: (800) 552-6435
Local volunteer opportunities: (800) 251-7411
Website: www.pfm.org
From Eternal Perspective Ministries:
Prisoner responses to EPM's book ministry to inmates:
"In my 18 years of knowing Jesus as my Lord and Savior, my favorite author is Randy Alcorn and my favorite book is Safely Home. In the 43 months in prison, I have read 132 books."
"No other author that I have read has ever gotten my mind on the things of God as you do."
"I would like to say thank you for your books and glory be to God. I have read Deadline and it was a very large seed that got planted and was responsible for my coming to the Lord and giving my life to Jesus Christ."