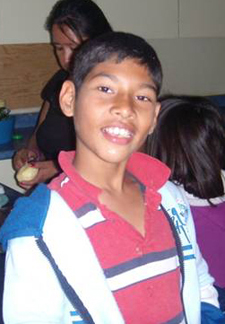 I had picked up Dolores, our Mexican social worker, from her home earlier that day so that we could visit an eight-year-old boy who was living with his grandmother. His name is Jesus (nickname Chuy.) His mother had abandoned him and his father had never been involved in his life. On the way, Dolores explained that they lived in what used to be a crematory. I thought she said "creamery" so I was expecting to see a large barn surrounded by happy cows grazing in a lush green field as they prepared to give up their loving gifts of milk. I even thought perhaps we would get to sample some yogurt or ice cream!
You can imagine my surprise when we drove up to a deteriorating gray cement structure, surrounded by dirt streets and brick homes. There wasn't a blade of green grass in sight, much less a cow.
My surprise changed to mild horror as we walked into the dimly-lit building to find a huge brick oven grinning at us. It had a large metal door over its mouth and stood as tall as the ceiling. It didn't take long for me to realize I had misinterpreted my Spanish and that this was not a place where yogurt was made. Rather it was exactly what Dolores had said: a crematorium. Fortunately I was able to hide my shock as I took a minute to regroup and refocus on what had just happened.
Our visit with Chuy and his grandma went well and we were soon headed back to Dolores's office. However, the already eventful outing was about to take a dramatic turn and returning to the office would be the last thing on our minds for quite some time.
As I tried to drive around large potholes in the dirt roads, Dolores told me about a call that had come into her office that morning from a very upset woman. Evidently her next-door neighbor was dying of cancer. The stricken woman was living with her mother and eight-year-old son and didn't have long to live. While the situation was cause for concern in and of itself, my concern turned to near-panic when I learned what Tonponio's mother had told her neighbor. She said that before she died she was going to kill her son.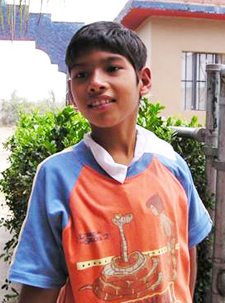 Tonponio is mentally retarded and his grandmother was elderly and infirm. His mom didn't want to leave him behind because there was no one who wanted a child with a disability. In her mind taking his life was her only choice. She couldn't bear the thought of leaving him on his own.
Dolores said that we should make an appointment to visit the family but the urgency of the situation demanded an urgent response in my mind. "Where do they live?" I asked. We're going there right now!
When we arrived we were greeted by a stark naked boy who was hitting a cardboard box that had been hung from the ceiling of their patio. Of course! It was Tonponio. He didn't say anything as we approached the front door. He just kept smiling and hitting the tattered box.
It was Tonponio's grandma who greeted us and invited us into her home. We explained who we were and why we had come. We asked to see her daughter, whom we found in a dark room, lying on a bed asleep. She was skin and bones and the bed had been soiled. My heart ached for this woman who was obviously close to death and whose burden was made even heavier with the knowledge that she would soon need to take her son's life in order to "save" him.
As we spoke softly to her, she opened her eyes and looked at Dolores who explained who we were. Then I began to tell her about the ranch and described to her the green lawn in front where children could run and play to their hearts content. We talked about the love and care the kids receive. But what really caught her attention was that we love all kids, even those with special needs like Tonponio.
After a few more minutes, I asked her if she would like us to care for Tonponio. Her pain-ridden face slowly broke into a weak smile as she nodded "Yes." It was obvious that she felt at peace knowing that after she was gone her precious child would be loved and well cared-for. Before she went back to a fitful sleep she asked us to take Tonponio with us right then. She didn't want him to see her die. We said a prayer as we told her good-bye and began to gather up a few things for him to bring to the ranch.
As his grandma started putting clothes on Tonponio in preparation for his departure I couldn't help ask, "Why is he naked?"
"We can't get him to keep his clothes on," she explained. "And since he doesn't go to school we just let him do what he wants. It's easier that way."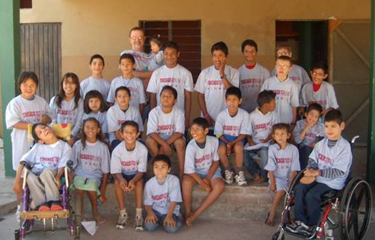 A couple of weeks later Tonponio's mother died. His father had died a couple of years before, so that made him an orphan. Fortunately he is only an orphan in title because even though he doesn't have living parents, he does have a very large family at the ranch who loves him and enjoys watching him grow.
Today Tonponio is 13 years old, but he's small for his age. He goes to a special school—which he loves—and no longer removes his clothes except when it's time to take a shower! He has a wonderful sense of humor and loves to tease and give hugs. He also loves to do his chores: mopping the floor!
As happy as he is at the ranch we believe that when at all possible kids belong in families. Tonponio needs a family to call his own. He is legally freed for adoption and is just waiting for someone to say, "Come on, son. It's time to go home!"
---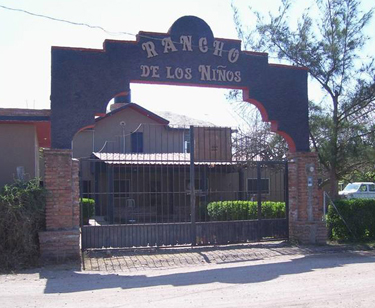 Rancho de los Niños is located in El Castillo, Sinaloa, Mexico, and is a ministry of Action International. They are supported through donations from individuals and churches. It is the only orphanage in the state that accepts children with disabilities. As a result, 17 of the 27 children currently there have some level of special needs, from mild to severe. There are many opportunities to provide equipment (such as wheelchairs) for these special children.
When children arrive at the ranch, a long-range plan is developed which may include eventual return to their family or relative. If no other appropriate resource can be found, governmental officials are asked to prepare papers to allow children to be adopted. Currently only one child is ready for adoption: Tonponio. Several others are in process to be released for adoption. They have no babies or very young children available.
For more information on Rancho de los Niños, their needs, and special projects, please visit their website: www.ranchodelosninos.com or contact them by email at norquist_1@hotmail.com
You may contribute to their ministry through Action International/Operation: Children of Mexico (Norquist), PO Box 398, Mountlake Terrace, WA 98043, 1-800-755-6918 www.actionintl.org
(You may also give a financial contribution through EPM.
100% of designated contributions go directly to the ministry noted.)