How Should a Wife Respond if She Wants to Give More Than Her Husband?
Question from a reader:
Today on the Moody radio program you were a guest on I happened to catch the last caller's question which was about giving. She was asking the question of what her response to her husband should be in giving. She wanted to give tapes or books to those she thought would benefit from them, and then live by faith that God would provide for the family needs. Her husband didn't agree and felt it was irresponsible and that they should be paying bills before giving.
I agree with your answer which was that, they would be missing out on God's providing for them, and that they would not receive the blessedness of living in God's obedience by not giving.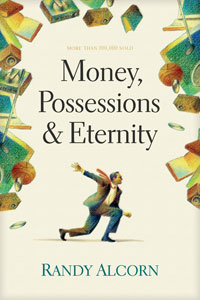 BUT, I think there is another question which was left unanswered. There is another precept at work in her obedience to Christ through obedience to her husband. She may share her desire to give with her husband but if he says "no" it seems to me there needs to be obedience in her heart to her husband. One precept leads to the next. It may not be God's desire for her to be her husband's moral judge and guide, but for her to learn to be submissive to her own husband so that "even if he is disobedient to the word, he may be won without a word by the behavior of his wife as he observes her chaste and respectful behavior...and let her adornment be the hidden person of the heart, with the imperishable quality of a gentle and quiet spirit which is precious in the sight of God." 1Pet.3:1-4 NAS
What do you think?
Answer from Randy Alcorn:
I believe wives should submit to their husbands except when doing so involves violating God's commands. A wife can't and shouldn't force her husband to give, but she can and should give of her income, even if he disapproves (she should, of course, sweetly communicate her conviction and not try to anger him). The 1 Peter 3 passage pertains, as it shows the importance of being a good example and not preaching at her husband. I think showing him the depth of her conviction through her own giving is part of that example.
For more information on this subject, see Randy Alcorn's book Money, Possession & Eternity.