A. W. Tozer: Worship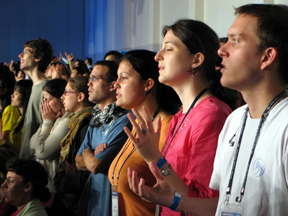 Seven Days a Week
But the Lord is in His holy temple. Let all the earth keep silence before Him. (Habakkuk 2:20)
So I've got to tell you that if you do not worship God seven days a week, you do not worship Him on one day a week. There is no such thing known in heaven as Sunday worship unless it is accompanied by Monday worship and Tuesday worship and so on....
We come into God's house and say, "The Lord is in His holy temple, let us all kneel before Him." Very nice. I think it's nice to start a service that way once in a while. But when any of you men enter your office Monday morning at 9 o'clock, if you can't walk into that office and say, "The Lord is in my office, let all the world be silent before Him," then you are not worshiping the Lord on Sunday. If you can't worship Him on Monday you didn't worship Him on Sunday. If you don't worship Him on Saturday you are not in very good shape to worship Him on Sunday. (Tozer on Worship and Entertainment, 9, 24)

---
The Program
For where two or three are gathered together in My name, I am there in the midst of them. (Matthew 18:20)
Now, I freely admit that it is impossible to hold a Christian service without an agenda. If order is to be maintained, an order of service must exist somewhere. If two songs are to be sung, someone must know which one is to be sung first, and whether this knowledge is only in someone's head or has been reduced to paper there is indeed a "program," however we may dislike to call it that. The point we make here is that in our times the program has been substituted for the Presence. The program rather than the Lord of glory is the center of attraction. So the most popular gospel church in any city is likely to be the one that offers the most interesting program; that is, the church that can present the most and best features for the enjoyment of the public....
We'll do our churches a lot of good if we each one seek to cultivate the blessed Presence in our services. If we make Christ the supreme and constant object of devotion the program will take its place as a gentle aid to order in the public worship of God. If we fail to do this the program will finally obscure the Light entirely, and no church can afford that. (The Root of the Righteous, 107-109)

---
What Good Is It?
And one cried to another and said: "Holy, holy, holy is the Lord of hosts; the whole earth is full of His glory!" (Isaiah 6:3)
If you want to pray strategically, in a way which would please God, pray that God might raise up men who would see the beauty of the Lord our God and would begin to preach it and hold it out to people, instead of offering peace of mind, deliverance from cigarettes, a better job and nicer cottage....
What good is all our busy religion if God isn't in it? What good is it if we've lost majesty, reverence, worship—an awareness of the divine? What good is it if we've lost a sense of the Presence and the ability to retreat within our own hearts and meet God in the garden?
If we've lost that, why build another church? Why make more converts to an effete Christianity? Why bring people to follow after a Savior so far off that He doesn't own them?
We need to improve the quality of our Christianity, and we never will until we raise our concept of God back to that held by apostle, sage, prophet, saint and reformer. When we put God back where He belongs, we will instinctively and automatically move up again; the whole spiral of our religious direction will be upward. (The Attributes of God, 194-195)