Endorsements and Book Reviews of Why ProLife?
Endorsements of Why ProLife?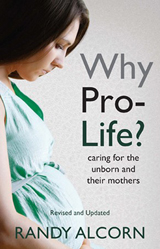 A well-thought-out and thorough analysis of why protecting all human life is not only the right position but the only position we as a society should support. I believe minds will be changed after reading this book. — Kristen Day, Executive Director, Democrats for Life of America
---
In clear, compelling language, Randy Alcorn lays out the case for life, appealing powerfully to both the reason and the emotions. Why ProLife? is an invaluable resource for anyone trying to help a friend or family member understand the prolife point of view. — Charles W. Colson
Prison Fellowship, Washington, DC
---
What a comprehensive, well-documented and compelling book...especially as it relates to our babies at risk. — Jennifer O'Neill
Actress, Author, Spokesperson for "Silent No More" Awareness Campaign
---
To change our culture, it is not enough to say that we are prolife; we must explain why we are prolife. This book is an excellent resource that does precisely that. — Father Frank Pavone, National Director, Priests for Life & President, National Prolife Religious Council
---
This compelling book shatters stereotypes. It will help heal the wounds of America's most urgent internal conflict. — Rabbi Daniel Lapin, President of Toward Tradition, a national coalition of Jews and Christians & Author and radio talk show host
---
Randy Alcorn's concise but comprehensive presentation of the prolife position is an invaluable resource for open-hearted—yet often tongue-tied—prolifers everywhere. — Frederica Mathewes-Green, Past president, Feminists for Life Columnist, commentator, and author of Real Choices
---
A compelling case for the most important issue of our generation. I couldn't put it down. — Andy Stanley, Pastor, North Point Community Church, author of How Good is Good Enough?
---
All the proof anyone could need. Condensed into this little book are compelling answers to the most common pro-choice arguments. Randy Alcorn offers a powerful reminder that all created beings are deserving of dignity, freedom, and equal rights. I believe this book has the capacity to open the eyes and change the hearts of millions. It's a powerful book that you will want to give to everyone you know. — Nancy Stafford, Actress and author of The Wonder of His Love
---
Book Reviews of Why ProLife?
The primary reason I read Why ProLife? was to prepare for a short message I delivered a couple of weeks ago on Sanctity of Life Sunday. Since my wife and I had our first child last July, my heart has been more gripped with sorrow by the spiritual darkness that leads to abortion. Alcorn's book was a great blessing to me, primarily in how it equipped me to talk about the prolife position with a person whose religious beliefs are not like mine.
Many people who opposed the prolife position wrongly think that the only people who defend the rights of the unborn are people whose religious beliefs define how they view human life. (My dad, who vehemently supports a woman's 'right to choose,' said this to me last weekend). This book is a great one to refute such wrong thinking. Alcorn does not argue from Scripture, but from common sense and a little bit of science and medical research.
The book is very short (120 pages), and could be read easily in a few hours. There is an expanded version called ProLife Answers to ProChoice Questions for those who want to read more thoroughly on this issue. I really believe that this book Why ProLife? should be read by every Christian. Abortion is a great work of darkness, and God calls His people to take no part in the unfruitful works of darkness, but to expose them (Ephesians 5:11). Alcorn does an excellent job of exposing this dark work. – L. R.