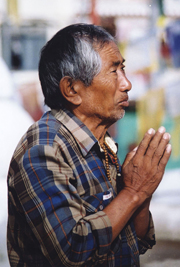 By becoming an 'advocate' you are entering into the vital and important ministry of intercession and solidarity with those who suffer for their faith in Christ.
PrisonerAlert.com, a ministry of The Voice of the Martyrs, provides an opportunity for you to be an advocate for our brothers and sisters in chains. You will be encouraging them when you write to them in prison and supporting them when you write to government officials on their behalf.
The support and involvement of other Christians is evidence to these persecuted believers that they are not forgotten, since often their oppressors try to brainwash them into believing they are not loved and no one knows about them. When a prisoner learns others are protesting on their behalf or when they receive a letter, they know someone cares.
Your involvement can also result in better treatment for a prisoner. The authorities in many nations are very sensitive about their image abroad; when they realize outsiders are monitoring a prisoner's situation, conditions may be improved.
To learn more and see the profiles of Christians you can be an advocate for, visit www.PrisonerAlert.com
PrisonerAlert, The Voice of the Martyrs
PO Box 443, Bartlesville, OK 74005 918-337-8015
Toll Free: 877-337-0302; Fax: 918-338-0189
Website: www.persecution.com; Email: thevoice@vom-usa.org