Lord Foulgrin's Letters: Table of Contents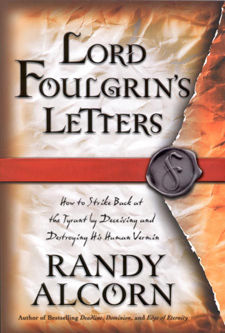 TABLE OF CONTENTS:
Prelude: The Hunt
Chapter 1: It Doesn't Get Any Better?

Letter 1: Our Working Arrangement
Chapter 2: Voices

Letter 2: Know Your Prey
Chapter 3: The Darkness, the Book, the Stain

Letter 3: Working Behind the Scenes
Chapter 4: Shutting Doors

Letter 4: The Vermin's Stinking Family
Chapter 5: Two Worlds

Letter 5: Hunting
Chapter 6: Face Off

Letter 6: Shaping How the Vermin See Beelzebub and Us
Chapter 7: The Deal

Letter 7: Moral Relativism and Your Sludgebag
Chapter 8: Fletcher's World

Letter 8: The Word My
Chapter 9: The Game and the Book
Letter 9: Truth and Fiction
Chapter 10: A Little Choice
Letter 10: Captains of Their Fate
Chapter 11: Conversation and Coffee

Letter 11: Making Him Wrong about the Carpenter
Chapter 12: The Counterfeit

Letter 12: Disposing of the Evidence
Chapter 13: The Message

Letter 13: The Ultimate Insult
Chapter 14: All the Same?

Letter 14: Twisting the Forbidden Message
Chapter 15: What Would It Mean?
Letter 15: Footholds
Chapter 16: The Blue Blur

Letter 16: The Sting
Chapter 17: Appointment

Letter 17: Your Unthinkable Disaster
Chapter 18: The Squadron

Letter 18: Cinderella with Amnesia
Chapter 19: Getting Started

Letter 19: All Is Not Lost
Chapter 20: What's with Dad?
Letter 20: Making the Best of a Bad Situation
Chapter 21: First Contact

Letter 21: On the Prowl
Chapter 22: The War Within

Letter 22: The Battle for His Money and Possessions
Chapter 23: The Invitation

Letter 23: Eliminating Shame
Chapter 24: The Bookstore

Letter 24: Love and the Male Maggot-Feeders
Chapter 25: Bad News

Letter 25: Making Sure He Doesn't Get It
Chapter 26: It Would Have to Be Obvious
Letter 26: Their Efforts to Take Us Down
Chapter 27: Surprise

Letter 27: Love and the Female Maggot-Feeders
Chapter 28: The Test

Letter 28: Suffering, the Enemy's Megaphone
Chapter 29: Options
Letter 29: Take Him Down
Chapter 30: Mom

Letter 30: Postponing Evangelism
Chapter 31: Dad

Letter 31: Long Live Our Man in the Pulpit
Chapter 32: Get Out

Letter 32: Worship in the Forbidden Squadron
Chapter 33: The Talk

Letter 33: Accusations
Chapter 34: Needing Help

Letter 34: Message from the Enemy's Agent!
Chapter 35: The Hike
Letter 35: Visitation
Chapter 36: Going to Kill Me

Letter 36: Our Fairy Tale about Origins
Chapter 37: Different

Letter 37: Lord Chemosh
Chapter 38: Final Answer

Letter 38: Damned If You Do
Chapter 39: My Messenger

Letter 39: The Enemy's Appeal to the Vermin's Self-Interest
Chapter 40: It's Over
Letter 40: Choosing a College
Chapter 41: Enemy Strategies

Letter 41: Distracting Him from Missions and the Poor
Chapter 42: Home
Letter 42: Intolerable Developments
Chapter 43: Help

Letter 43: Line in the Sand
Chapter 44: Confession

Letter 44: The Vermin's Longing for Pleasure
Chapter 45: Applause

Letter 45: Smelling Like the Enemy
Chapter 46: Shout to the King

Letter 46: The Final Disaster
Chapter 47: Survivors

Letter 47: One Last Hasty Note
Afterword