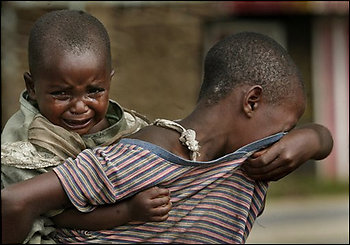 The fresh mounds of earth stretch as far as the eye can see. Each grave in Zambia's Chunga cemetery is topped with a withered floral tribute and a makeshift cross. During the weekend, a new funeral procession arrives every 15 or 20 minutes. On one day, 52 people are buried; 43 of them were between the ages of 19 and 50. Most are Africa's latest victims of AIDS.
The deadly epidemic is tearing through the continent, decimating Africans in their most productive years. In all, AIDS will kill some 2.4 million people in Africa this year, many of them teachers, doctors, civil servants, and soldiers. "So overwhelming has been the scale of the scourge that our medical, social, and traditional structures are unable to cope with the human cost exacted by the pandemic," Zambia's president, Frederick Chiluba, declared last month in a rare public statement about AIDS.
In some ways, AIDS has been the invisible killer. Victims frequently die of opportunistic infections or pneumonia. Many never learned they were infected with HIV. And with treatment prohibitively expensive, all 25 million Africans who are currently infected likely will die within 10 years. Life expectancy is plunging continent-wide, yet much of Africa is still in denial. Death notices rarely mention AIDS, and most governments have been painfully slow to embrace prevention campaigns.
Death Count. The worst is yet to come. In South Africa, one of the worst-hit countries, AIDS already accounts for a quarter of all deaths. And deaths will only accelerate. The government-funded Medical Research Council estimates that the disease could claim 5 million to 7 million lives in South Africa alone in the next decade. By means of comparison, roughly 6 million people died in the Holocaust.
For a continent that was just beginning to benefit from improving economies, the epidemic is another devastating blow. Health care costs, lost business, and the deaths of skilled workers will wipe $22 billion off South Africa's economy by 2010. Today, in eight African nations, more than 15 percent of adults are infected with HIV. Africa's young people will bear the brunt. The United Nations estimates that one third of the 15-year-olds in those countries will die from AIDS. Millions of children have already been orphaned.
Some places, like Uganda, have successfully stemmed the tide of HIV infections with aggressive safe-sex campaigns. This limited success is reflected in the latest United Nations report on AIDS, which shows the number of people newly infected slipping slightly from 4 million last year to 3.8 million in 2000. Part of this is also because many of Africa's most vulnerable populations are already infected.
But even this stabilization could be only a temporary respite. Researchers are reporting signs that the massive nation of Nigeria, which has so far escaped the brunt of the epidemic, is detecting regions with disturbingly high levels of HIV infection. Country-wide, the rate is nearing 5 percent, which has often been the threshold from which infection rates soar. The disease could also move to countries like Angola and Congo, which have been isolated by chronic warfare.
Africa has been beset by a tragic mix of factors that have accelerated the spread of HIV. High rates of venereal disease and low rates of condom use have facilitated transmission. Making matters worse, Africa's leaders have, for the most part, tried to ignore the disease. That, however, is proving increasingly impossible. (US News & World Report, December 18, 2000, pages 34-37)
What can we do? Pray along with Action International for 20 couples to serve with AIDS orphans, especially in Zambia and Malawi. You may contact them directly: Action International Ministries, P.O. Box 398, Mountlake Terrace, WA 98043-0398, (425) 775-4800, www.actionintl.org. You may also designate any gift to EPM "AIDS in Africa" and we will give 100% of it to worthy Christian ministries dealing with the AIDS crisis.