In Your Book Dominion You Seem to Be Able to Clearly Depict the Black Point of View, but You Are White. How Did You Accomplish this?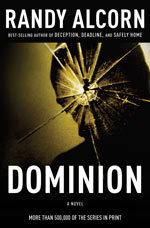 I spent a lot of time with black men and women in the background research for Dominion, relying heavily on their personal accounts and paying particular attention to the recurring stories—e.g. nearly every black man would independently tell me stories about elevators, stop lights, being followed by mall security and so on. So I integrated such stories into the book. I also read a large number of books, at least sixty, by and about African Americans. I asked God to give me insight, as it was way beyond me as a suburban white to write with a black viewpoint character. Very difficult, but very rewarding—hope I never forget what I learned.
More Than Equals: Racial Healing, Spencer Perkins & Chris Rice
Breaking Down Walls, Washington & Kehrein
Resurrecting Hope, John Perkins
Real Hope in Chicago, Gordon
Free at Last? Ellis
Black Man's Religion, Usry & Keener
He's My Brother, Perkins & Tarrants
Let's Get to Know Each Other, Dr. Tony Evans: (Can be purchased from The Urban Alternative, PO Box 4000, Dallas TX 75208 (This book also includes information on the genealogy of Jesus.)
For more information about on this subject, see Randy Alcorn's book, see Dominion.