Is It Possible for My Jewish Ancestors to Be in Heaven?
First, I believe that all who are in Heaven will be there solely by the atoning work of Christ, God's sacrificial lamb (John 1:29). Jesus said "I am the way, the truth and the life; no one comes to the Father but by me" (John 14:6). The apostles said "there is no other name under heaven by which we must be saved" (Acts 4:12).
I believe Christ died for all people, Jew and Gentile (1 John 2:2) I believe He brought His salvation first to the Jews, then to the Gentiles (Romans 1:16).
Prior to Christ's coming, people were saved by faith in God as the provider of their salvation, as symbolized in the animal sacrifices. In Romans 4, Paul cites Abraham as the primary example of this salvation by faith. So those who lived before Christ and who entered into the covenant (with sincere and humble heart of course, not by self-righteousness) were saved by Messiah, even though they did not know the messianic name Yeshua or Jesus.
Since the coming of Jesus, I believe the normal way in which salvation takes place is through the individual directly putting his faith or belief or trust in Christ (John 1:12; 3:16).
Could God in some cases parallel what he did before Christ's coming, and save someone in this present age who by faith trusts God to provide salvation in Messiah, yet does not (for whatever reason) realize Jesus is that Messiah? God is free to do as he wishes, and He does not need my understanding or permission for anything. Certainly He could do this—yet the Jewish apostles put a great and emphatic emphasis on calling upon the actual name of Jesus or Yeshua as Messiah (Acts 4:12; Romans 10:9-10). It is difficult to escape this.
I also believe that God has revealed himself through creation, conscience and his word (Romans 1-2). Many people in a desperate time of need reach out and seek God. And he says "You will seek me and find me if you seek me with all your heart."
I believe many people even moments before death cry out for salvation (the thief on the cross is a classic example).
If a Jew (or non-Christian Gentile, for that matter) cries out for salvation based on the Messiah's atoning sacrifice, would God apply to them the atoning work of Jesus, since He is in fact the Messiah, whether or not till that moment they recognize Him as such? It does seem likely to me that if their heart cries out for Messiah's salvation, God might well draw their minds and hearts to the Jesus they have not known, and in a moment of illumination, show them that He is in fact the Messiah they are crying out to. This could happen as someone dies, while they are in a coma, just before they were murdered in the ovens, as they breathed their last breath, etc.
Might God in the closing moments of life show them that all they believed is fulfilled and culminated in Yeshua, their true Messiah? I fully expect to learn in Heaven that this has happened many times throughout history.
God is both just and gracious. "Shall not the Judge of all the earth do right?" Abraham asked, and it is a rhetorical question that assumes and demands a "yes" answer. Sometimes I enjoy reading the last five chapters of Job, where God answers Job and shows him that his limited human perspective falls far short of God's larger plans and purposes.
I believe God covers by the blood of Christ children too young to confess their sins and place their faith in Christ. I believe He likely does the same for the mentally incapacitated. Certainly, then, I believe He can take into consideration the unique needs and background and history of each person.
Though Scripture makes clear that there is an eternal hell, and that the way leading to it is broad and the gate to salvation narrow (only in Christ) His desire to redeem all people cannot be questioned—Christ's sacrifice for all is proof of that, as is the direct statement of Scripture, "He desires all men to be saved and to come to the knowledge of the truth" (1 Tim. 2:4).
Just as God went to great lengths to reach Cornelius with the gospel, I believe God goes to great lengths to give people an opportunity for response, especially to any who genuinely seek him.
I am not qualified to judge what happens in the final moments of life. (Had the thief on the cross been unable to verbalize his inner thoughts, Jesus would still have granted him paradise, but we would assume he was lost, and would be stunned to meet him in heaven.)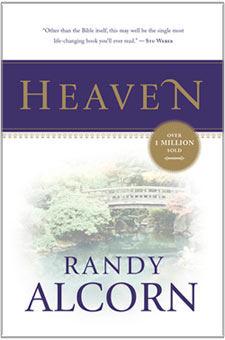 I can't say exactly who will be in Heaven and who won't, as God knows the heart and the invisible final moments of life, and I don't. But I can say that it is only through the atoning work of Christ that any of us will be there. And I also think we will likely be surprised to see some who are in Heaven and some who are not. And we will find it most surprising of all that we are there, we who deserve Hell, but have been given Heaven because Jesus took Hell upon himself for us on the cross. What magnificent grace. "And we know the grace of our Lord Jesus Christ, that though he was rich yet for our sakes he became poor, that we through his poverty might become rich" (2 Corinthians 8:9).
Of one thing I'm certain—no matter who is in Heaven and who is not, none of us will doubt whether God is just and good and gracious.
For more information on the subject of Heaven, see Randy Alcorn's book Heaven.
Photo: Pixabay