Readers' Responses to Dominion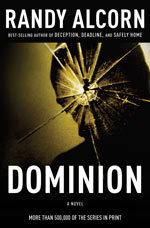 I don't know when I have read a novel that affected me so profoundly. Randy Alcorn has combined a superb mystery/detective story with a lesson in racial relations in America, gang dynamics and symbols, Christian values, and spiritual warfare. — D. K.
Alcorn writes a book from a Black man's perspective so convincingly that I had to look at the jacket to find out if he was black or white. It's also a good murder mystery. However, the thing that makes it so unforgettable is the way the characters transition to Heaven from Earth. It changes your perception of Heaven and life on Earth. Read it, you will be forever changed. — C. G.
Three summers ago I picked up a copy of Dominion at a garage sale, stocking up on books for the winter. It looked like it had obviously been read by more than one person, so I bought it without even determining what it was about. Later, I picked it up to determine its genre and quickly saw that the story was based in a town near where I grew up, so I just started to read still not knowing anything about the book. I became more and more deeply involved in a very short time. I fell in love with Clarence, Jake and Ollie. Obadiah however opened a new door for me and whupped me upside the head with a cast-iron frying pan and I gave myself to Jesus right then and there. I have since read the other two and am anxiously waiting to see Ollie converted. In short, Jesus tapped me on the shoulder through Dominion and I am so very grateful. — K.H.
I read Dominion in 1997, a second time a few years later, and I just finished reading it for a third time a few minutes ago. While I sometimes forget my kids' names, I have never forgotten Clarence Abernathy or his sister Dani! And I sure wish when I leave the Shadowlands I could hang with Obediah. God bless you for penning the best novel I've ever read, again and again. —M.U.
This book is life changing! I've told so many people about it and sent it to a friend to read. I cried, I rejoiced and it made me think of Heaven differently. I've recommended it to an African-American woman whose husband has a lot of hurts from injustice as a black man today. I hope they both read it and are healed, set free and let the Holy Spirit do whatever they need through this powerful, life changing story in the book Dominion. —G.M.
I read Dominion in College a little over 10 years ago and have recently realized how much of an influence your writing has had on my life. I now work at a non-profit and part of our mission is to fight for racial justice. It has just been in the last few months that I realized how God used that novel to shape who I have become and my current passions. I appreciate your faith, and your writing. — J.G.
This book will challenge your views in many areas. Besides developing a non-stop plot, very believable characters in real time settings, Randy Alcorn addresses the controversial issues of our culture from a biblical world view. Be prepared for a great read. — B. W.
This book was a feast for the soul and the mind. Randy Alcorn takes you to Heaven and back. — M. N.
I just finished reading Dominion, and I must admit that I have an entirely new perspective on my friends of the Black Community. — B. S.
Excellent mystery by Alcorn, with insightful content concerning race relations and how minorities adjust to living in society. Very helpful reading as well as an enjoyable story line. Alcorn's main characters are very realistic. Good use of humor and suspense. — G. B.
Dominion gets you into the culture of racism. There were so many things I have never thought about brought out in the book. I live in the North and have always considered myself not racist in any way. I judge people by their actions, not their color. Doesn't everyone? I had no appreciation for what a Black person might still face today. I will say that Dominion was a difficult book to get through for me but well worth hanging in there for. (I wanted Randy to get to the point and he wants to be sure the reader understands the issues) I am glad Randy took the time to dig into it and let us truly see the issues as brought out in a wonderful story. I now "get it" better then ever before and have a lot more compassion for those who are treated as second class citizens or even hated because of their race or color. The characters are real and well written. The constancy of Obadiah's faith, Clarence's father, was an encouragement to all who call Jesus "LORD." — S. C.

I just finished my first Randy Alcorn book, Dominion. I am 71 years old and have been an avid reader all my life, but I am a "baby Christian." That book is the best book I've read in my life! Your gripping story thought me so much about racial issues and solidified my faith in a way that nothing else has. I am so grateful, and can't wait to read the rest of your books. — C. M.

Thank you so much for the Deadline series. I read Dominion about 6 months ago and those books gave me a view of Heaven that thrilled me. I was teetering on the edge and could not make that last step to recommit my life to Christ. While reading Dominion I cried, laughed and finally prayed that the Lord would show me how to achieve such faith. Little did I know that prayer would set me off on a journey that would help me to start to achieve a little of that faith and grace. This new Christian is in the midst of a storm that seems to never end as one thing after another hits me. But I can get up and repeat that old cliché—"I may not know what tomorrow holds but I know who holds tomorrow." Please know that your books have touched this reader and encouraged me in a way that no other book has ever done. I thank the Lord for those books daily as they made me think. — C. J.
I knew Dominion was a book dealing with gang violence. I almost put it aside because I didn't know much about it and thought maybe I wouldn't be able to understand. I was completely wrong. The gang violence is simply a tidbit of the realities in this book. I learned so much, I can't even imagine the research that was done to get this book written—it was simply incredible.
We follow along with a fellow reporter (Clarence) of Jake's as he deals with some serious life issues and has to face some real facts about his attitude towards racial issues. Throughout the book we learn about situations from the days of slavery—so much that I had never thought of and probably didn't want to think about. I realize that I was never taught very much about slavery in school. We learned some things, but I don't think school history books tell you all sides of it. What I saw through Clarence's eyes gave me a whole new perspective on things. I have always known that we are all one in the sight of God and had seen prejudiced growing up, but these are things that go much deeper. As with his first book (Deadline), Dominion is intense and factual on many things while with others we are left to come to our own conclusion. — J.L.
Learn more about and purchase Dominion.