Suffering and Evil Resources for Pastors and Group Leaders
Free Resources for Pastors
If God Is Good Pastor's Kit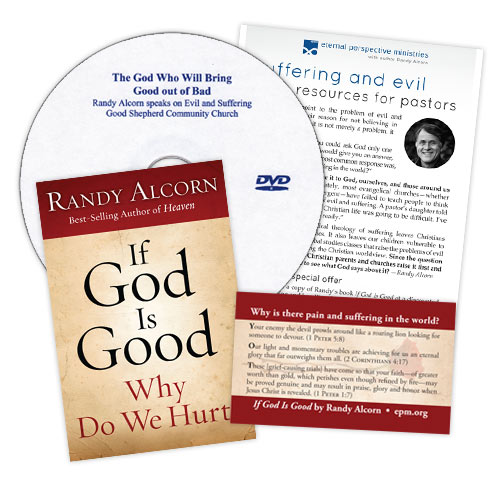 Each kit includes:
A complimentary copy of Randy Alcorn's If God Is Good: Why Do We Hurt? booklet
A DVD of Randy speaking on evil and suffering, titled "The God Who Will Bring Good out of Bad"
An evil and suffering wallet card
An informational brochure listing the many other resources Randy has made available for those teaching on the subject of evil and suffering
To request a Pastor's Kit or complimentary book, please contact EPM.
Promotional Materials for If God Is Good Studies
Audio and Video Resources
Wallet Suffering Card
The glossy, card stock, wallet-sized card reads, "Why is there pain and suffering in the world?" The other side says, "What if suffering is God's invitation to trust Him?" Both sides include Scripture.
You can download FREE printable pdfs of the wallet suffering card.