Readers' Responses to 90 Days of God's Goodness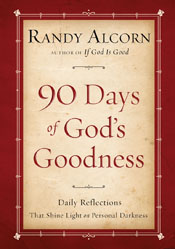 I was loaned a copy of 90 Days of God's Goodness....and was instantly captivated. I am in a season of trial and have been taking long drinks through your writing. Thank you so much for loving our Savior Jesus Christ and urging me in these hard times to continue proclaiming "God is Good ALL THE TIME!" —K.J.
I moved two months ago to a new town for surgery and ongoing medical treatment. I have felt "exiled" and used up as I have battled darkness, longing to just feel my Savior's reassuring touch. This morning as I read several of the chapters in 90 Days of God's Goodness our Lord's light flooded my soul and tears of joy began to flow. You wrote under the inspiration of the Holy Spirit, "Heaven's happiness won't be dependent on our ignorance of what happened on Earth; it will be enhanced by our changed perspective on it. We'll remember the sufferings of the present in order to appreciate our eternal future." Thank you for your ministry of truth and much needed encouragement to this Pastor. —T.D.
I have struggled for more than 20 years with Crohn's Disease. The last few months have been particularly tough, but your devotional book has been nothing short of a direct God-send to me. Thank you for your writing ministry and for what God has revealed to you through your challenges with diabetes. You are a huge blessing to me even though we have met only through the pages of your books. —J.J.
Thank you for your book 90 Days of God's Goodness. I am ordering my second case to give out to people I meet. I have been blessed with a daughter who has special needs and God opens up doors to talk to people I probably would have never met if it were not for my daughter. This book is such a blessing to me and the people I pass them on to. —D.W.
Just a quick note to say how blessed I was by your wonderful devotional 90 Days of God's Goodness. My husband is battling an incurable cancer, and his prognosis is not good. I trust in the Lord, knowing that His will is good and perfect. I just finished your book today, and I am planning on starting it over. I need to be reminded of these wonderful truths of God's goodness when life, at times, is not very good. —A.G.
I highly recommend this book to anyone struggling with any type of conflict. Who doesn't have conflict? Sometimes, when the grief is great, it's hard to concentrate on Bible study. I'm grieving over a lost soul in my family and their addiction to drugs. This little book has been a real comfort to me in my time of sorrow. —K.A.
Most devotionals are too shallow for me. But this book proved to have some fantastic "days". There were soooo many not-just-good but fantastic that I just wanted to tear them out and paste them on my wall or email to friends and family! The theology is the best I've seen in any devotional/days to God book. Most devotionals have weak, feel-good or incorrect theology, but this is right on. —M.
After reading Randy Alcorn's 90 Days of God's Goodness, I have been so blessed, and reminded of God's amazing love for me. Alcorn brings real answers to real life struggles in a way that the reader can easily relate. I think many readers will find comfort and encouragement as they read this book. Take the next 90 days and see God at work in your life! —J.B.
I recommend this book for anyone who is dealing with loss or disappointment in life. I found myself coming away from these readings with one thought that stuck with me through the day. It is a good reminder of our place in God's great plan. —J.K.
One of the strengths of this devotional book is that it's not Scripture Lite. Rather than ripping a single verse out of context for each day's reading, we're given a substantial portion of Scripture to begin each reading. That's another strength: Scripture sets the pace for each reading, rather than making an occasional appearance. And since life hurts for everybody, even those who haven't yet begun a journey with Jesus but are looking for answers would benefit greatly from reading and reflecting on 90 Days of God's Goodness. —N.H.
I am rather picky about devotionals. I really don't enjoy most of cheesey portrayals of Christ decorated with Thomas Kinkade paintings on the cover, so I generally avoid them. However, 90 Days of God's Goodness is a surprisingly well done series of reflections about God in the midst of suffering. For young Christians, it is encouraging and educational, and for mature believers it is a challenge to simply remember the "goodness" found within God and His attributes. —M.A.
Having read several of Randy Alcorn's novels and his book Heaven, I bought this book as a devotional. But I can't stop at just one reading a day. Anyone who struggles with "Why me?" should read this book that continually points to God who loves us and has a plan for our lives no matter how random or useless our troubles seem to be. After a few days, I bought it for several friends! After I finish, I plan to start again from the beginning...probably several times. —R.B.
I chose this book because I was feeling dry in my own spiritual walk and wanted something different. From the very first page, I have been encouraged, challenged, and grown in all new ways. The Scriptures that he chooses are so appropriate and I especially love the prayer at the end of each devotion. He includes relevant stories and doesn't gloss over the fact that sometimes this life is hard and simple answers won't suffice. After each devotion, I am left feeling closer to God and encouraged by His Word. It is such a great reminder that God is good, even in all the chaos of this world. —B.G.
Alcorn's 90 Days of God's Goodness might be perhaps one of my favorite devotional books of all time. Let me explain why, he doesn't sugar coat it. This book isn't just some fluffy, positive, make you feel special devotional book. But it is a devotional book that reminds us that life is hard, we will suffer, people around us will suffer, we will face trials, and in the midst of it all God is still good. As a matter of fact He loves us so much He continues to put us through trials. God disciplines those He loves. If you are struggling, suffering, or discouraged, pick up this devotional as a great reminder of God's goodness in the midst of a fallen world. I love the way every devotional starts with Scripture, usually decent sized chunks of Scripture, and then shares personal stories or experiences to relate to the reader. Well done... I appreciate the way you remind us as followers of Christ it is going to be difficult, but in the midst of these storms God still loves and will guide us through. May we only continue to seek Him in all things! —D.
I have to admit that I wasn't expecting this book to pack such a big punch. In terms of size, it's thicker and meatier than I anticipated, which I think is a good thing given the subject matter (suffering). As someone who has and is enduring personal darkness, I found this book sufficient and satisfying on many levels. Alcorn has done a wonderful job at examining a biblical approach to pain in life without becoming redundant or shallow. As a therapist, this book will be on my recommended reading list for Christian clients suffering with darkness and wanting to shine God's light of hope and meaning on it. —A.P.
Learn more about and purchase 90 Days of God's Goodness.