Three Alcorn brothers—James, Thomas and William—came over from Ireland and landed in Virginia in 1721. The best indications are that they were Scottish, though living in Ireland, as they were associated with the Presbyterian church.
Thomas Alcorn, Sr. (1777-1855) married Katherine Montgomery who had James Thomas Alcorn (an Indiana civil war quartermaster sergeant), who had James Grant Alcorn.
James Grant Alcorn married Florence Lee Craig. The following is from "Robert Alcorn and His Descendants," written by Lloyd Colfax Alcorn, Randy's uncle:
James Grant Alcorn and Florence Lee Craig had thirteen children.
(1) Maruice Lee was born August 25, 1892 in a log cabin on the Alcorn farm in Posey County, Indiana.
(2) James Oral was born October 25, 1893, in the same log cabin.
(3) Melborn died at birth, 1894.
(4) Jesse Malvern was born November 24, 1895, on the David Craig farm in Posey County, Indiana.
(5) David Russel, born in 1897, lived only one month.
(6) Manford Craig was born December 21, 1899, on the David Early Craig farm.
(7) Arja Thomas was born February 2, 1902, on the David Early Craig farm.
(8) Lloyd Colfax was born February 16, 1904, on the Alcorn farm near Imboden, Arkansas.
(9) Paul Harold was born September 16, 1905, on the Alcorn farm near Imboden.
(10) Arthur Loren was born November 19, 1907, on the Alcorn farm.
(11) David Early was born April 12, 1911, on the same farm.
(12) Anna Florence was born April 19, 1914, also on the Alcorn farm.
(13) Garland Grant was born December 10, 1917, also on the same. Farm. Garland died in the service of his country at Neuernburg, Germany, in 1943, when the B-17 bomber, his station of duty, was shot down.
So Randy's father Arthur was the 10th of thirteen children, twelve of them boys. Randy's ancestors on his father's side are from Imboden, Arkansas and before that Posey County, Indiana. As young men, Randy's father Arthur and several brothers moved to Texas, where they worked in the oil fields, then opened a pool hall. Arthur got married to Irene and had four children, Doris, Allan, Gail and Curtis. After his divorce, he moved to Portland, Oregon, where he had a grocery store, a tavern, and an amusement machine business serving many taverns, and a laundry business. He met and married Lucille Vivian Tovrea, who had a son Lance Douglas Alcorn, adopted by Arthur. Randy Craig Alcorn was born June 23, 1954, the only child of Arthur and Lucille.
Old Family Photos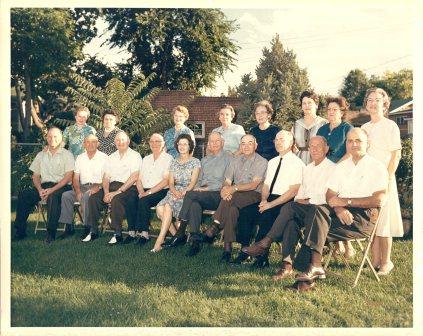 Randy's father and nine of his siblings and their spouses at a family reunion in the 1970's. Randy's Dad and Mom, Arthur and Lucille Alcorn, are at the far left.
---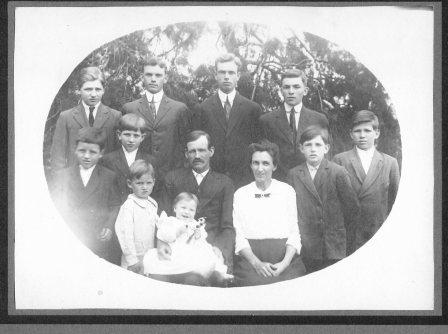 Back row left to right: Manford Craig, James Oral, Maurice Lee, Jesse Malvern.
Middle row: Arthur Loren, Paul Harold, James Grant Alcorn, Florence Lee Craig Alcorn, Lloyd Colfax, Arja Thomas.
Front row: David Early, Anna Florence. Anna was born April 19, 1914 so this photo must have been late 1915, early 1916.
---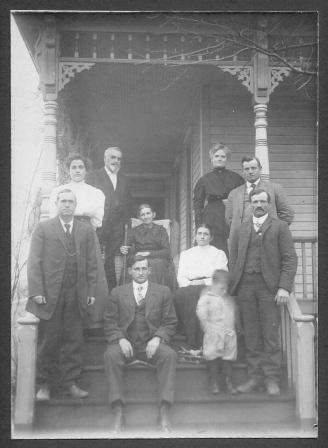 Back row: Robert James Brown, Anna Boren Alcorn Brown (seated) & Maud Brown.
Next row down: Cora Brown, Ada Alcorn Davis Wilsie (also seated), & Horace Lloyd Brown.
Bottom row: David Colfax Alcorn, Arja Brown (seated), Arthur Loren Alcorn & James Grant Alcorn. (Arthur is approx 4 years old.)
---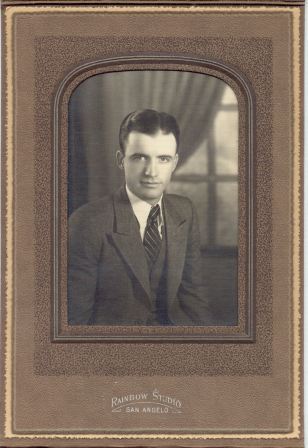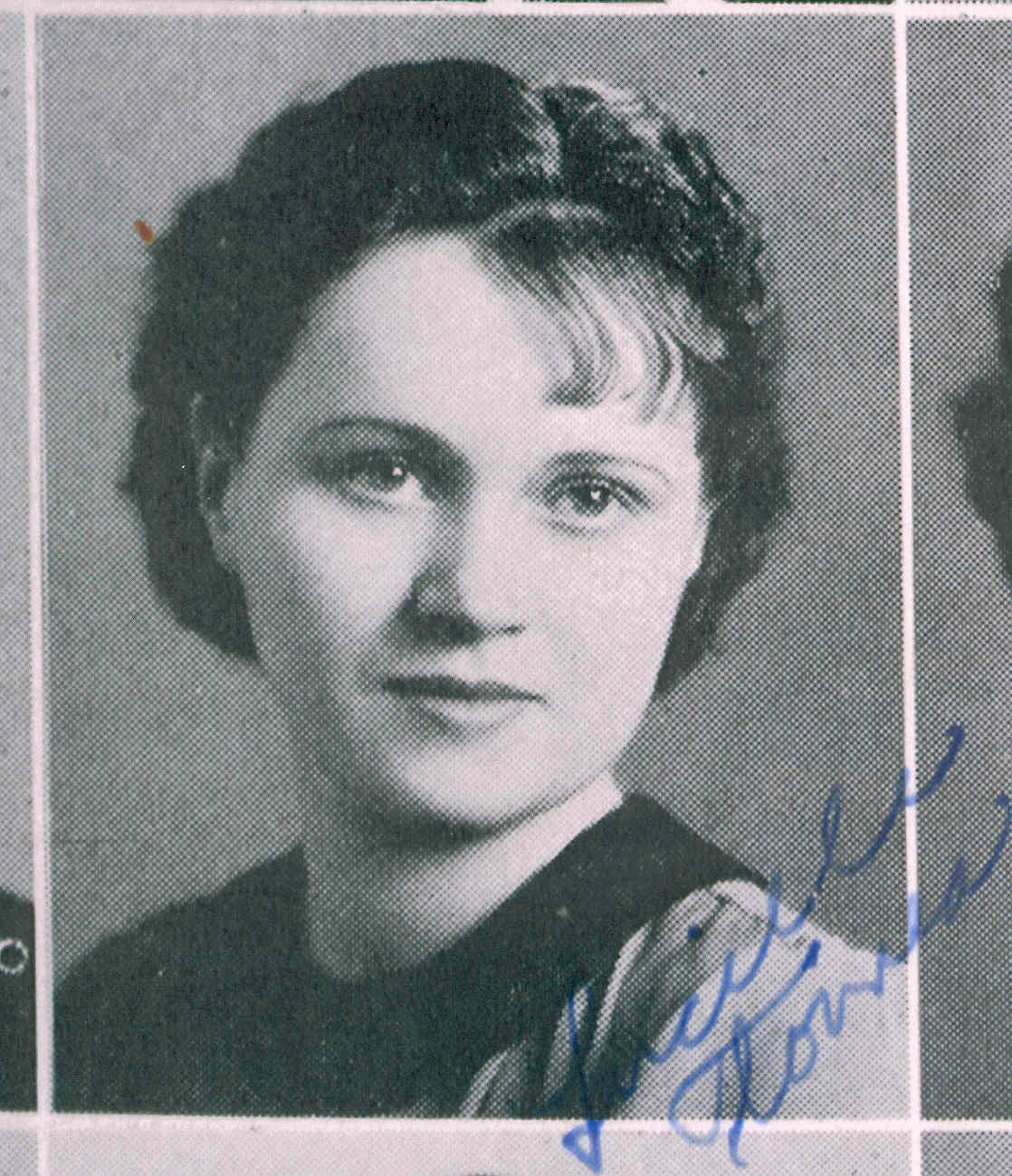 Arthur Alcorn (Randy's father) Lucille Alcorn (Randy's mother)
---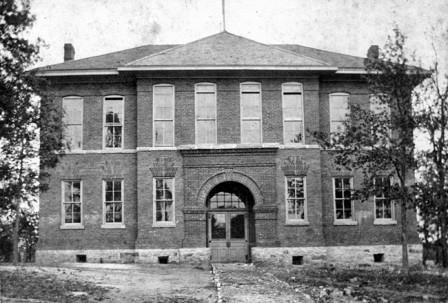 Sloan Hendrix Academy in Imboden Arkansas, where Randy's dad (Arthur Alcorn) and his brothers went to school. Arthur attended here from about about 1913 to 1923.
---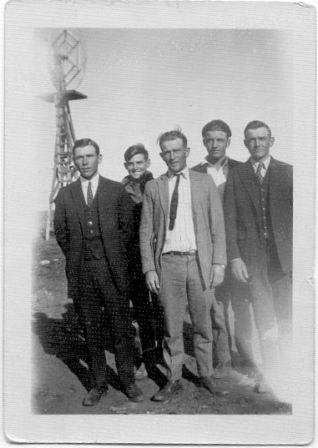 Five Alcorn brothers in a Texas oil field. (Left to Right: Tom, Garland?, Paul?, Arthur, and Lloyd)
---
Current Day Photos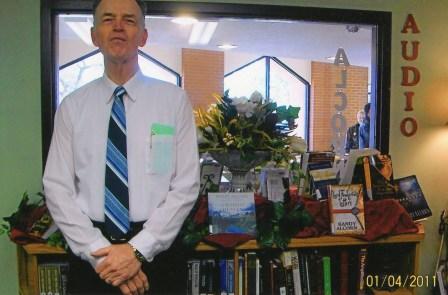 Randy's brother Allan Alcorn stands in front of Randy's books at church in Texas. (January 2011)
---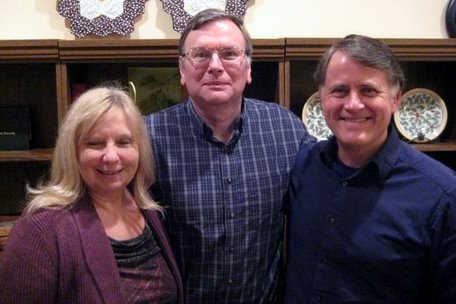 Nanci, Lance, and Randy Alcorn. (November 2011)
---
Family History Documents
These are two documents written by Randy's uncle Lloyd Colfax Alcorn. He was one of Randy's father's closest and favorite brothers.