Get to Know Randy Alcorn
An EPM staff member put together this question and answer series of some things I've been asked over the years.
---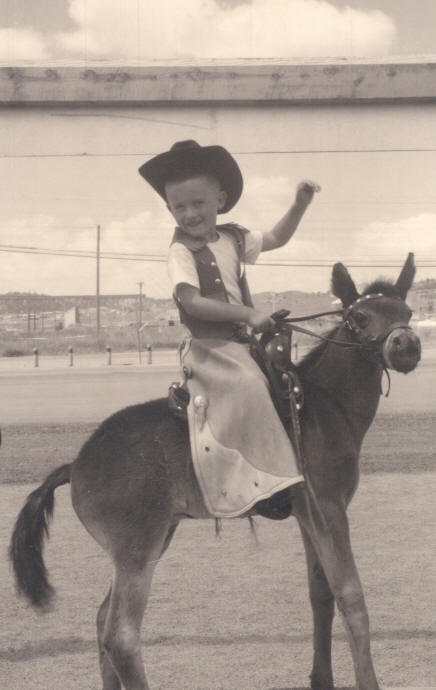 Can you share a little about your growing up years?
I was born in Portland, Oregon, moved to the Rockwood area (east Portland) when I was four, then east of Gresham when I was seven. I loved living in the house east of Gresham, which was "out in the country," but only five miles or so from the city.
As a teenager, I did farm work in the summers. Besides picking berries, I planted and harvested broccoli and cauliflower, and also sorted potatoes unearthed by a digger, to prepare them for distribution. When I was 19, after my first year of college, I worked in a 7-11 store, where my most vivid memory was being robbed at gunpoint. I also worked at a chemical plant that produced Parsons ammonia, where my most vivid memory was running for the doors when the ammonia vats spilled over.
Where did I spend most of my free time? Playing army in the wheat fields around our house, playing football and basketball at the local grade school (Orient Grade School), and going to the Hood Theatre and Multnomah County Fair in Gresham with my best friend Jerry Hardin.
What size family did you grow up in?
I grew up with one half-brother, Lance. I also have four older siblings from my dad's previous marriage, but since I was raised in Oregon and they were in Texas, I almost never saw them. I'm now in email contact with three of them (one is deceased) and had the joy of seeing two of them several times in recent years.
What were your parents like? Did they encourage you to be a writer?
My dad grew up in Imboden, Arkansas, and moved to Texas as a teenager to run a pool hall with his older brothers. Later he moved to Oregon and had a grocery store, then became a tavern owner who also supplied amusement machines for other taverns. Our house was the repository for several pool tables, two or three juke boxes, pin-ball machines, standing shuffleboards, foosball, etc. (My friends liked to hang out at my house mainly for that reason.)
Dad was strict and very resistant to the gospel, and at first was very resistant to my faith in Christ and was disappointed that I wanted to go to Bible college instead of to a university where I could "make something" of my life. But Dad paid my way through Bible college, and I am grateful for his support. By God's grace, he came to Christ at 85 years old, when the doctors thought he was going to die. But he lived another four years, and in that time we became much closer.
My mom grew up in The Dalles, Oregon, and worked at the Charles F. Berg clothing store in Portland, then became full-time mom for me and my brother Lance. She came to Christ a year after I did. Mom encouraged me in everything, including in my service as a pastor (she was part of our church) and my article-writing (it was years later I wrote my first book, in 1985). Mom died in 1981, only four months after our daughter Angela was born, and when our daughter Karina was two and a half. Every Monday my mom had Karina stay with her for the day, and they were extremely close. My mom was one of the closest friends I've ever had, and I can't wait to see her again in the presence of Jesus.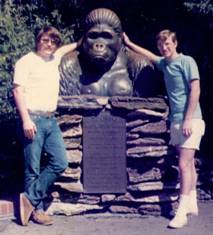 I talk about both my mom and dad, and their deaths, in my book In Light of Eternity. In the same book I have a chapter about Jerry Hardin, in which I tell more things about my childhood than in anything else I've written.
When did you come to faith in Christ?
I grew up without Christ and without the church. When I was in high school I attended a church for the wrong reason—to see a girl I'd met. But God can use even our wrong motives for his right purposes. (In fact, years later that girl became my wife!) At that church and in the youth group there, I heard the gospel for the first time, and after a few months or so of attending, I was reading the Bible regularly, at home in my bedroom. It fascinated me and it had the ring of truth. One day in 1969 I realized I believed what it said about Jesus and everything else. I dropped to my knees, by myself in our basement, confessed my sins and gave my life to Christ. I have never once regretted it.
How did you get started writing?
In 1970, when I was sixteen and a new Christian, friends invited me to an evening class on the Gospel of John taught by John G. Mitchell, one of Multnomah School of the Bible's founders. I became hooked on Bible study and knew my future was at Multnomah.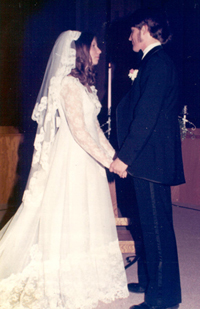 I completed my bachelor's work in 1975, married my favorite Multnomah student, Nanci, and soon entered the school's new master's program. One of my favorite theology professors, Dr. Joseph Wong, scratched on a term paper: "You should consider being a writer." I took it to heart. (And have often thought about the power of brief encouraging words spoken to us and by us.)
As a pastor in the 1980s, I was burdened by the number of Christians I saw devastated by sexual immorality. I started writing a book addressing this huge problem. In 1985 my first book was published, Christians in the Wake of the Sexual Revolution (now out of print). Since then I've written 50 more.
Did you play sports?
During junior high, I played baseball, basketball and football. I played basketball and football my freshman year in high school and tennis in high school and college. I also coached public high school tennis for nine years. I regularly bike on the nearby Springwater Corridor trail, often listening to an audio book as I bike...
What books would you recommend?
A. W. Tozer's The Knowledge of the Holy, J. I. Packer's Knowing God, John Piper's Desiring God, Francis Schaeffer's He is There and He is Not Silent, C. S. Lewis's Mere Christianity. For fiction, Lewis's Narnia and space trilogy, and The Atonement Child by Francine Rivers. Oh, were you just asking for one book? (For a more complete list, see My Favorite Books.)
Of the books you've written, which are your favorites?
Of my novels, though in some ways I think Deception is the most fun and maybe the best written, I'd have to say Safely Home. The number of lives I've been told about that have changed through reading that novel amazes me.
Of my nonfiction, it's a tough call, so I'll cheat and say The Grace and Truth Paradox and Heaven. The Heaven book has been a real surprise, with over a million copies sold. We get an amazing number of letters from people who say they now look forward to Heaven and are excited about the New Earth, and that they've received great joy and comfort from the book. Churches and small groups everywhere are studying it, which blows me away.
Okay, I'll also mention The Treasure Principle, which has now sold two million copies, and which God has graciously used to transform the way countless people give. It's another book that no one would have guessed would find eager readers. No publisher was saying a few years ago, "Hey, to sell a million copies we need somebody to write a book about the joy of becoming a radical giver."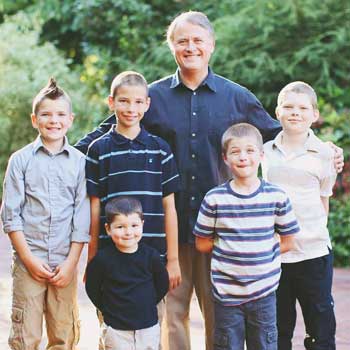 Do you and Nanci have a family?
We have two married daughters, Karina and Angela, and we're the proud grandparents of five grandsons: Jacob Gary Stump born August 3, 2004, Matthew James Franklin born November 12, 2004, Tyler Daniel Stump born March 10, 2006, Jack Timothy Franklin born August 23, 2007, and David Aaron Franklin born February 17, 2012.
Where do you attend church?
Nanci and I still attend the church where I was one of the founding pastors in 1977. I pastored there for thirteen years before founding Eternal Perspective Ministries. We named it Good Shepherd Community Church (it's in Boring, Oregon, believe it or not—the local ministerial group was once called The Boring Pastors' Fellowship).
Do you and Nanci have any pets?
One of my great delights later in life was introducing my wife Nanci to dogs for the first time. When our girls were small, I told Nanci I wanted to get a dog. Our friend Mindy offered us an English Springer Spaniel. We had the pick of the litter, so I went over and chose a puppy and brought him home to give to our children. Nanci, who had never had a dog, immediately fell in love with him. We named him Champ in honor of the Golden Retriever I had grown up with. He lived to be 14.
Since then, we've had a Dalmatian named Moses who lived to be 15. And now we have a Golden Retriever named Maggie Grace. Maggie is a gift from God to Nanci and me. We love dogs in general and have had a special love for each of ours. But I admit there's something special about Maggie.
How long have you been an insulin-dependent diabetic?
I was diagnosed in 1985. God used this to remind me of my dependence on Him, in a daily, concrete way. Before that, I knew intellectually that I was dependent on God for every breath. But I was really very independent and self-sufficient. Now I have a built-in reminder every single day when I take my five or six blood tests and insulin injections: "Apart from me you can do nothing" (John 15:5b). The timing was perfect. Of all the months in my life when I could have gotten a serious disease it happened in the one month when my first book was published. That was a reminder that my writing isn't about me, it's about the Lord, and without His strength it will accomplish nothing.
What are your favorite foods?
Mexican. My wife Nanci makes a killer burrito with the works, and sour cream enchiladas. I'm also a fan of Nanci's steak salad, and beef stew, as well as chili with cheddar cheese and onions, with a tall glass of milk. The occasional pizza too. You didn't mention drinks, but I love dark strong coffee, preferably French Roast, with milk.
What is one of your favorite Bible verses?
2 Corinthians 4:18: "So we fix our eyes not on what is seen, but on what is unseen. For what is seen is temporary, but what is unseen is eternal." This is also the founding verse of Eternal Perspective Ministries.
What is your educational background?
I attended Multnomah Bible College, where I earned a BA in Theology, and Western Seminary, where I earned an MA in Biblical Studies. I received an Honorary Doctorate of Divinity from Western Seminary in 2003.
Have you co-authored any books?
I co-authored the Courageous novel and The Resolution for Men with Alex and Stephen Kendrick. The novel, which was based on the Courageous movie screenplay by the Kendrick brothers, tells the story of law enforcement officers Adam Mitchell, Nathan Hayes, and their partners as they face a challenge that none of them are truly prepared to tackle: fatherhood. The Resolution for Men challenges men of all ages to become as bold and intentional about embracing their responsibilities as leaders of their homes, marriages, and children.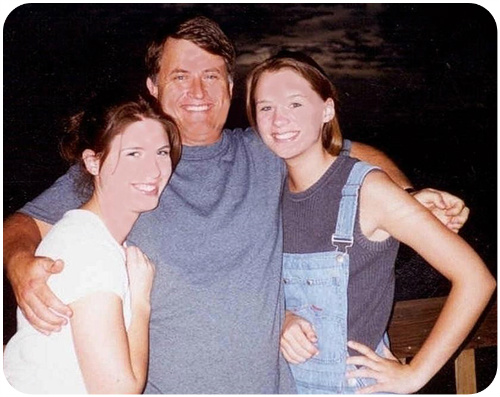 I also co-authored Help For Women Under Stress with my wife Nanci, and wrote The Ishbane Conspiracy with my daughters Karina and Angela, which was my first collaboration since writing the book with Nanci fifteen years prior. It was a joy.
The summer before they both got married I thought it would be great if they weren't working jobs that pulled the family apart. The book idea seemed a great way to do it. I asked them if they wanted to spend a summer writing a book with their dad. They said yes, and I'll always be glad.

I can't think of two people more qualified and skilled, in both the spiritual and artistic senses, I could have worked with. We read and discussed books on fiction writing, brainstormed characters and plots, stimulated each other's thinking, prayed together, had lots of fun and shared the frustrations and mind-numbing hard work of disciplined writing. Angela and Karina are true co-authors, not token ones. This is their book as much as it's mine, and they have my deepest respect.
Who are your role models?
Hudson Taylor, Amy Carmichael, Dietrich Bonhoeffer, C. S. Lewis, Eric Liddell, John Piper, Joni Eareckson Tada, Doug Nichols, and three men from my church, Good Shepherd Community Church, who are now with the Lord: Garland Gabbert, Daniel Brose and Tom Lyman, who I named a character after in my novel Courageous. (See the blog post Some of my Spiritual Heroes.)
Where is your ideal vacation spot?
Anywhere Nanci's with me, it's warm, and I can snorkel for hours and hours at a time, then read for hours at a time, then go out to eat and laugh and enjoy God's extravagant kindness with Nanci for hours at a time. If there are some dogs around, that's a real plus too.