Readers' Responses to Eternity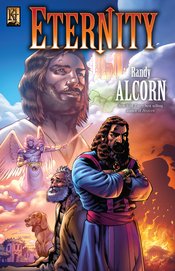 I could not put Eternity down until I finished it! —T.L., age 89
I absolutely loved Eternity. I've never been a comic guy before, but the art is beautiful and the story is compelling and dynamic. Congratulations on the brilliant work. —J.R., prisoner
This comic book is so cool! If everything or the Bible were written like this it would be so much easier to get into. It only took me two hours to read. I opened it and couldn't stop! —J.E., prisoner
My 8-year-old son found Eternity in the kids section of a local bookstore and asked if we could buy it. He was drawn to the "comic book" style. Since I've read a number of your other books and know you well as a reliable author, I didn't hesitate to get it for him. When we got home I showed him all your other books I have on my bookshelf. I think he really liked the fact that he and I now have a common author we like to read. We read Eternity together over several nights before bedtime. I was really surprised how he followed each character and their exploits. I'm especially grateful for the ability to share the reading of it with him. —P. F.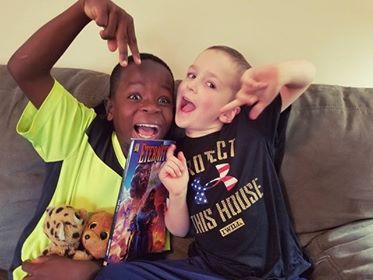 These two 7-year-old brothers are excited about Heaven after reading parts of this book! They love the pictures of warrior angels and the depictions of Heaven and New Earth. Thank you especially for showing the beauty of Heaven with people of all different colors. My Haitian adopted son was so happy to see this! —J.G.
I love this book and love the story. I actually preached a message at my church using some of the ideas in the book. It was awesome! As a comic book lover this this is right on the shelf with my other graphic novels, it's that good! — J. L., pastor
Another exceptional tool for sharing the Good News of Jesus Christ with others. Beautifully illustrated, the story is presented in an interesting and compelling fashion. If you've never read or used graphic novels, you should seriously consider it. Thanks for another "arrow in the quiver"! — L. J.
Eternity is an engaging, biblically faithful, and beautifully illustrated retelling of Jesus' story of a rich man and Lazarus, a beggar, both of whom die and have their fortunes immediately reversed. But it's more than that. The story unpacks the weighty realities of heaven, hell, and the choice every person--rich or poor, young or old--must make: Will we appear before God on the basis of our sinful record, or on the basis of Christ's perfect record? I expect Eternity will be a powerful tool for presenting the gospel to young adult readers, some of whom may be totally unfamiliar with the Bible, but after reading this book will know everything they need to know to get right with God and begin a life of increasing conformity to their original, divine design. — A. C.
I already knew this story in the Bible, and I was very intrigued by the point of view along with the very detailed cartoons. I have read Deception, Dominion and Heaven For Kids, and I really enjoyed Eternity the most. I give this book two thumbs up and five stars! — B. R., age 15
I read your graphic novel Eternity, and I really liked it. I was at camp this week and felt God working in me through the book. I loved how you portrayed Heaven and Hell in this story. This really made me wonder if I was really saved, and this week I think was the week of my true salvation. I hope that this same thing will happen to others who read this book! — I. A., age 12

Learn more about and purchase Eternity.