Será Que Podemos ou Devemos Falar com Nossos Queridos no Céu? (Can or Should We Talk to Loved Ones in Heaven?)
Eu amo a pintura que meu amigo Ron DiCianni fez para o livro que produzimos juntos, chamado: "Tell Me About Heaven" [Fale-me Sobre o Céu]. Da mesma forma que os anjos levaram Lázaro ao paraíso, de acordo com Lucas 16, a pintura retrata meu avô sendo levado para Jesus.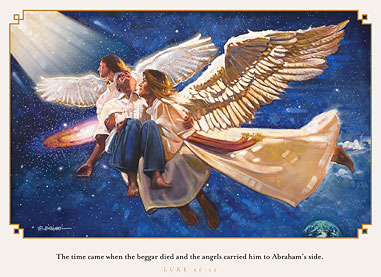 Gostaria de abordar uma questão que surgiu num comentário do blog. Acho que outros leitores podem ter lido a questão e ficado interessados, uma vez que já me perguntaram isso muitas vezes, ao longo dos anos.
A questão era: De um ponto de vista bíblico, é certo falar com nossos entes queridos que já partiram para estar com Jesus?
Em primeiro lugar, seria mesmo possível que alguém no céu soubesse o que está acontecendo na terra, e pudesse nos ouvir falando qualquer coisa? Muitos supõem que a resposta seja "Não". Mas em Mateus 17, Moisés e Elias claramente já sabiam o que estava acontecendo quando apareceram com Jesus no monte da transfiguração. Em Lucas 15, Jesus fala da alegria na presença dos anjos (não da alegria DOS anjos, mas a de estar em sua presença) sempre que um pecador se arrepende, sugerindo que o povo de Deus, no céu, se alegra com Sua obra nas vidas aqui. Para se alegrar, eles, obviamente, precisam estar cientes disso. Apocalipse 6:9–11 mostra mártires no céu que estão claramente conscientes de que Deus ainda não trouxe julgamento sobre aqueles que os perseguiram, e estão se perguntando o porquê. Portanto, eles tem alguma noção do que está acontecendo na terra.
Certo. Então, se é possível que alguém no céu nos ouça, podemos falar com eles? Para começar, há uma enorme diferença entre falar com alguém e orar para alguém, e é fundamental mantermos isso bem claro. Quando as pessoas oram a Maria e aos santos, elas estão chamando-os de intermediários, pedindo-lhes para intervir e exercer poder neste mundo. Não há base bíblica para isso. Uma vez que 1Tm 2:5 diz que Cristo é o único Mediador entre Deus e os homens, orar para quem está no céu seria uma violação dessa verdade. Não devemos orar para pessoas nem para anjos, mas somente a Deus.
Mas seria um problema dizer: "Mãe, não sei se você consegue me ouvir, só gostaria de agradecer por você sempre ter cuidado de mim. Amo você e estou ansioso por revê-la, para você me mostrar alguns lugares especiais por aí e conversarmos"?
Isso é falar com alguém, mas NÃO é orar a ele, pedindo-lhe para fazer algo, para agir com poder ou para responder.
Querer buscar os mortos ou ouvir os espíritos dos que se foram é uma prática oculta proibida (Dt 18:9–14). Mas isso é bem diferente do que fazer o que acabei de descrever.

 Pessoalmente, em vez de me dirigir a um ente querido, sinto-me mais confortável em orar a Jesus ou ao Pai (há exemplos bíblicos de orações dirigidas para cada um deles), e pedir: "Senhor, será que o Senhor pode dar um abraço na minha mãe, e dizer-lhe que fui eu que mandei?"Às vezes, acho que minha mãe vê o que está acontecendo aqui e pode me ouvir, se eu disser isso. Mas, quanto a Deus, eu SEI que Ele irá me ouvir. E confio que Ele pode fazer o que achar melhor. Isso faz sentido?
Tenho alguns velhos amigos no céu, Greg e Jerry entre eles, nos quais eu penso de vez em quando, e peço ao Senhor para lhes mandar um oi da minha parte. Se Ele faz isso ou não, fica a Seu critério, mas meu relacionamento com esses irmãos foi um presente de Deus, e um dia irei vê-los novamente na presença do Senhor. Suspeito que Deus se alegra com o meu senso de conexão com eles, e Ele certamente entende os laços de amizade. Jesus nos chamou de amigos. Ele é o melhor amigo que já tive.

 Entendo que isso de ficar falando com entes queridos que se foram, ainda que não viole as Escrituras (uma vez que não se trata de uma oração ou um pedido), pode se tornar um problema ou uma obsessão. Mas é improvável que isso aconteça se estivermos falando com Deus sobre eles. Ele nos convida a ir à Sua presença com o que está em nossa mente e em nosso coração. Obviamente seu ente querido está em sua mente e em seu coração. Se seu filho, seu cônjuge, seus pais ou seu melhor amigo estão com Jesus, Deus entende seu desejo de sentir-se conectado a eles, e de fazê-los saber que os ama, sente sua falta e deseja vê-los novamente.
Tudo me leva a crer que Deus iria honrar um pedido de transmitir nossas lembranças a entes queridos. Mas, novamente, é Ele quem decide. Uma coisa é pedir a Deus para fazer algo assim, outra coisa completamente diferente é ficar insistindo nisso. Somos criaturas, Ele é o Criador. Ele é o Oleiro, nós somos o barro. (E que privilégio é ser barro nas mãos dEle, bem como ser Seus filhos e filhas.) 

Assim, resumindo para a pessoa que fez a pergunta: Contanto que você não esteja orando PARA os seus queridos ou POR eles (que não precisam mais de orações), mas para Deus SOBRE eles, sobre seus sentimentos e sobre seu desejo de que eles saibam alguma coisa, acho que isso não viola a Escritura. Apenas tome cuidado para não os tratar como mediadores, e também para não ficar obcecado em ter contato com eles, pois isso é expressamente proibido.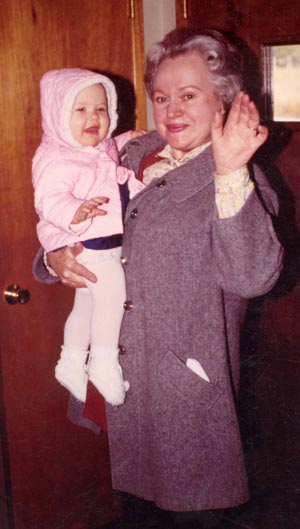 Aqui está uma foto de minha mãe em casa, segurando nossa filha mais velha, Karina. Mamãe morreu apenas quatro meses depois de Angie nascer. No casamento de nossas duas filhas, ambos em meados de 2001, eu disse que acreditava que suas avós estavam assistindo a cerimônia no céu. A mãe de Nanci ficara cega em seus últimos anos de vida, mas agora, ela estava assistindo ao casamento de uma maneira que não poderia, mesmo em seus últimos meses antes de morrer.
Acredito firmemente que isso seja verdade, mas ainda que eu esteja errado sobre esse ponto (uma vez que, claro, não posso saber exatamente quando Deus permite ou não que as pessoas no céu vejam eventos na terra), eu não estaria errado em pedir: "Deus, por favor, diga a minha mãe que as preciosas netas dela amam o Senhor de todo o coração, e que se casaram com jovens que também O amam. Isso seria muito importante para ela."
Meu palpite é que mamãe, de alguma forma, sabe de tudo isso, e se alegra em ver Deus agindo na vida de nossos netos (seus bisnetos), os quais ela ainda não pôde abraçar. (É estranho para mim que muitos pressuponham que as pessoas no céu sejam ignorantes quanto ao que está acontecendo aqui na terra, onde o grande drama da redenção está se desdobrando. Não deveríamos achar que elas sabem mais, e não menos, do que nós?)
Ainda assim, não faz mal perguntar a Deus, pois Ele nos presenteou com relacionamentos especiais. Ele é gracioso e compreende nossos pensamentos, sentimentos e amor em relação às pessoas preciosas que Ele colocou em nossa vida.
---
Can or Should We Talk to Loved Ones in Heaven?
I love this painting by my buddy Ron DiCianni, for the book we did together, Tell Me About Heaven. As the angels carried Lazarus to Paradise in Luke 16, this is Gramps being transported to Jesus.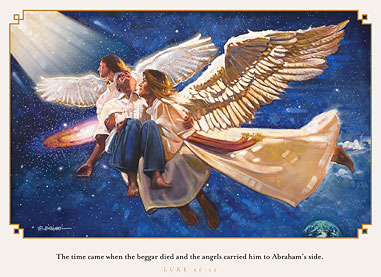 I'd like to address a question that came up in a blog comment. I figure other readers might have read the question and may be interested, since I've been asked it many times over the years.
The question was, from a biblical standpoint, is it okay to talk to our loved ones who've gone on to be with Jesus?
First, would it even be possible for someone in Heaven to know what's happening on earth, and be able to hear us say anything? Many assume the answer is no. But in Matthew 17, Moses and Elijah clearly already knew the events going on when they appeared with Jesus on the mount of transfiguration. In Luke 15 Jesus speaks of rejoicing in the presence of the angels, not BY the angels but in their presence, whenever a sinner repents, suggesting God's people in heaven rejoice at God's work in lives on earth. To rejoice at it, they obviously must be aware of it. And Revelation 6:9-11 shows martyrs in Heaven who are clearly aware that God hasn't yet brought judgment on those who persecuted them, and are wondering why. So they know some of what's happening on earth.
Okay, so if it's possible someone in Heaven could hear us, is it right to talk to them? First, there's a huge difference between talking to someone and praying to them, and it's critical we keep that clear. When people pray to Mary and the saints, they are calling on them as intermediaries, asking them to intervene and exercise power in this world. There is no biblical basis for this. Since 1 Tim. 2:5 says Christ is the only mediator between God and men, it would violate this to pray to those in heaven. We're not to pray to people or to angels, but only to God.
But would it be okay to say, "I'm not sure you can hear this, Mom, but if you can I just want to say thanks for how you always watched out for me. I love you and I'm looking forward to seeing you again and talking and having you show me some special places there."
That's talking to someone, but it's NOT praying to them, calling upon them to do something, or to exercise power or talk back.
Seeking to call up from the dead or to hear from the spirits of the departed is a forbidden occult practice (Deut. 18:9-14). But that's very different than doing what I just described.

Personally, rather than talking to a loved one, I am more comfortable simply praying to Jesus or the Father (there are biblical examples of praying to each) and saying, "Lord, would you please give my mom a hug, and tell her it's from me?" Now I think my mom sometimes sees what's going on here and might hear this when I say it, but I KNOW God hears it. And I trust God to do what He knows is best. Does that make sense?
I have some old friends in Heaven, Greg and Jerry among them, that I sometimes think of and ask the Lord to greet for me. Whether He does that is His call, but my relationships with those brothers was a gift from God, and one day I'll see them again in His presence. I suspect God is pleased with my sense of connection to them, and certainly He understands the bonds of friendship. Jesus called us his friends. He is the best friend I've ever had.

I could see how a person speaking to their departed loved one, even if they're not violating Scripture (since they're not praying to them or calling on them), could become unhealthy or obsessive. But that's not likely to happen when we're talking to God about them. He invites us to come to Him with what's on our minds and hearts. Obviously your loved one is on your mind and heart. If your child or wife or husband or parents or best friend are with Jesus, God understands your desire to feel connected to them, and to want them to know of your love for them, and that you miss them and look forward to seeing them again.
I have every reason to believe God would honor the request to pass on our warm greetings to loved ones. But again, that's up to Him. It's one thing to ask God for something like this, but entirely another to insist on it. We're the creatures, He's the Creator. He's the Potter, we're the clay. (And what a privilege to be His clay, as well as his sons and daughters.)

So, bottom line to the person who asked the question, as long as you're not praying TO your loved one or FOR your loved one (who needs no prayer now), but to God ABOUT your loved one, and your feelings, and your desire for them to know something, I think there's nothing in that which violates a Scripture. Just be careful it doesn't shift into anything that treats them as intermediaries or leads to obsession or seeking contact with them, which is expressly forbidden.

Here's a picture of my Mom at our house, holding our oldest daughter Karina. Mom died just four months after our Angie was born. I said at both our daughters' weddings, in the summer of 2001, that I believed their two grandmothers were watching from heaven. And since Nanci's mom had been blind her last few years here, she was seeing the wedding in a way she couldn't have even a few months earlier before she died.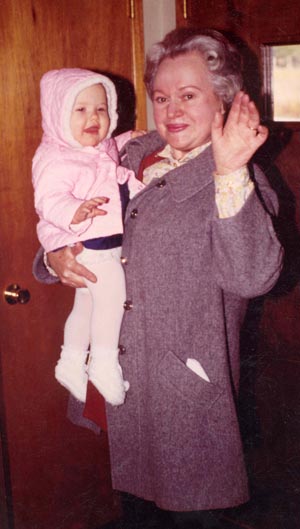 I firmly believe this is true, but even if I was wrong on that point (since of course I can't know exactly when God allows people to see events on earth and when He doesn't), I would not be wrong in praying "Lord, please tell Mom her precious granddaughters love You with all their hearts and married young men that do too. That will mean so much to her."
My guess is that Mom knows all that anyway, and that she is enjoying seeing God at work in the lives of our grandchildren, her great-grandchildren she hasn't yet been able to hug. (It's odd to me that so many assume people in Heaven are ignorant of what's going on here on earth where the great drama of redemption is unfolding—wouldn't we think they'd be more enlightened, not less?).
Still, it doesn't hurt to ask God, the Giver of special relationships. He is gracious and understanding of our thoughts and feelings and love for the precious people He has put in our lives.